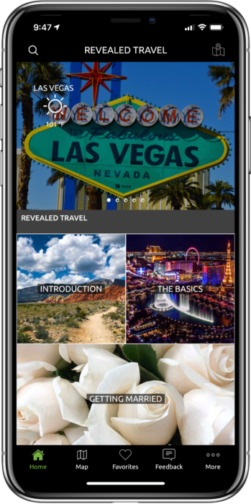 Interested in Vegas, huh? This isn't all our knowledge, in fact it isn't even the tip of the iceberg. Check out our app for tips, reviews and so much more…
Where to go?
Any first visit to Vegas can be absolutely overwhelming. Landing at the airport is nothing special, but as you approach the Strip you'll start to see the casinos that line South Las Vegas Boulevard come into view. If you've already picked your hotel, then you have at least one place you know you'll visit first, but where do you go from there? Below are a few of our favorite sights and attractions spread throughout the Strip.
Venetian Gondola Ride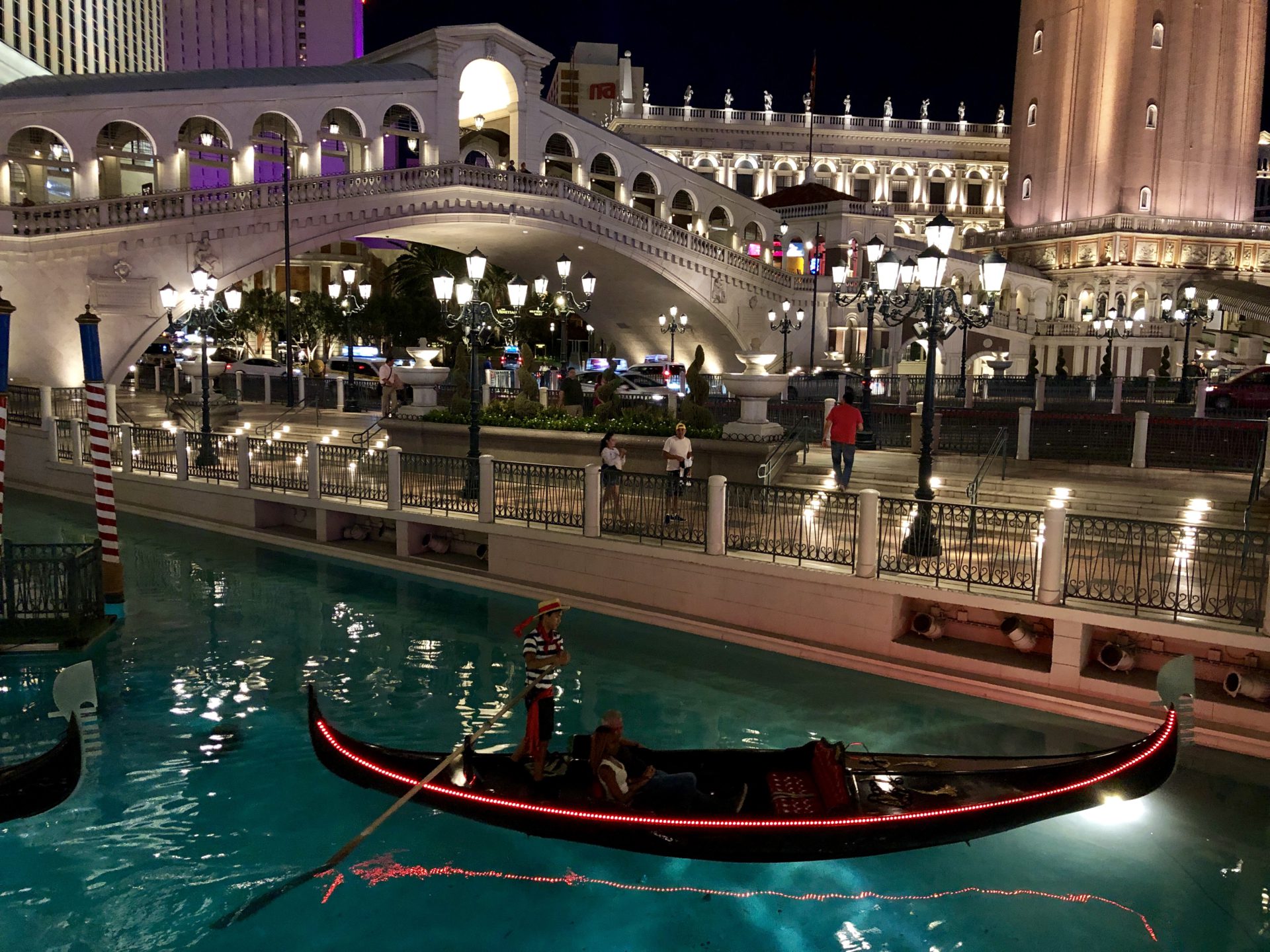 The gondola rides in Vegas are almost as famous as those in Venice. Almost. For $29 per person Monday through Thursday ($36 on weekends and $39 on premium dates) or $116 for a private couples ride ($156 on premium days), you'll be serenaded by your gondolier as you take a ride down the Venetian's Grand Canal.
The gondoliers are also a part of the Streetmosphere show that takes place at St. Mark's Square. Twice a day they march through the shoppes serenading whoever will listen—once at 9:50 a.m. before the gondola rides start, and once more at 4:20 p.m.
They also offer a very limited "Gondola University" (only nine people per day) where they teach you the ins and outs of piloting a gondola. Students receive a gondoliers' hat, T-shirt, souvenir photo and a certificate of completion—though we doubt that they'll let you take one of those babies for a spin, even after you get your certificate.
Fountains of Bellagio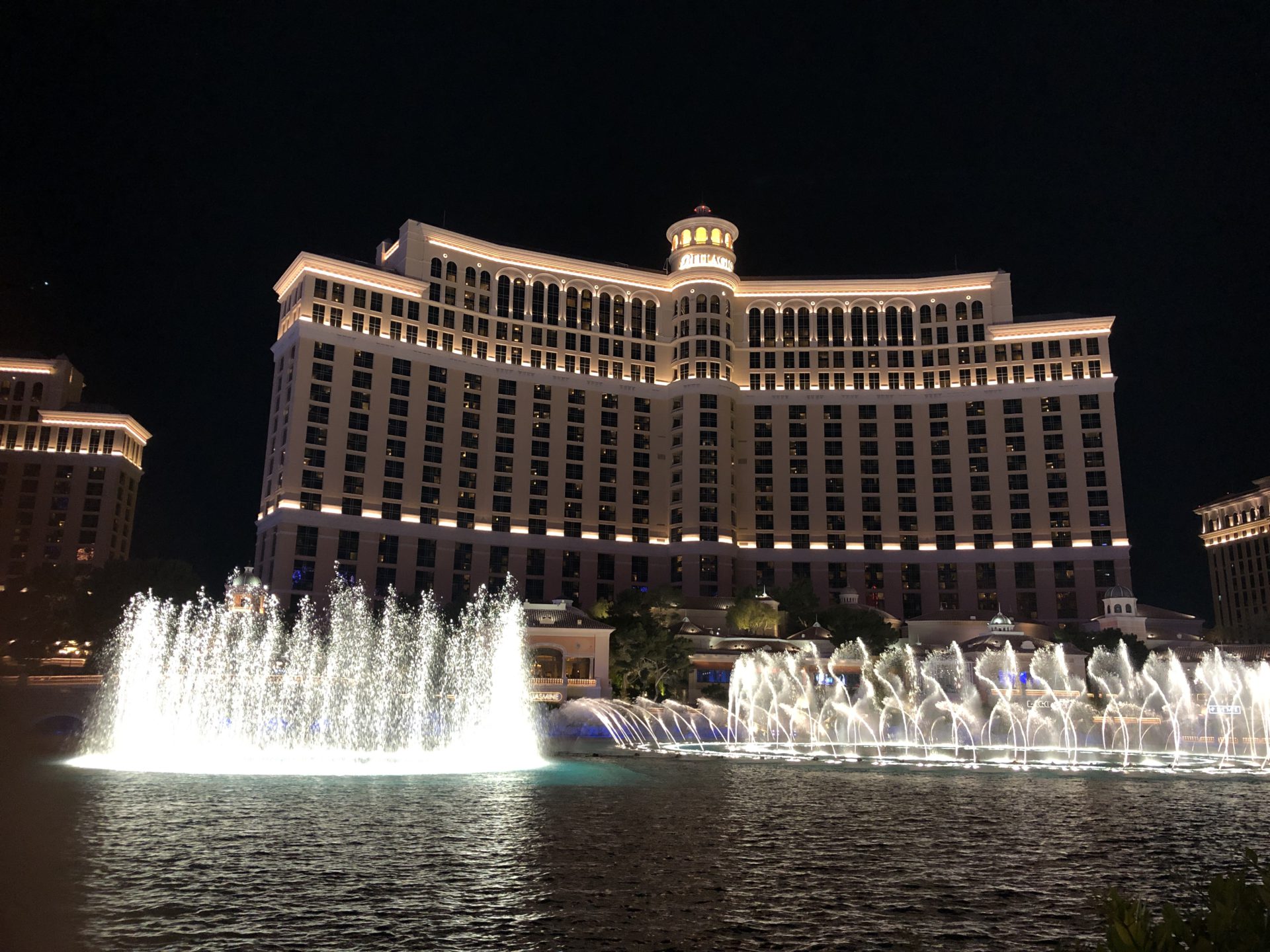 If you had to pick only one must-see spectacle in Vegas, the Fountains of Bellagio might be it. Simply put, it's the most popular free attraction the city has to offer, and for good reason. From the sidewalk, you and hundreds of other visitors are treated to a dazzling fountain show that will impress you no matter how many times you see it.
Imagine an 8-acre manmade lake where, beneath the surface, lie 1,200 nozzles that rise above the water in a wondrous water ballet dozens of times a day. Add 4,500 lights, the ability to create mist, a musical score that changes throughout the day, and all controlled by computer?! What you end up with is a magnificent display of water, light and sound that is irresistible. We don't care where you come from or what you've seen, this is an attraction worth stopping for. And if crowds outside aren't your thing, several restaurants have excellent views from inside. Places like Jasmine, Lago or Spago all offer views of the fountains, which is a nice way to see the fountains and have a nice meal at the same time. There are also some windows along the north side of the Bellagio and sometimes a table across from Starbucks near the sidewalk that provides exclusive, yummy views.
The show is best after sunset and runs every 30 minutes from 3–7 p.m. Monday through Friday, and every 15 minutes from 7 p.m.–midnight. On Sundays shows start at 11 a.m. and run every 30 minutes until 7 p.m. when the fountains fire every 15 minutes until midnight. On Saturdays and holidays shows start at noon every 30 minutes and change to every 15 minutes from 7 p.m.–midnight.
Famous Las Vegas Sign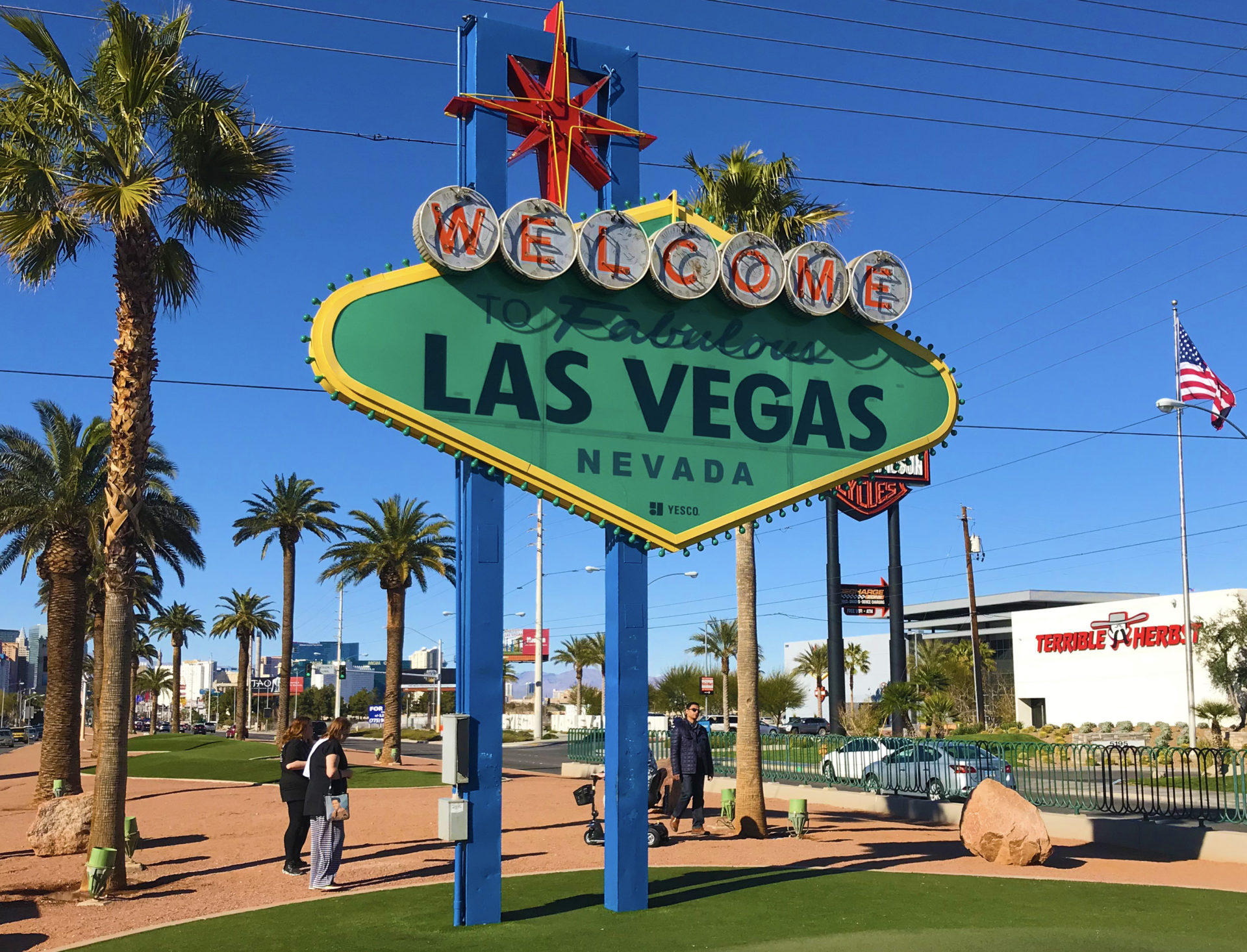 This is the iconic Las Vegas Sign that everyone has seen in photographs. When it was erected in 1959 for $4,000, it was a simple and somewhat humble welcome sign for people leaving the airport driving this quiet stretch of Las Vegas Boulevard. Today it's a certified tourist attraction, and the line to take a selfie in front of it is usually very long. The sign has its own dedicated parking lot between the traffic lanes. You'll probably find the sign smaller and less impressive in real life than you imagined from the photos. And yes, you will probably find an Elvis impersonator nearby with whom you can take a photo for a small fee. FYI, the sign is not in Las Vegas and you probably won't be staying in Las Vegas. The sign should technically say, "Welcome to Paradise" because that's the name of the town you're in and where the Strip resides. Las Vegas City limits ironically don't start until Sahara Ave.
Eiffel Tower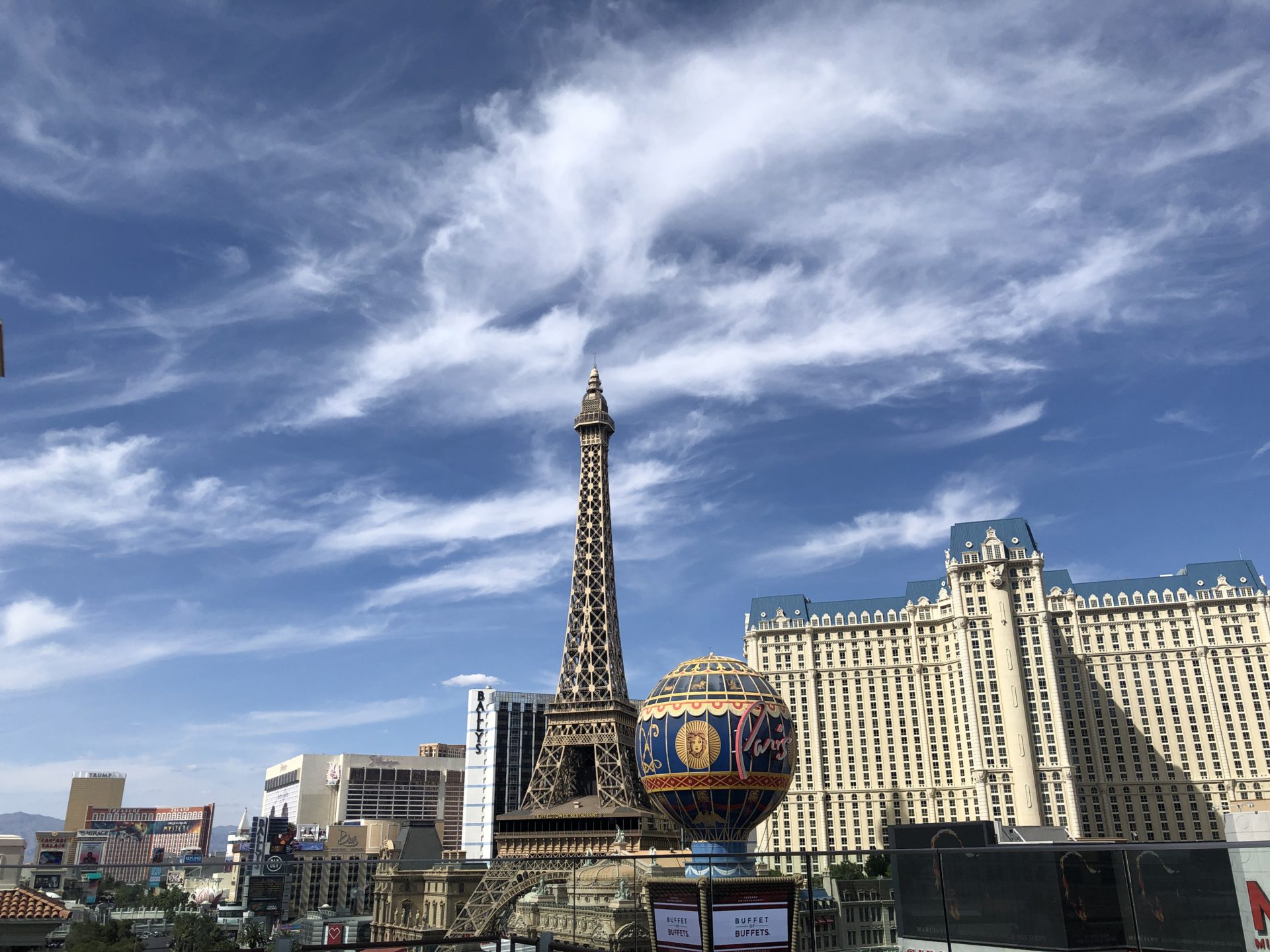 The main attraction at the Paris, Las Vegas casino is the Eiffel Tower, and you can take an elevator to the top for $20 during the day or $25 at night. Their system is not particularly efficient. You pay for your ticket and then wait in a line, which can take a half an hour or more. One good tip is that for $10 extra, they will let you use the express line, meaning you get to go up in the next elevator. It's well worth it if the line is long.
We hate to say this, but as cool as the Eiffel Tower is, the view from the top, 460 feet above the street, is a bit of a disappointment. The view is commanding, and it provides an excellent view of the Bellagio Fountains below, but it also has a ridiculously thick and dense bird cage mesh at the top. You'll have to find tiny holes through the mesh to position part of your phone if you want to get a photo of the street below. (Alternatively, you can drop to your knees and carefully put your phone over the tiny slots looking down.) Even so, the views of the tower from the street are very impressive.
If you want to go part of the way up the tower, you can take in the exceptional views from the restaurant overlooking the Fountains of Bellagio from the tables along the glass wall. It's free to go up there and just have a cocktail or an iced tea at their bar any time after 11:30 a.m. (10 a.m. on weekends). Tables are hard to come by in the evening, but they're open during the day. Open Friday through Sunday.
Bellagio Conservatory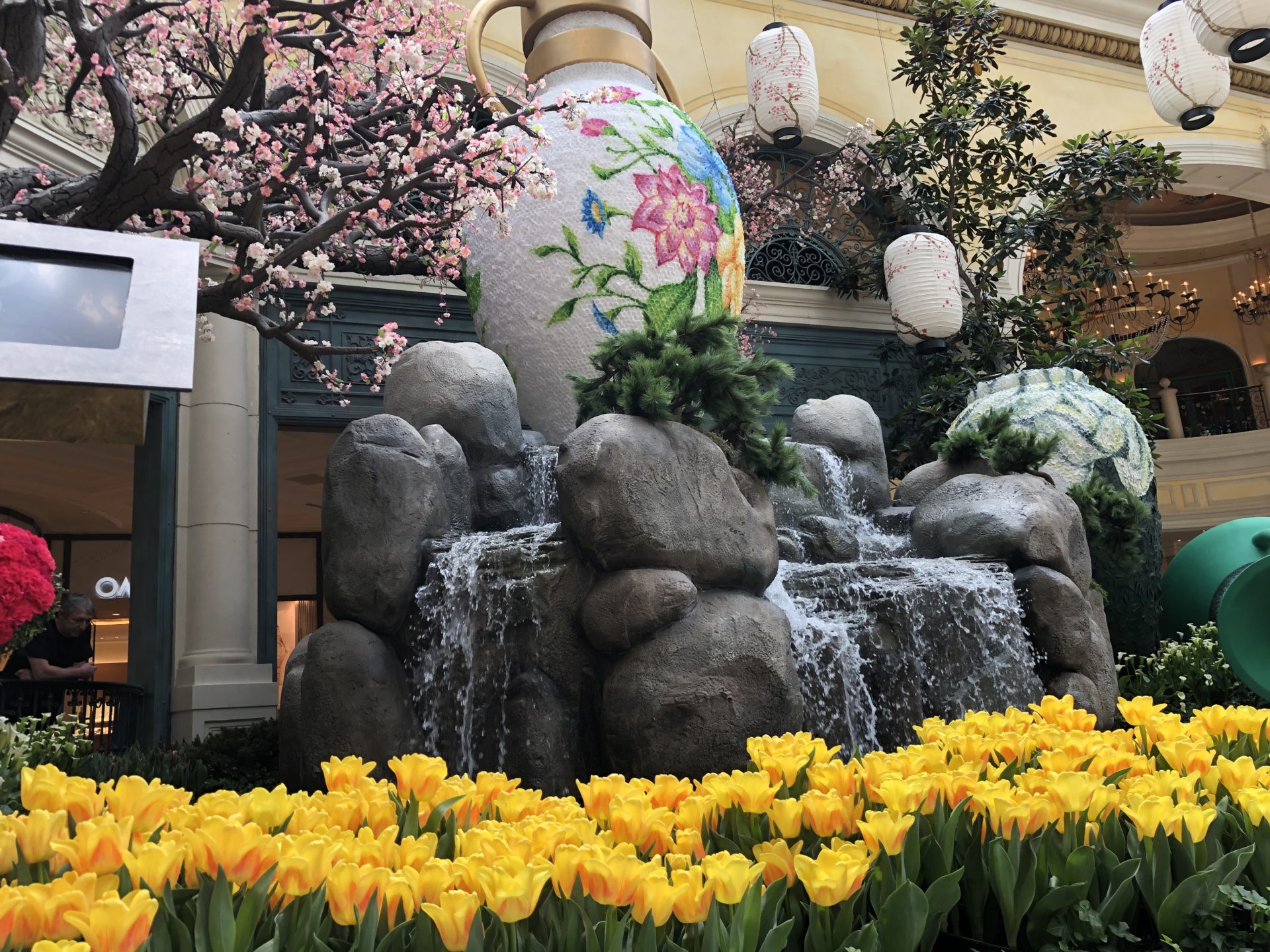 If you're staying at (or in the vicinity of) the Bellagio, you might check out this cool little Conservatory & Botanical Garden. It's inside the resort, not far from the front desk, surrounded by shops (and all the people who come with the shops), so it's not as serene as most other gardens, but it's still really cool.
They put a lot of work into making this garden a worthwhile stop, and because they change it so often, it's almost certain to be an entirely different experience after a few months. (We've been going to Vegas for years and it has always been a new, fresh experience in between trips.) It's really much more than a garden, and is unquestionably worth a stop if you're at the resort. It might have buildings or fountains or bird cages—it all depends on the season.
The Bellagio has a team of horticulturists that transforms the multiple-level, 14,000-square-foot conservatory to reflect the current season. They also recycle 90% of all trees, flowers and plants used in each display. It's a great place to go for a little taste of nature on the Strip, and it doesn't hurt that you can get some killer pictures, too.
High Roller Ferris Wheel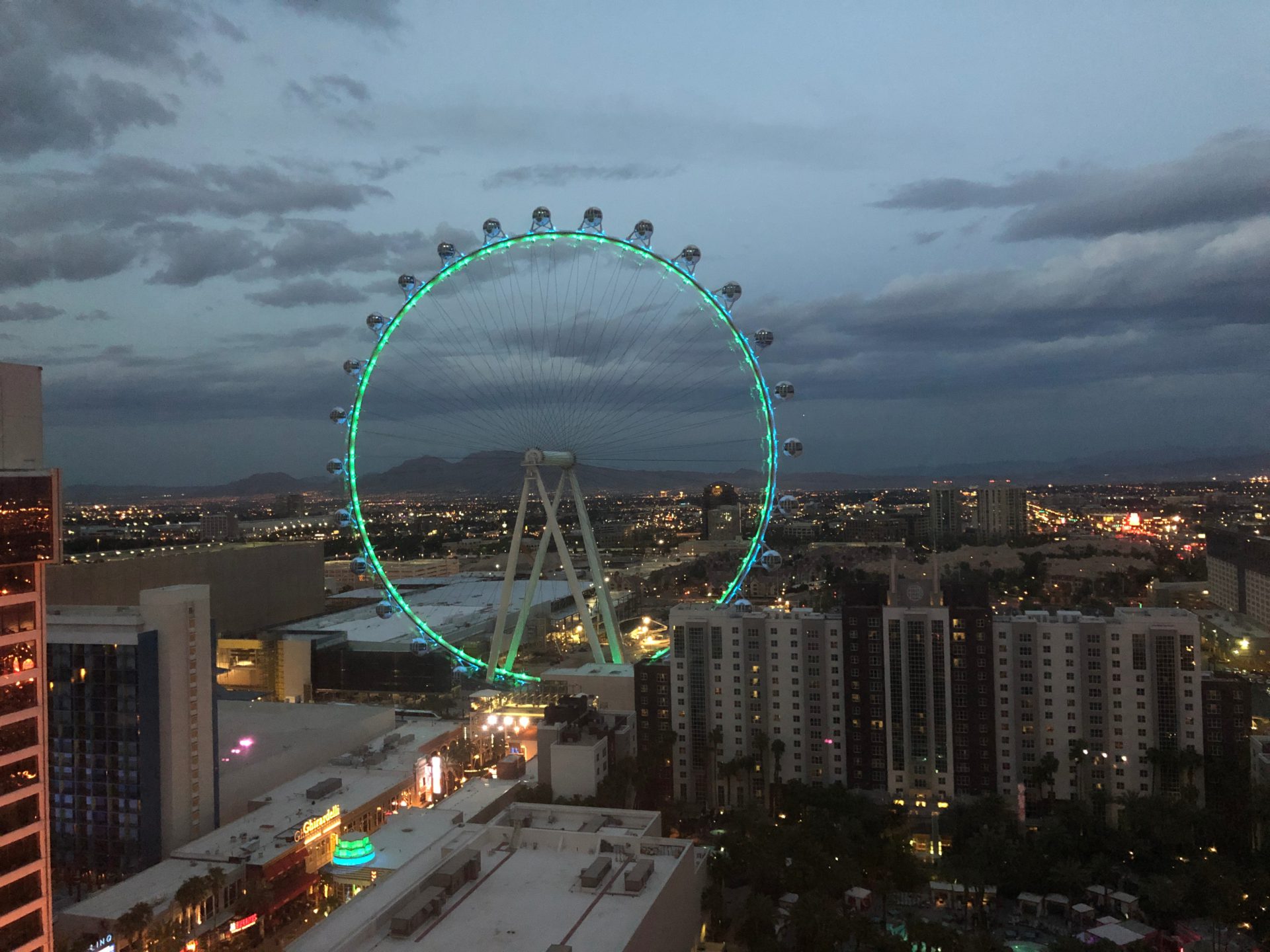 When you look at the High Roller, you'll think Ferris wheel. Think again. It's really more like a revolving observation platform. What you have are 28 large, clear pods where you and up to 39 other visitors (the bar cars hold 25) spend 30 minutes making a single revolution. The view of the Strip from the top is pretty impressive—especially at night.
These are two very different experiences. Most cars have no bar. Once you board the pod, you'll first marvel at the feat of engineering in which you are riding. For the first few minutes everyone is pretty jazzed. But when the novelty wears off on your way to the top, 550 feet above the ground, we've noticed that a sizable portion of our fellow passengers start to get restless, many of them playing on their phones for the next 20 minutes. Hey, you can do that from the ground without paying $24 (that's during the day; it's $35 at night). By the time it's over, people seem anxious to get off and move on.
Before getting aboard, you have a chance to purchase a drink. At the Linq near Flamingo Street. Our biggest complaint is that we wish they cleaned the glass better and more often.
Big Apple Express Roller Coaster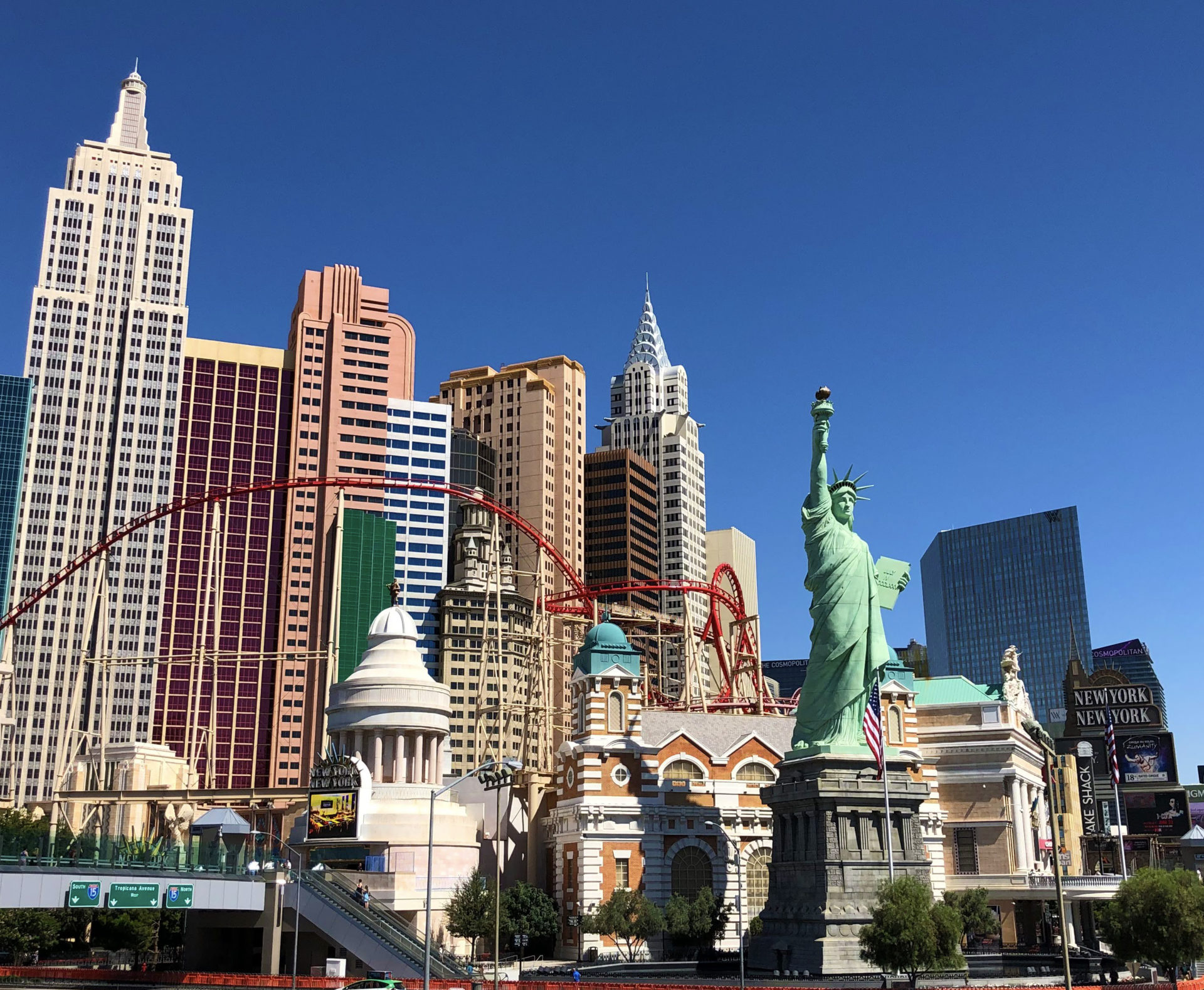 When you're walking along the street at New York-New York, the sights and sounds coming from the roller coaster above the casino are pretty compelling. Man, I need to do that, you think. Is it worth it? Yeah, it really is. The Big Apple Express Roller Coaster is one of the last coasters built by a legendary Japanese roller coaster maker (who went bankrupt after a nasty squabble with Knott's Berry Farm). It's $19 for just under three pretty intense minutes or you can pay $30 and ride all day. Lots of twists, turns, rolls and loops, lots of neck jerking—this is a fun coaster if you don't mind the jerkiness and the double restrainers. Night time is best. At New York-New York. No cameras or phones allowed in your hands. (It would be hard to hold onto one anyway.)
Strat Casino Skypod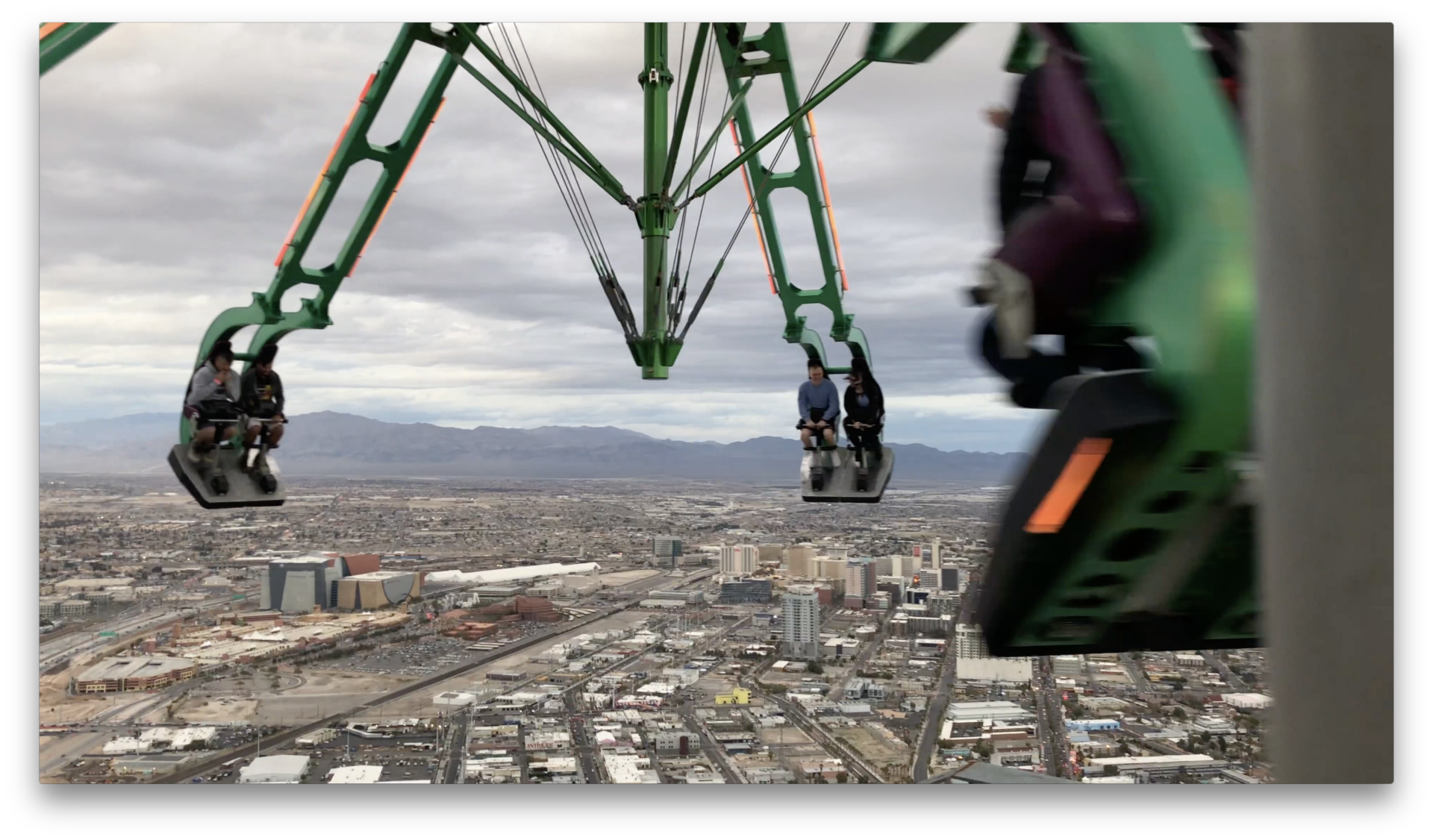 So if you have a resort and casino located a good distance from what most people consider the Strip because it's just a bit too far to walk, how do you get people's attention? Well, in addition to your rather ordinary tower that contains the rooms, you build a decidedly extraordinary tower 1,149 feet tall, call it the Stratosphere (now branded The Strat) and put four thrill rides at the top called Skypod.
So here's how it works. You can buy the rides individually, or get a pass for three rides. We recommend the latter, because it's kind of a pain to get to the top. It involves an elevator ride that often has a line, so once at the top you want to do everything before coming down. If you have the unlimited pass for $44, you can do the rides as many times are you like, and lines are often shorter up there than the elevator lines getting there. If someone just wants to come along but not do any of the rides, they'll have to pay $24 to use the observation tower way up on the 108th floor. But here's a tip: We prefer to pay $0 and visit the 107 SkyLounge (on the 107th floor) for happy hour (4–7 p.m.), then take an elevator to the viewing deck on the 109th floor. (But that's because we're cheap buggahs.) The "downside" of this method is that you don't get to experience the joy of the long line with people who paid to take the regular elevator to the top. (The Top of the World restaurant and lounge elevator is separate and has shorter lines.)
Anyway, back to the rides. Big Shot is their highest ride, with a circle of seats sliding over a central spindle 1,081 feet above the ground. Shoot to the top, then free fall for a few seconds. Do it again, then bounce your way to the bottom. It's 28 seconds long and, though the highest, it's the least thrilling of the three… but still fun.
On the Insanity, 10 people are suspended over the edge of the building dangling in seats like a single eggbeater that twirls in a circle for a couple minutes. One of the best parts is looking at the animated faces of those across from you as they scream their heads off, getting farther away from you as the spinning increases.
In X-Scream you get in a car on a short track. The track then tilts, and you go careening to just past the edge of the track. The two seats in front are definitely the most intense as you will go past the end of the track before stopping, tilting back and doing it several more times.
The fourth ride is by appointment, and it's in a league of its own. Skyjump is a leap of faith where you jump off of the Strat's Skypod, 855 feet above the ground, and are in near free fall for the next 17 seconds. This isn't for the faint of heart, and we consider it one of the adrenaline-fueled adventures of the city because of that.
Okay, we'll be the first to admit that there's a lot more to see and do on the Strip than what we can fit in our blogs. Fortunately, we don't have to put them all on here—we already wrote hundreds of reviews and put them in our Las Vegas travel app, and we even added in a ton of features to help you find your next adventure. If you're planning a trip or are in Vegas now and want to find the next cool, fun thing to do, we have plenty of reviews. And in our opinion, they're totally worth writing home about. Our Las Vegas travel app is available on the app store, so don't gamble on your vacation—download it today!