NEW! Big Island Revealed Drive Tour
Out now for iPhone!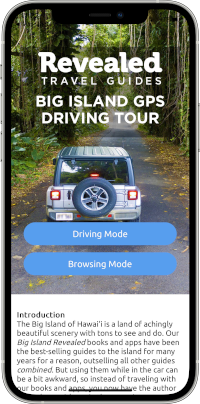 If you're exploring the Big Island, having a trusted voice helping you find your way can make the vacation go from frustrating to unforgettable. The latest guide from the author of Big Island Revealed brings his voice right to your rental car. Our GPS-aware app is the next best thing to having the author riding along with you, pointing out sights, giving advice on the best (and worst) things to check out, offering insight into some of the history, legends and his own personal experiences around the island through the years. The audio tour works great as a standalone guide and even better as a companion to either our printed book or smartphone app. Whether it's your first time on Hawai'i Island or if you've been visiting for years, you'll find this app to be an invaluable resource.
Big Island Revealed App
Island Maps, Activities, Resorts, Dining & more..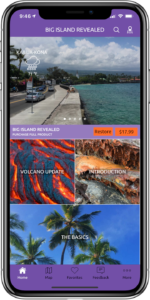 Find all the great content you've come to expect from the Revealed Travel Guides in an app that fits in your pocket. The Big Island of Hawai'i is the largest in the state's island chain (it's not just a clever name), and just finding what's worth your precious vacation time can become daunting. Luckily, we've researched and lived all that we discuss in our guides and you can be assured that with Big Island Revealed, you're being pointed in the right direction. Thanks to the magic of technology, even more beaches, hikes, activity companies and restaurants are revealed than can fit in our print books. Custom maps that are GPS-aware show exactly where the legal and safe routes to the beaches, hiking trails and the best mai tais can be found. Real time weather and surf alerts as well as other safety information can be sent out to keep you on top of the conditions. Download the app today and start planning your dream vacation.
Hawaii The Big Island Revealed: The Ultimate Guidebook
New – eBook, 11th edition!
Go all digital with the ebook version of our guidebook, Big Island Revealed. It's all the reviews and custom-made maps you find in our print version, but with clickable links to the various information we mention (at least, as long as you have an internet connection). All the content is searchable, text size is adjustable and multiple pages can be bookmarked to easily find the highlights of your trip.