NEW Revealed Travel Guides App – Kauai
(includes everything from our Kauai Revealed App which had over 800k downloads, and so much more!)"

Find the exact spot to lounge on the beach or to start your hike through Kaua'i's tropical interior with Revealed Travel Guides on your smartphone. This GPS-aware app guides you to the best the island has to offer, as well as the spots to avoid. Get daily surf reports for all the beaches, hazardous weather warnings, plus even more reviews than we can fit in our printed books. We've exhaustively researched and reviewed the best and worst of Kaua'i's beaches, restaurants, resorts and activities so you can spend less time planning and more time enjoying paradise. Get the most out of your vacation to the Garden Island by downloading Kaua'i Revealed.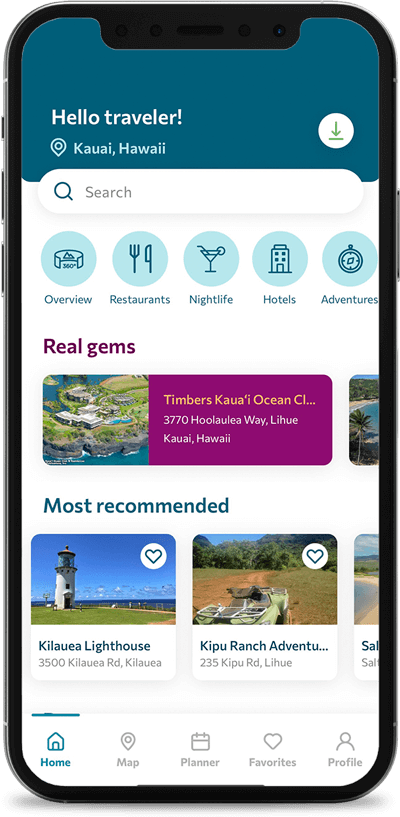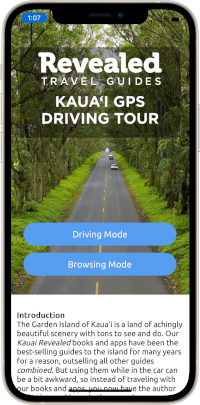 Kauai Revealed Drive Tour App
Our latest guide to Kaua'i is the next best thing to having the author riding in the backseat of your rental car. (Plus, you don't have to worry about feeding him.) This GPS-aware guide gives you the ability to enjoy cruising around the island while the author points out sights, gives advice on the best (and worst) things to check out, offers insight into some of the history, legends and his own personal experiences around the island through the years. The audio tour works great as a standalone guide and even better as a companion to either our printed book or smartphone app. If you're planning to visit Kaua'i, download this app and let the experts be your guide.
The Ultimate Kauai Guidebook: Kauai Revealed

1,469 customer reviews
NEW! 13th Edition
The original and still the best, The Ultimate Kaua'i Guidebook: Kaua'i Revealed is how visitors get the most out of their vacation to the Garden Island. This award-winning travel guide brings in-depth reviews, custom made maps and over 20 years of experience as the go-to guide to everything Kaua'i has to offer. All of our reviews are done anonymously and you won't find any advertisements in our books—we don't take any kickbacks or perks for "good" reviews, and we're sure some businesses would pay to have our "bad" reviews removed. Pick up a copy of Kaua'i Revealed and begin planning your unbelievable vacation with a believable guidebook.Buy from Barnes & Noble » Get it from Amazon »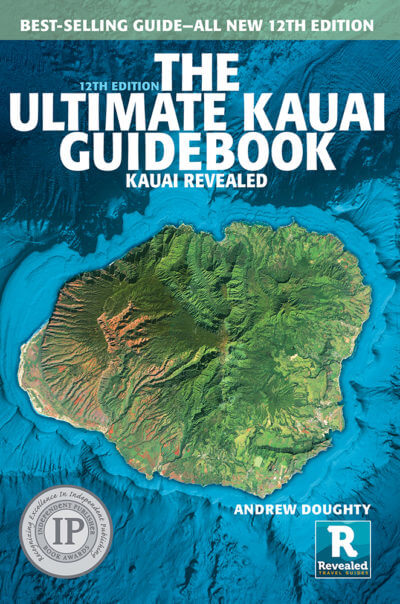 The Ultimate Kauai Guidebook: Kauai Revealed
New – eBook, 13th Edition!
Go all digital with the ebook version of our guidebook, Kaua'i Revealed. It's all the reviews and custom-made maps you find in our print version, but with clickable links to the various information we mention (at least, as long as you have an internet connection). All the content is searchable, text size is adjustable and multiple pages can be bookmarked to easily find the highlights of your trip.
Author's Note
Kaua'i is what you envision when you think of a heavenly tropical paradise. The windward side is lush and green with waterfalls, dramatic mountains, incredible beaches, rivers to kayak, and a central interior that features one of the wettest places on earth with 3,000-foot waterfall-etched cliffs. The leeward side has sunny weather, great snorkeling, the incredible Waimea Canyon and Na Pali—literally the most awe-inspiring shoreline you will ever see in this world. I'm certain Kaua'i will steal your heart the way it has stolen mine.