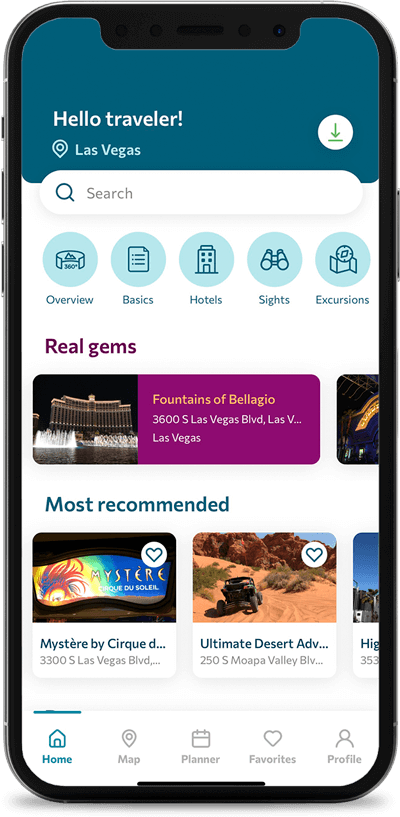 NEW Revealed Travel Guides App – Las Vegas
Available for iOS and Android
Explore the parts of Las Vegas most visitors only dream of seeing with our Revealed Travel Guides app. Our GPS-aware app guides you to the best spots in Sin City and the areas around it, all the way from the most popular sights along the Strip and Fremont Street to some of the coolest, best-kept secrets all over town and even out in the desert. Our map works with your phone's GPS to help guide you through city streets and on hiking trails so you know where you are (and can find where you want to go). With reviews all over the city and the natural areas that surround it, Revealed Travel Guides brings some of the quirkiest, funnest and most beautiful destinations in the Las Vegas Valley right to your phone.
Whether you're an outdoors enthusiast that's curious about Red Rock or Lake Mead, a gambler that's looking for something else to do or a visitor that's never been to Vegas, our guides can help you read up on the shows, nightlife, activities, and sights that make Las Vegas one of the most popular tourist destinations in the world. Get the most out of your Sin City vacation and download Revealed Travel Guides today!
I've been writing guidebooks, apps—and now GPS audio tours—about Hawai'i for more than 25 years. I was sad when I ran out of Hawaiian islands to write about, until one day I had an epiphany: As every resident of Hawai'i will tell you, Hawai'i (made up of eight major islands and many uninhabited atolls, islets and seamounts) has a ninth island.
That island is Las Vegas, the most popular vacation spot for Hawai'i residents. When you live in a tropical paradise, the last thing you want to do is vacation on another tropical island. You want to hit the casinos (many Hawai'i residents love to gamble). You want something different. And baby, Vegas is different.
But to leave Hawai'i and tackle the innumerable options available in Las Vegas, I would need more than my staff—I would also need my highly organized wife, Leona Boyd who has also been the staff photographer for Hawai'i operations for over a decade.
As readers of our Hawaii Revealed guidebooks know, we review everything personally and anonymously. So we and our staff spent almost a year researching all the things you can see, do, eat or drink in Vegas.
When we got turned loose in Las Vegas, on our first day in the field we found ourselves in a helicopter—not an uncommon experience in our line of work. But from this helicopter I got to shoot a real machine gun at airplane fuselages on the ground in the mountains near Vegas. Later that day I jumped off a 855-foot high building with only a cable to stop my fall at the end. The next day was snow skiing at nearby Lee Canyon.
When you come to Vegas, you can surf at one of the resorts or have a drink in an ice bar where everything—even your cups—are made out of ice. You can drive Lamborghinis, operate a bulldozer for hours, blow up a car, or crush one while driving a tank. You can visit Area 51 (where I lost a drone by the way, though probably not to aliens) or drive a speedboat on the Colorado River—the possibilities for fun go on and on.
Leona and I set out to prove that there is much more to Vegas than just gambling and shows. And we and our team had the time of our lives proving it.
Andrew Doughty
Author/Publisher, Revealed Travel Guides
Leona Boyd
Author/Photographer, Revealed Travel Guides