It is a beautiful Wednesday morning in June 2028. A young newlywed couple from California is out exploring the shoreline in the Puna District on the Big Island of Hawaii. They soon stumble upon the most exotic and delectable cove you can imagine. The land looks young and raw, and the cove is protected from the open ocean, filled with fish, clean, clear water and a smattering of coral. They snorkel in their newly found paradise. This is the Hawai'i of their dreams.
When we find that special spot, we rarely give thought to how it came to be. But for our young couple's discovery, I know exactly how it came to be. Because I was there the very day, it was created in June of 2018. And their little piece of heaven arrived through tears of sadness. Because decades before, another couple stumbled upon a similar cove nearby and frolicked with abandon. People built their dream homes, raised children and basked in their special place. But we must remember that no one really owns any of the lands on the flanks of Kīlauea. We are merely tenants. And Madame Pele reserves the right to serve an eviction notice any time she wants. This is the way of things and has been for eons. Behold the creation of the next heavenly cove to grace the shoreline of the former town of Kapoho on the very day it came into this world, still steaming from the cooling lava. May future travelers enjoy you they way travelers and residents enjoyed that which came before you.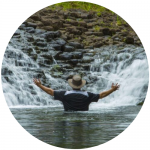 Andrew Doughty is the famous author of the widely popular Hawaii Revealed series including Kauai Revealed, Oahu Revealed, Maui Revealed and the Big Island Revealed. He moved to Kauai many years ago after he fell in love with the beauty of the islands and decided to never go back. He is known for his candid opinion on each of Hawaii's attractions, be it a restaurant, a helicopter ride, a beach or a resort. For the last two decades, he has managed to keep his identity anonymous so that his reviews can remain unbiased and only be influenced by his own opinions and thoughts. You can learn more about his beautiful journey at this link – About the author
For more info on any of the islands, download our Hawaii Revealed app.
Mahalo.