Celebrate Valentine's Day in Hawaii
Explore the hidden secret and stroll hand in hand through an incredible natural wonder
One of the many definitions of aloha is "love," which makes visiting Hawaii to celebrate Valentine's Day at the top of many people's wish lists. The sun-kissed beaches, misty waterfalls, and captivating landscapes make the islands of Hawaii the ideal playground for intimate celebrations of love.
Couples can experience the day of love with a trip of complete relaxation and spend long, quiet days on secluded beaches, watching the sunrise and set, or getting massages in open-air huts. If you're more the adventurous type, you can take couples surfing lessons, go snorkeling, or experience exhilarating ziplines over tropical valley views.
You can celebrate Valentine's Day throughout the islands of Hawaii. Here's a list of popular events and activities to express your love:
Private Dinner for Two on the Beach
Many resorts and hotels on the islands offer intimate dinners for two in front of the ocean, including:
Renew Your Wedding Vows in Front of the Ocean
Renewing your vows is an excellent way to fall in love all over again this Valentine's Day and renew your commitment to your spouse. What better way than to experience the renewals with the ocean as your backdrop?
Enjoy a Romantic Sunset Cruise
Bring the perfect Valentine's Day to an end by watching the sunset over the ocean.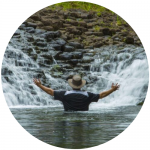 Andrew Doughty is the famous author of the widely popular Hawaii Revealed series including Kauai Revealed, Oahu Revealed, Maui Revealed and the Big Island Revealed. He moved to Kauai many years ago after he fell in love with the beauty of the islands and decided to never go back. He is known for his candid opinion on each of Hawaii's attractions, be it a restaurant, a helicopter ride, a beach or a resort. For the last two decades, he has managed to keep his identity anonymous so that his reviews can remain unbiased and only be influenced by his own opinions and thoughts. You can learn more about his beautiful journey at this link – About the author