1. Plan a Resort Getaway
If you are already in Hawaii or planning a visit, choose the best hotels in prime locations in Hawaii
Find more resorts here.

2. Get Dad Aloha Wear
The Aloha shirt is a staple gift for anyone who has visited the Hawaiian Islands. Get your dad some awesome apparel from a local Hawaiian retailer. Many outlets provide excellent choices for the well known Hawaiian shirt, our recommendation for a great deal is to shop the Tommy Bahama Father's Day sale!

3. Island Helicopter Tour
If your dad is the fun-loving, adventurous type, send him on a tour of a lifetime! Mauna Loa Helicopter Tours on Kauai Island are one of the most exciting and life-changing helicopter tours in Hawaii! Visit the website to book a trip for you and your dad!

4. A Day of Golfing
Hawaii is home to many beautiful golfing ranges. The Plantation Course in Kapalua, Maui is a consistently top-rated course that overlooks Maui's mountainsides and the ocean. Visit Kapalua Golf Course Maui to schedule a package for Dad.

5. Plan a Beach Day
Here are some of the most relaxing and scenic beaches on each of the main Hawaiian Islands that are perfect for a beach day.

6. Send Dad a Postcard
Won't be home for Father's Day? Show dad you still care by sending a customized postcard with the essence of Hawaii. You can insert a heartfelt message and order from companies such as Island Art Store.

7. Father's Day Buffet
Treat Dad to a special buffet on Oahu Island. This BBQ Buffet by Ke Nui Kitchen starts at 11 am in Pikake Pavilion, and purchase of meal includes preferred seating and free admission into the Valley. Buffet prices include gratuity and sales tax: adult/$52.95, child/$26.50 (4-12 years old). Alcohol is extra. Visit WaimeaValley.net

8. Get Your Dad A Lei
A lei is a great way to show love, celebrate, and show tribute to a loved one. You can gift your dad a lei this father's day show your appreciation. Many local companies have great designs of beautiful leis for ordering. One of our recommendations is www.hawaiianleicompany.com

9. Father's Day Cruise
Surprise Dad this Father's Day with a dinner buffet cruise! The Star of Honolulu will sail along the Waikiki shoreline. The entire family can enjoy a delicious three-course meal, an entertaining show, and a great sunset view. Dads also get a free beverage of their choosing! Visit Hawaii Discount to book your cruise!

10. Gift Your Dad Authentic Hawaiian Coffee
Give Dad a gift that he can use all year round. Getting dad authentic Hawaiian coffee will perk up his day-to-day life! You can visit the Hawaii Coffee Company to order some straight to your doorstep. The Hawaiian Islands have many resorts and hotels that are perfect for providing your dad with a relaxing and fun stay. Hawaii's resort locations have beautiful and scenic views of the wonders of each island. So dad can have breakfast next to the blue ocean or gaze over the sunset from his room view. Whether your dad is into thrill-seeking or just relaxing on the beach, he can enjoy a ton of activities.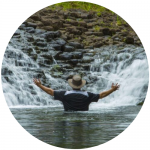 Andrew Doughty is the famous author of the widely popular Hawaii Revealed series including Kauai Revealed, Oahu Revealed, Maui Revealed and the Big Island Revealed. He moved to Kauai many years ago after he fell in love with the beauty of the islands and decided to never go back. He is known for his candid opinion on each of Hawaii's attractions, be it a restaurant, a helicopter ride, a beach or a resort. For the last two decades, he has managed to keep his identity anonymous so that his reviews can remain unbiased and only be influenced by his own opinions and thoughts. You can learn more about his beautiful journey at this link – About the author