Hawai'i has officially opened its doors to travelers from the mainland—except for Kaua'i! How will COVID-19 affect my trip to Hawai'i?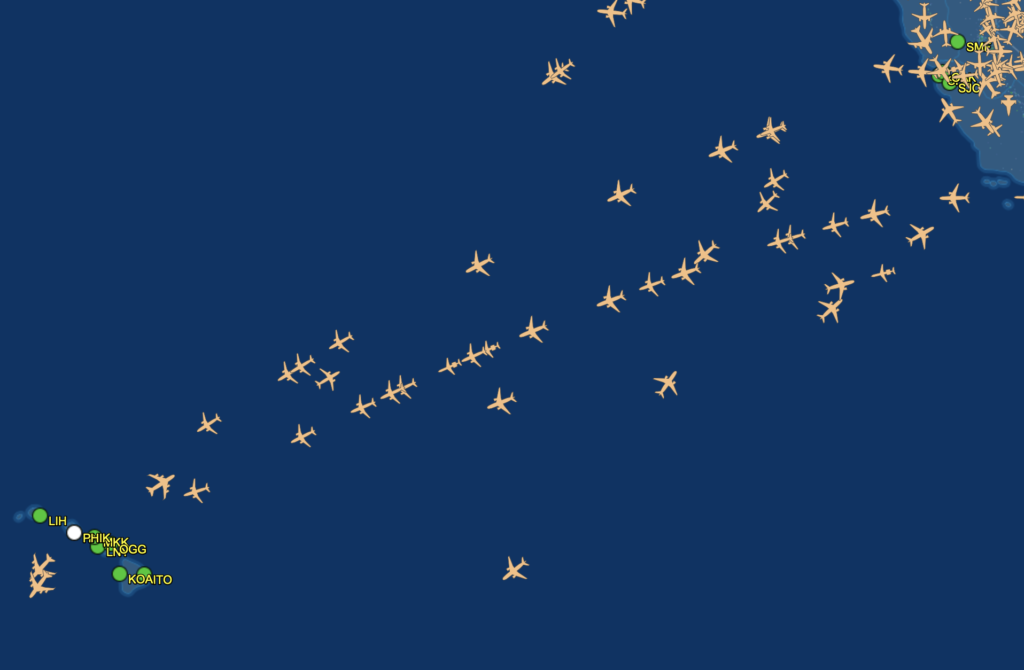 Flights to Hawai'i on the morning of the reopening, carrying over 10,000 passengers.
Like the rest of the country, Hawai'i has been deeply affected by the COVID-19 virus. Visitors from the U.S. mainland are now allowed to avoid quarantine if they test negative for COVID-19 within 72 hours prior to the departure time of the final leg of your flight to Hawai'i. (International visitors, except for those from Japan and Canada starting mid December, are not allowed in yet.) If, by chance, your test results are not available by the time you land, you will have to quarantine in your hotel room for two weeks, so don't fly if you don't have your negative results in hand. Getting tested before your flight might be a pain, but you will be rewarded by being able to frolic in a tropical state that has the lowest case count by population in the entire country.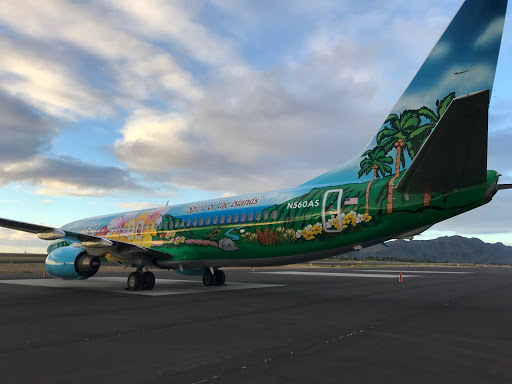 It's not hard to get in the aloha spirit, but you'll have to make sure you're healthy before traveling.
Here's how it works:
All islands except Kaua'i—You'll need to create and register an account with Hawai'i's Safe Travels program. This is part of the state's efforts to verify all travelers to Hawai'i. Each adult (18+) will have to create their own account—any minors in your party can be added to an adult account. Here you'll enter all your contact information and trip details.
Within 72 hours before your final flight leg departure, you'll need to take an approved COVID-19 test (an FDA-authorized nucleic acid amplification test [NAAT], to be precise). Click the link below to see the state's ever-expanding list of Trusted Partners. Make sure to scroll to the list of under the heading of DOMESTIC TRANS-PACIFIC TRUSTED TESTING PARTNERS.
For these tests, you're usually handed a swab that you roll around each nostril. (With most of these companies, you aren't required to take the more awkward test that shoves the swab way to the back of your sinuses.) Also, United Airlines provides same day tests for flights out of San Francisco for their customers (for a hefty $240). Hawaiian Airlines also tests their travelers leaving from San Francisco and Los Angeles at drive-thru sites and plans to announce the same from Las Vegas and Phoenix soon. You can either get it the same day for $150 or 36 hours from flying for $90. And if you're leaving out of Oakland, the airport will test you in advance for free. And Alaska Airlines will provide tests for passengers to Hawaii leaving from Seattle, with more cities to come.
The sources that stand out to us are Costco and Vault Health (because it's done at home with saliva) and Walgreens (because it's free). We recommend you stay away from CVS.  They recently issued a statement that they cannot guarantee the timing of the results and if you use them, you probably won't have them by the time you depart. We had an issue with that when we traveled inter island and had to cancel our plans the day we were suppose to leave. Not a big deal for us, since we live here, but it could be a nightmare if you had an entire 2 week vacation planned.
Most of these companies will want you to download an app called MyChart where the test results will be sent. (Some use other means.) Twenty-four hours before your flight, go to the Safe Travel website and fill out the medical questionnaire. Tap the Document option and upload a PDF of your test results. (A screen shot won't do. It has to be in PDF form.) You'll get an email from the Safe Travels program containing your unique QR code—you can print this out or have it ready to be scanned directly from your smartphone. (We recommend having a printout for a backup—it's 2020 and having your smartphone unexpectedly die mid travels just feels extra likely, right?) You will present the QR code and printed test results to officials upon landing in Hawai'i, plus get another temperature check. If your health info checks out and you have less than a 100.4 ºF temperature, you're free to be safe and explore Hawai'i.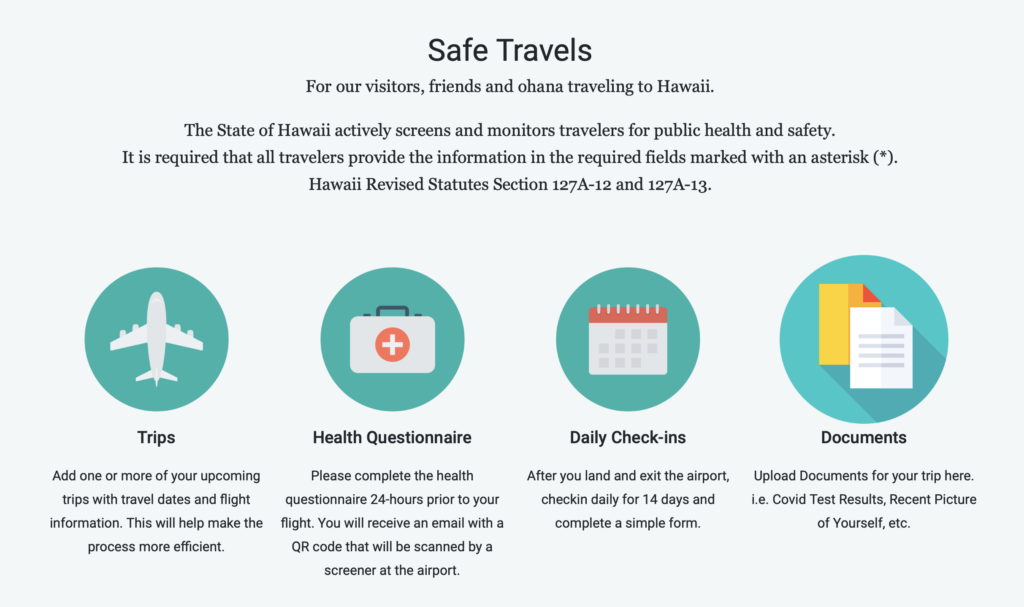 What the safe travels main page looks like.
For some baffling reason, 16% of the 10,000 passengers who arrived on the first day of Hawai'i's reopening did so without taking any tests, and were promptly ordered to quarantine for a full two weeks. Note that quarantine doesn't mean you can't leave your resort. It means you can't leave your hotel room, and there are mechanisms to enforce that, so make sure you get tested by one of the above companies before you get here.
Also, look at your test results carefully to make sure they didn't make any errors that would affect you. For instance, in preparing for an inter-island flight in mid November to test our new GPS audio tour apps, I saw that they had listed an incorrect "Collected" time which gave a time that was slightly more than the 72 hours required to avoid quarantine. If I had not caught that error, I would have been forced into a 2-week quarantine even though I did everything by the book. Instead, I called the testing lab and they immediately corrected their mistake and sent me the correct test result below.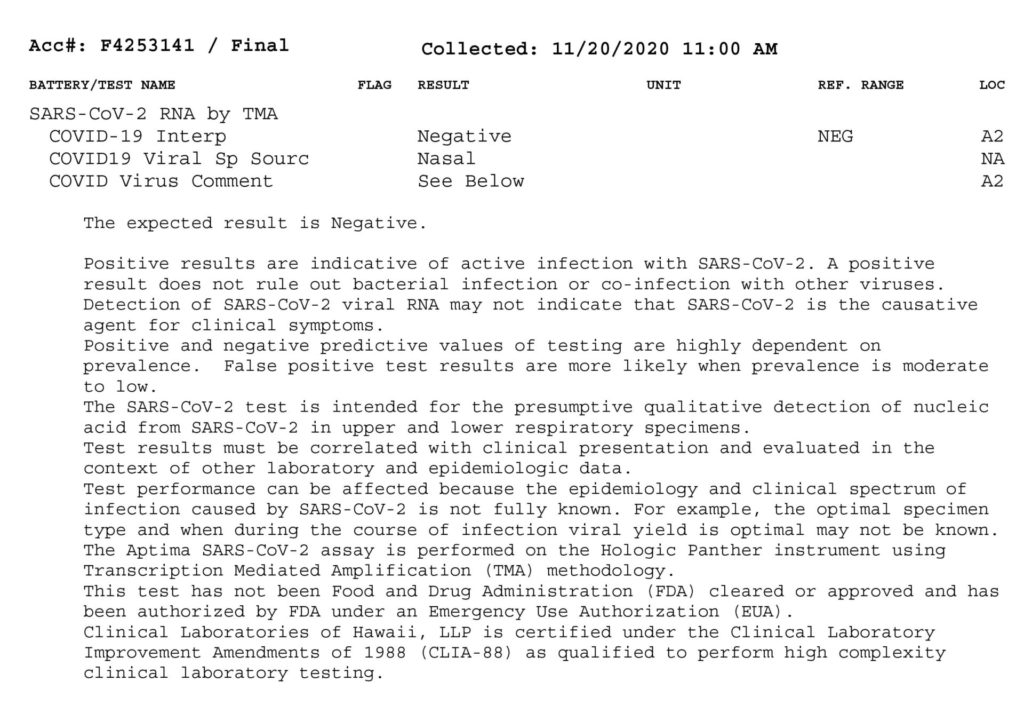 Your ticket to explore Hawai'i.
What if I want to go to Kaua'i?
Kaua'i officials were kind enough to give a 3 day notice that after December 1st, all visitors and returning residents will have to quarantine for 14 days regardless of any testing, effectively shutting the island down again for the foreseeable future. So if you have tickets to Kaua'i after Monday night, you should cancel them. It's possible more mayors will follow suit though the Honolulu mayor doesn't seem open to that. You might see that Kaua'i has so-called resort bubbles, but beware. Like a scene out of a science fiction movie, you are required to wear a tracking bracelet at all times and you can't leave the resort for any reason or you will be arrested. We find it hard to believe that the island will see many takers on this one. The Kaua'i mayor has been very honest since the pandemic began about not wanting to open the island to visitors and it's likely that this ban will last for months.
What if my results aren't available in three days?
The state claims they have made contracts with those testing sites to make sure that they will be done in three days. But again, if they fail, then don't get on the plane. The state requires that you receive and print negative test results before you arrive. So even if you get negative test results an hour after you land or even during your flight, you will be forced to quarantine in your hotel room for two weeks or the length of your stay, whichever is shorter. This change came because the state wants to motivate all travellers to be Covid-free on the plane and they want to punish those that did not have a negative test result when they departed. The only silver lining is that most airlines have waived change fees.
What if my flight is delayed to the point that it leaves more than 72 hours after I took the test?
I worried about that myself on November 1st because that's what happened to me. The flight was delayed enough in Denver that when it finally took off late after having to switch out planes, it had been more than 72 hours since I took the test. It had no effect on the process and I was not made to quarantine.
What if my results are positive before I fly?
Then there won't be any aloha for you. You'll have to cancel your trip and quarantine until you test negative. (Fortunately, there's never been a better time to change or cancel airline reservations because most airlines are waiving those fees.)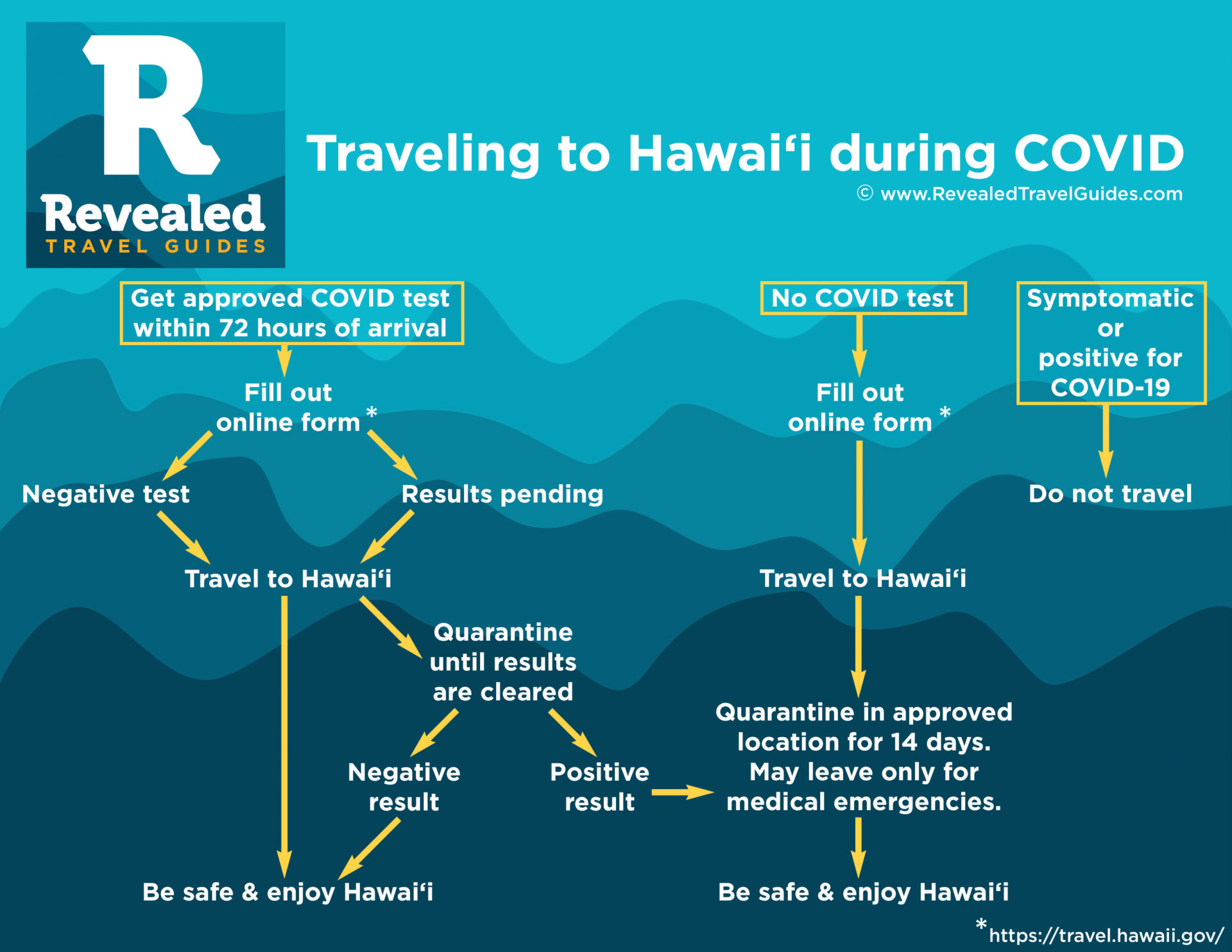 Need to visualize the process? Here's a flowchart that will show you what to expect if you're traveling to Hawai'i.
Can I get COVID-19 on the airplane?
According to the CDC, "Most viruses and other germs do not spread easily on flights because of how air circulates and is filtered on airplanes," and a study released in October says the risk is "virtually non-existent if you wear a mask." (They were prompted to do the study when it was noted that flight attendants had much lower rates of COVID than the general population.) Perhaps the most comforting thing is to remember that, in theory, airplanes flying into Hawai'i should be the safest planes in the country, because your fellow passengers have been screened before boarding.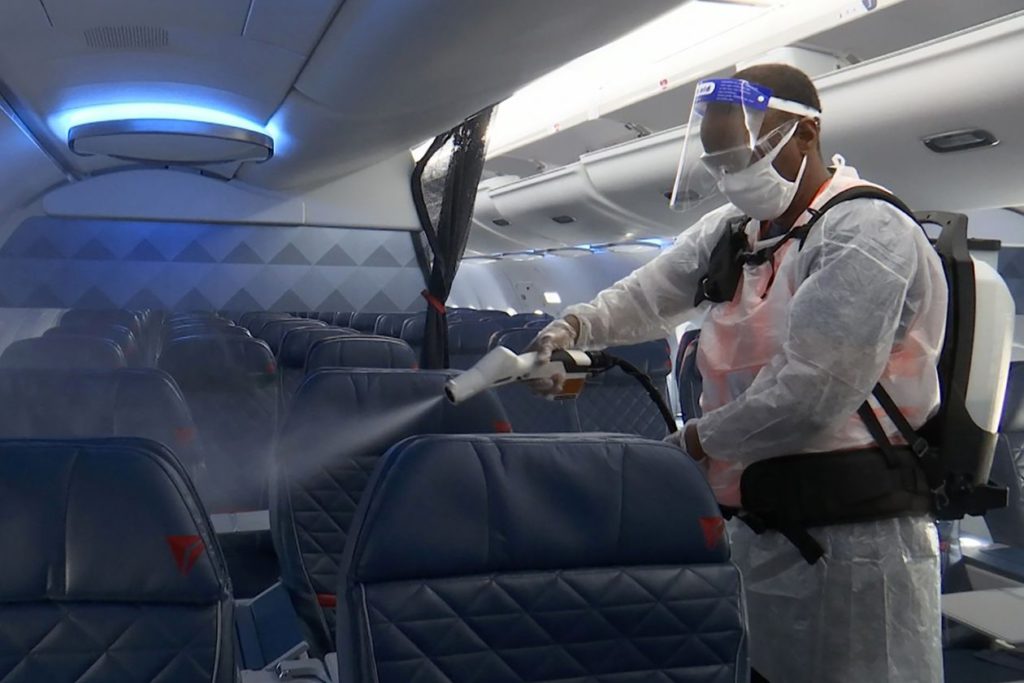 Airplanes get thoroughly disinfected between flights.
What if I have children under 12?
Kids under 5 don't need to be tested and many (but not all) of the testing sources above will test kids 5–12.
What if I want to visit more than one island?
You can fly from any island to O'ahu with no restrictions. You can fly from any island to Kaua'i, Maui or Big Island with the same policy you followed to get to Hawai'i—take a test less and receive negative results than 72 hours before flying in. If you are flying inter-island after flying in from the mainland you don't need any additional tests. But beware! These test providers might not be as on top of things as their mainland counterparts and they are certainly not created equal. For instance, I have used CVS/Longs several times on the mainland and gotten test results back quickly. But in Hawai'i, you might find them the gang that can't shoot straight. When I went to their one of their Longs Drugs outlets and paid $139 for test results, they didn't get them back within 72 hours and I had to cancel the inter-island trip. (And they have an exhaustive process to try to get a refund which has not been successful yet.) 
For Inter-island Covid tests before flying to neighbor islands, use the link at the bottom of this blog and scroll to the part that says STATE OF HAWAII: INTER-COUNTY TRUSTED TESTING PARTNERS. A truly head-scratching fact is that tests taken on the island administered by the counties, which use the same tests as the "trusted partners," are not acceptable for inter-island travel. Get it? Those tests are trusted by the state, but the counties are not considered "trusted partners." Yeah, let that one sink in.
What's it like flying these days?
You have to wear your mask at all times in the airports and on the planes unless you're actively eating or drinking. And speaking of the latter, don't expect food service, even in first class. And it might be difficult to buy food in the airports because so many businesses there are closed, though some airports, such as Denver seem busy and most businesses there are open. The smart money is to bring your own food in the form of sandwiches and other things that don't need to be refrigerated. You'll probably be able to get water in the plane, but that might be it. Airlines use an impressive array of tools to disinfect their aircraft. Having said that, I still bring wipes with me and treat all the areas around my seat that I might touch. (Don't forget the tray table.) I went to and from Hawai'i three times during the shutdown (and had to endure three two-week quarantines) and once since the testing program has been implemented. And since I have a goatee, I decided a clean shave would be helpful for the long mask-wearing journey.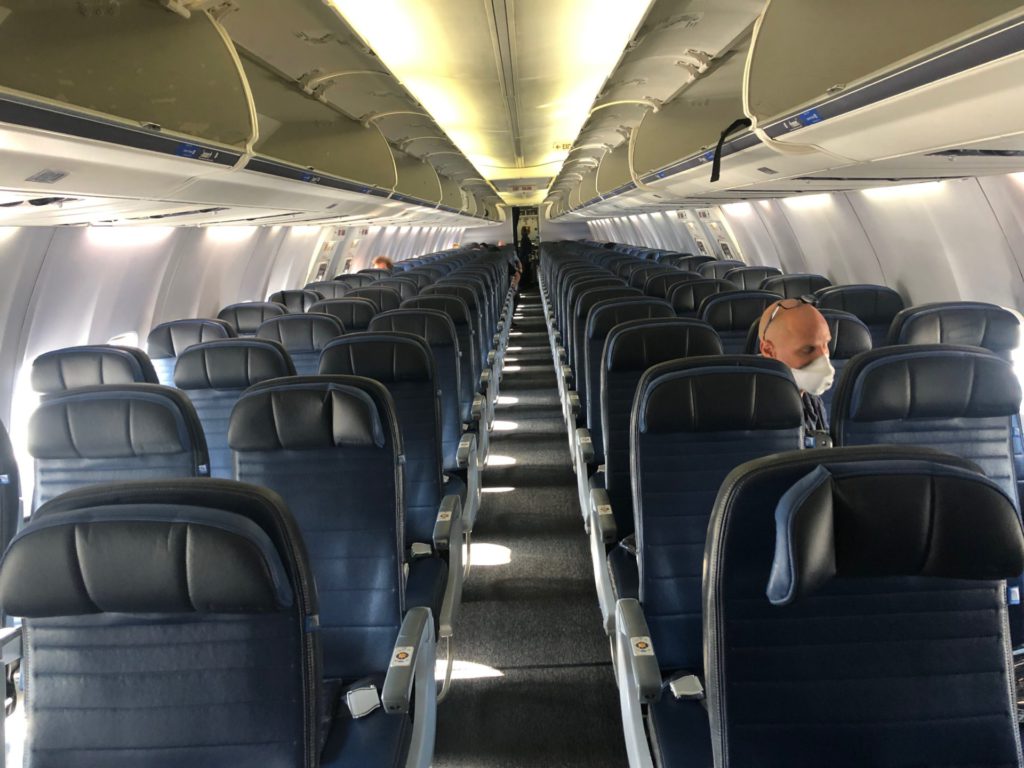 What's it like flying? Well, a little less busy right now.
Once I'm in Hawai'i, what should I expect?
Well, for one thing, uncrowded conditions. Hawai'i went seven months with virtually no visitors and is not expecting a return to big visitor numbers for the foreseeable future. That means there has literally never been a better time to visit the islands if you hate crowds. The neighbor islands have few restrictions other than wearing masks in public around others, but O'ahu has restrictions that limit beachgoing and other activities.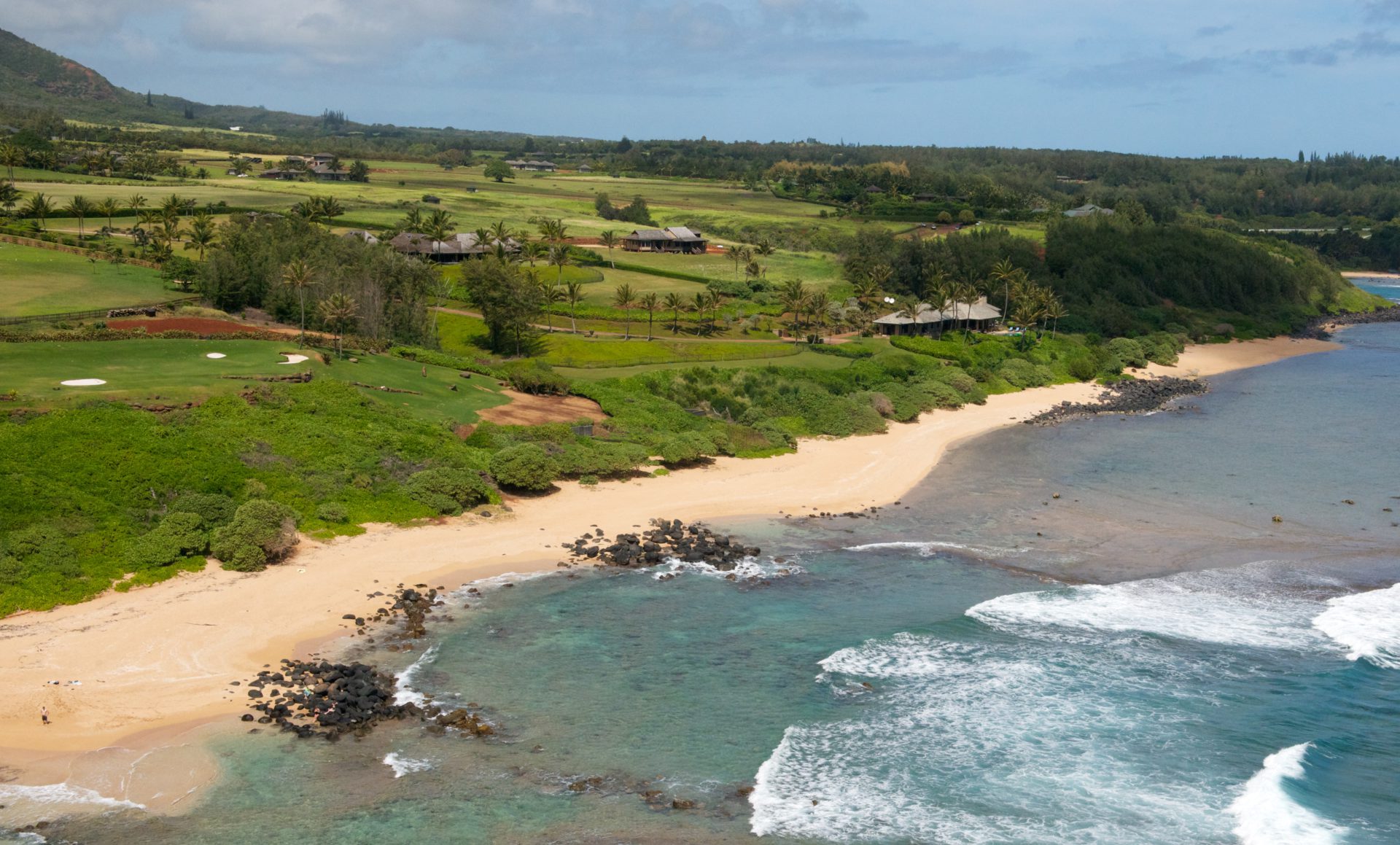 Some of the routinely busy beaches are almost entirely empty right now.
Any other testing I need?
Nothing for O'ahu. When you land on neighbor islands they will ask for some visitors to volunteer to come back in a few days and test again and might offer coupons or other freebies to encourage you to agree. And Big Island, at their own costs, test a small percentage of visitors to keep an eye on how many mist still have the bug. For what it's worth, statewide post arrival testing has indicated that only a tiny fraction of your fellow passengers will go on to positively test.
What is the COVID-19 situation in Hawai'i?
Compared to other places in the U.S., Hawai'i is doing well and has the lowest case count per population in the whole nation. The neighbor islands in particular have been affected far less than the mainland. Since the pandemic began, the cumulative number of cases on the Big Island are around 1,500, Maui cases are measured in hundreds. And on Kaua'i it's only measured in the dozens. O'ahu is the most populated island and has had close to 15,000 cases. So bottom line? O'ahu is like many places on the mainland whereas the neighbor islands have been lightly touched by comparison.
What will Hawai'i be like once I arrive?
In addition to the guidelines for getting to Hawai'i, we try to keep our finger on the pulse of everything going on in the islands. We have contacted companies in every corner of the visitor industry and have found some general guidelines to keep in mind:
Dining is what most visitors are complaining about. Which ones are still closed due to the previous shutdown. Don't count on getting that info online, it's kind of a mess there. But our Hawaii Revealed app includes which reviewed restaurants are open and which are still temporarily closed.

Most businesses will prefer cashless transactions (online reservations, credit cards, etc.). 

Hand sanitizer and/or hand washing stations will be provided by many businesses, often at the entrance or by a roving crew member.

Many tours will require a temperature check at check-in (boat tours especially).

Expect any tour that previously included a meal to have a limited offering that is individually wrapped and never buffet-style.

Face masks and social distancing will be required in all public spaces.

Gear rentals (snorkel, scuba, bike, surf, etc.) will still be available through various outlets, such as hotel concierges. They promise enhanced cleaning of equipment.
Dining
Parties cannot have more than six per table.

You'll find plexiglass dividers at bar spaces, allowing only two guests per section.

Expect more take-out options than dine-in.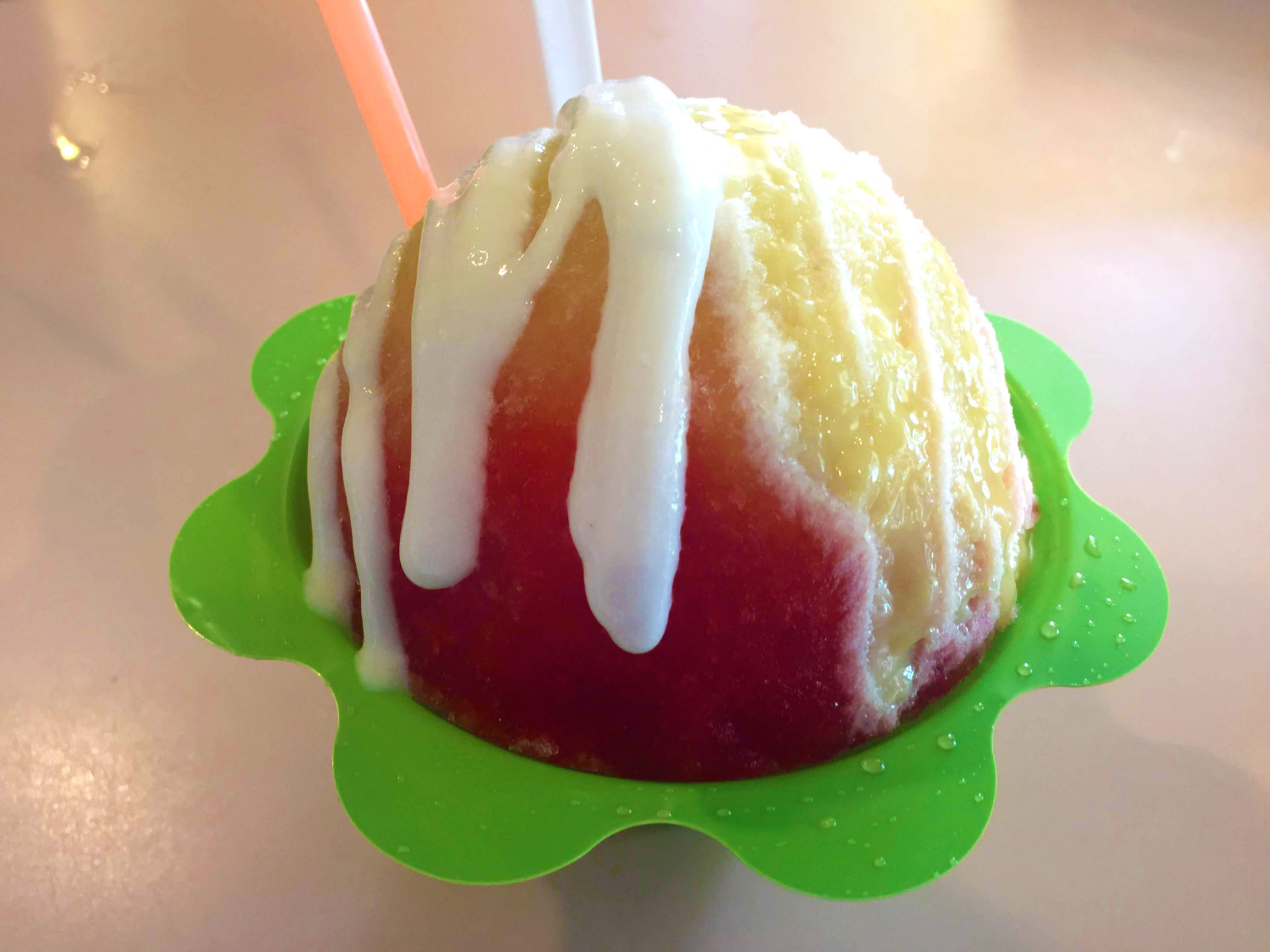 Shave ice is still a tasty bet for takeout.
Hotels/Resorts
Lots of enhanced cleaning procedures, many with details specific to each property.

Many hotels are offering lots of flexibility with direct reservations made between now and Dec. 31. You should be able to change these dates without fees or penalties.

Masks and social distancing will be required in all public spaces.

Contactless and mobile check-in will be more prevalent.

Valet parking will probably not be available.

Reduction of some amenities, especially those related to food and beverage services. Expect limited hours for things such as lounges.

Fitness centers will likely require reservations and have limited hours.

Pools will have limited hours and reconfigured deck chair/cabana layouts.

Hot tubs and whirlpools will likely be closed at most properties.

Beach chairs will be available at many locations, but will require reservations.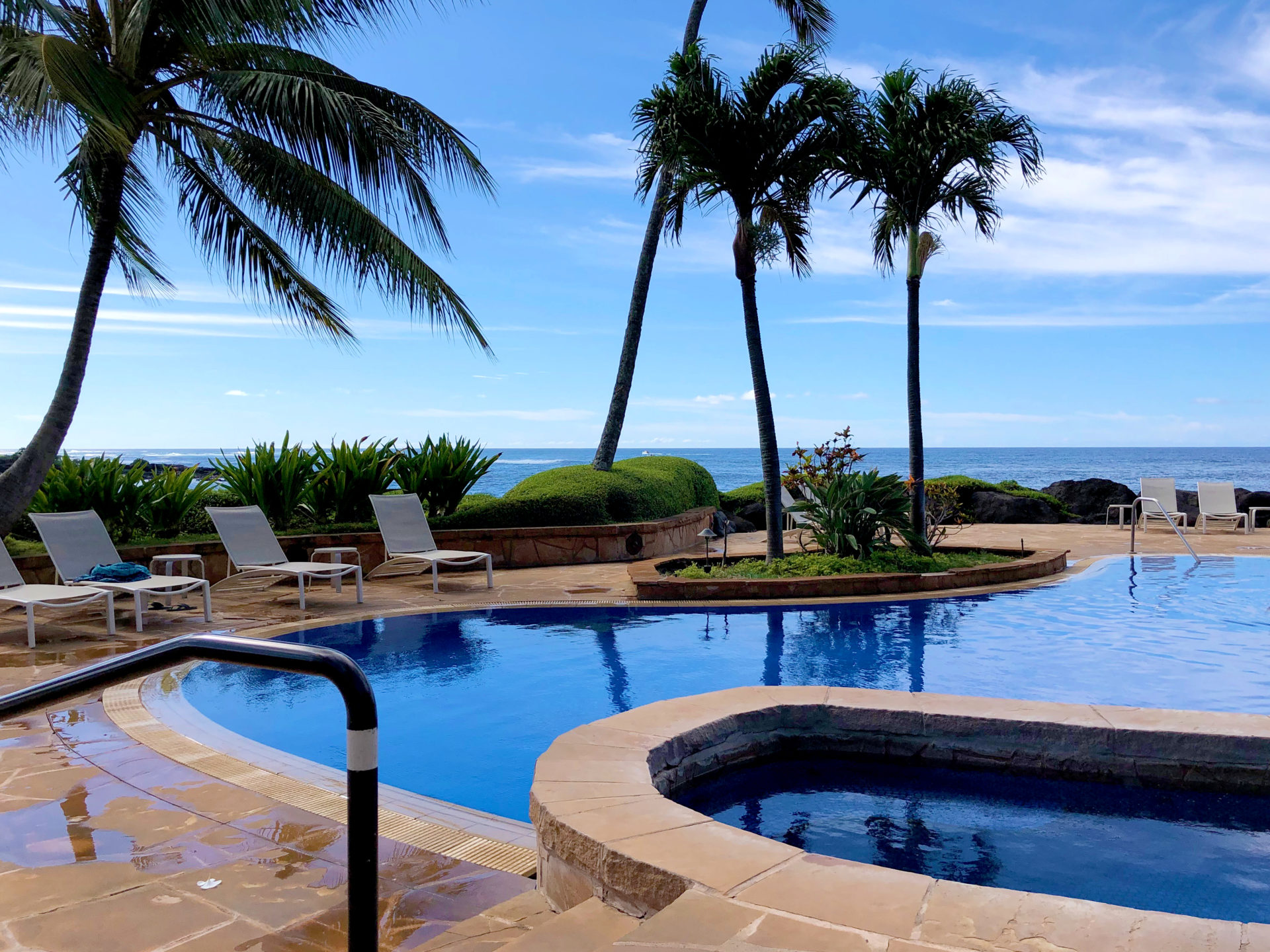 Pools might be less crowded when they're open, or you may need a reservation.
Lu'au
Most are closed and have not given updated policies.

Expect closures until at least the end of October.

We will post more information as it becomes available.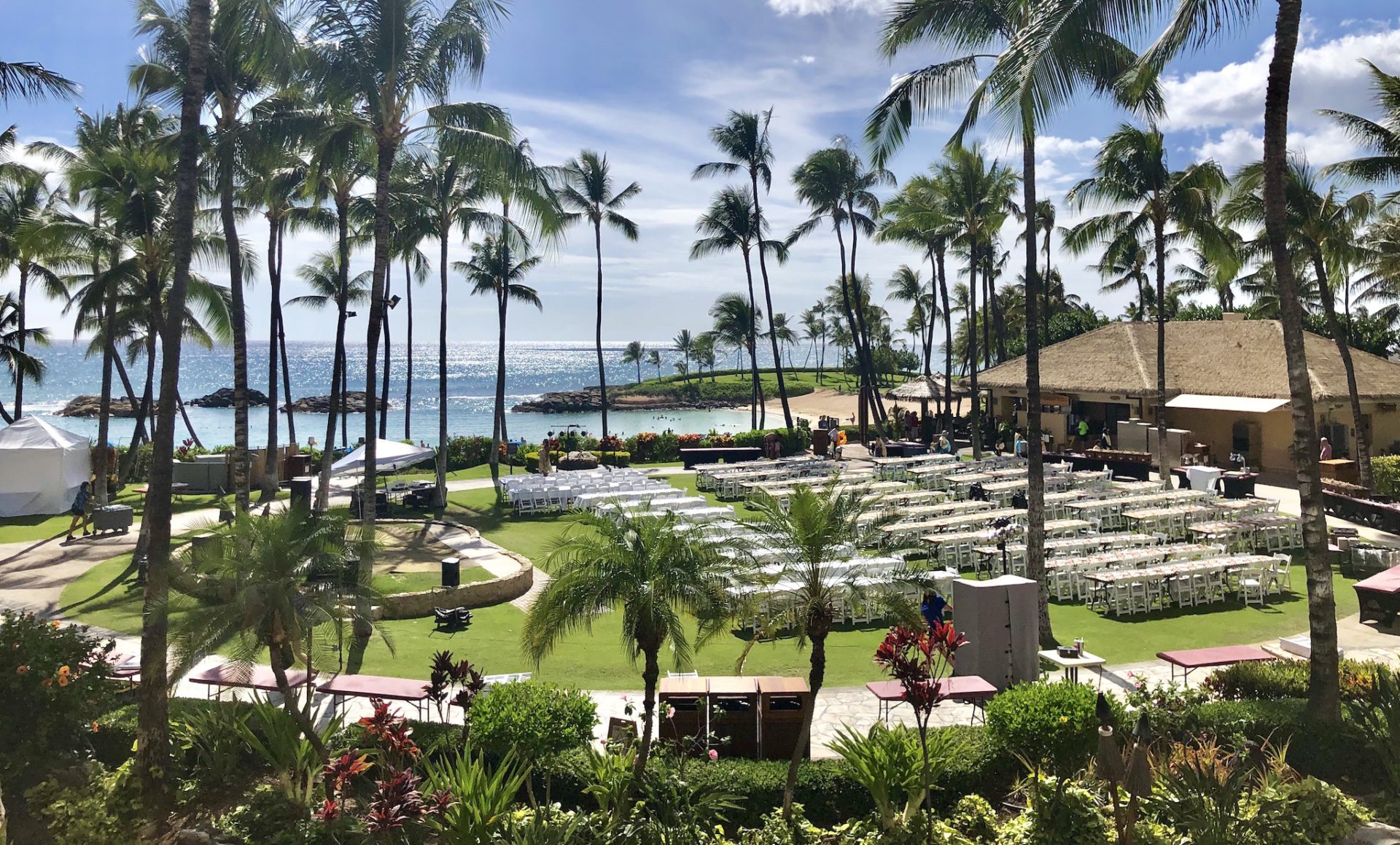 The lu'au stage is going to look an awful lot like this for a while—most are closed until at least the end of October.
Activities
Hawai'i is about more than just seeing the sights. A big part of our job is reviewing all the companies and activities that you will want to do while in the islands. COVID-19 will likely have an impact on what activities you choose to do. After speaking directly with many companies, here's what you should expect. Note that some industries/companies are still formulating their plans. Check our website for updates to any information that seems limited in this list.
Air Tours
A mixed bag. Some companies may not open until the end of 2020. Some that are in operation will have limited group sizes. Others have no restrictions.

Masks required at all stages of tour (from check-in and throughout the tour).

Cleaning of all spaces and equipment before and after tours.
ATVs
Limits to group size.

Masks required, probably at all times.

Cleaning of gear before and after use, no second use in same-day policy for companies that have large fleets.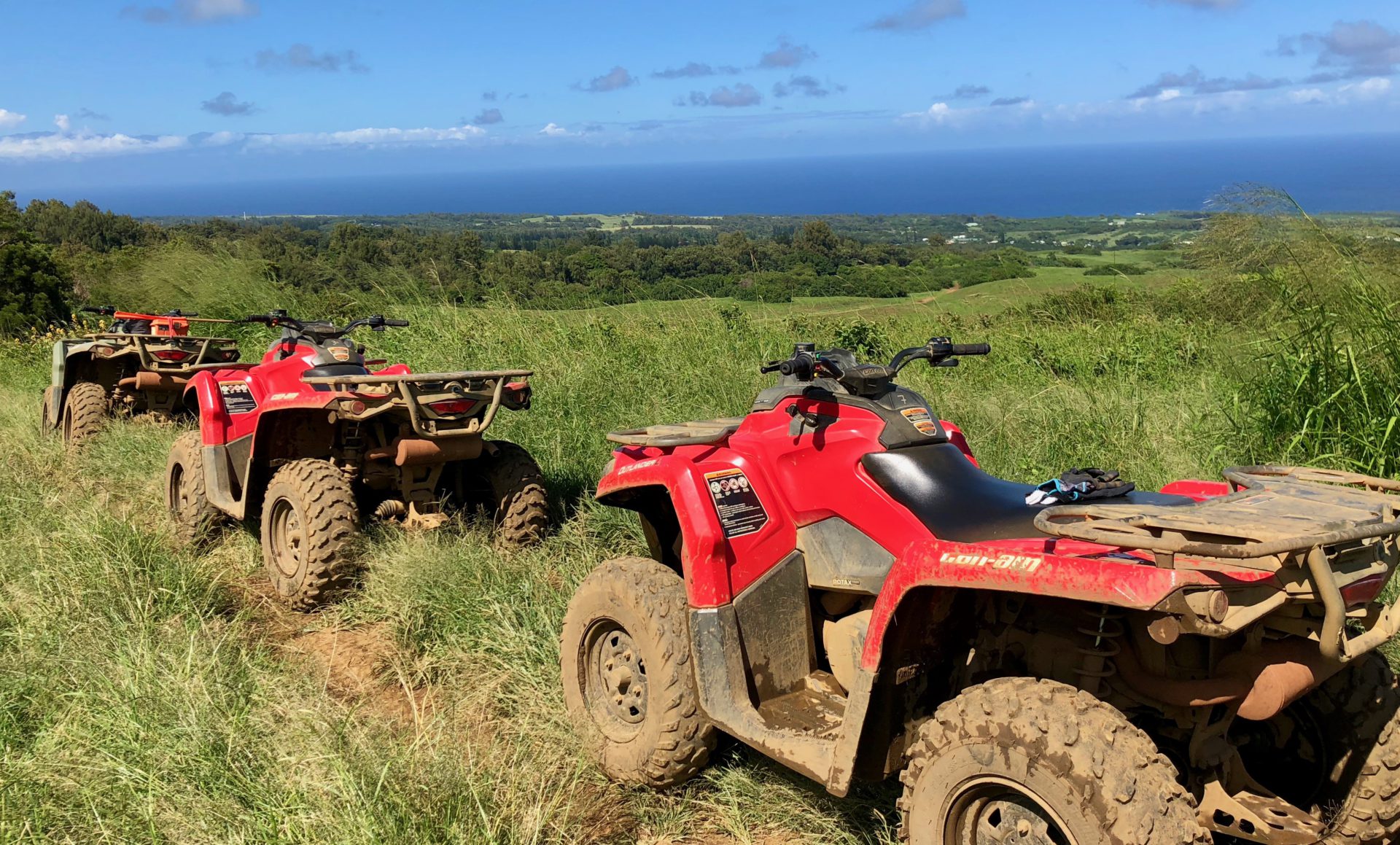 Staying 6 feet apart is already something of an ATV policy, but expect limited group sizes as well now.
Boat Tours
Operating at 50% capacity. So a boat that normally carries 60 passengers will only carry up to 30. Also, other restrictions to group size may be in place such as five or six people per ticketed group. (Your party size is limited to five.)

Face masks required when boarding, disboarding, and should be worn when practical during the tour.

Enhanced cleaning of spaces, especially before and after tours.

No buffet-style lunches.
Bike Tours
Expect only private tours available in early stages, with a maximum of six people.

All equipment sanitized before and after each use.

Masks and latex gloves available.

Shuttle services will be limited if available at all.
Camping
Currently no camping available except maybe at some private campgrounds (e.g., Olowalu on Maui).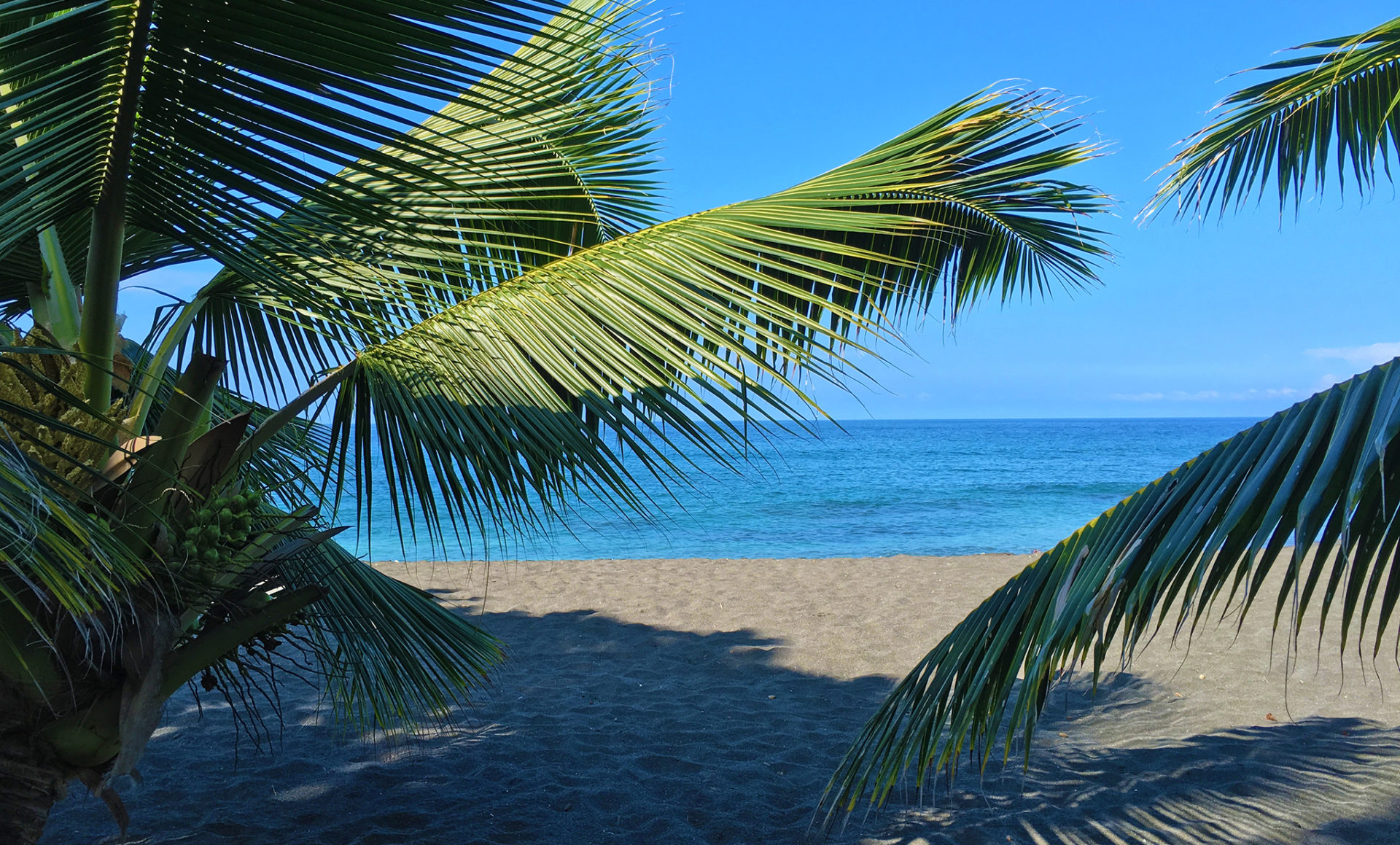 Private campgrounds are the name of the game for now.
Fishing
Only private tours (no combined groups). Limited party size to six or less.

Rentals and shoreline fishing on your own or as private tours are still available.
Golfing
Masks and social distancing required.

Some properties with multiple courses may have them open on a rotating schedule.

Golf bags drop may or may not be available. Some may offer services to clean your clubs for you after golfing.

Beverage carts will not be available—bring your own hydration.

On-course playing procedures and practices will likely be altered. Check with specific courses for details.

Expect longer intervals between tee times to encourage social distancing.

League, group play and tournaments suspended.

No touching of flag sticks; rakes and sand bottles will likely be removed.

You may be asked to bus your golf cart (trash and recycling receptacles will be provided).
Hiking
Depending on location, some hikes will not be available (e.g., backcountry hikes at national parks).

Masks and social distancing will be required at parking areas as well as visitor centers (though most won't be open). 

Limited hours for national parks: closing at 5 p.m.

A few state parks remain closed or operating at limited hours.

Trail conditions on some trails are a tad rough around the edges. We don't know how state and county maintenance workers spent the 7 agonizing months of the visitor shutdown, but it's safe to say maintaining trails was not a priority.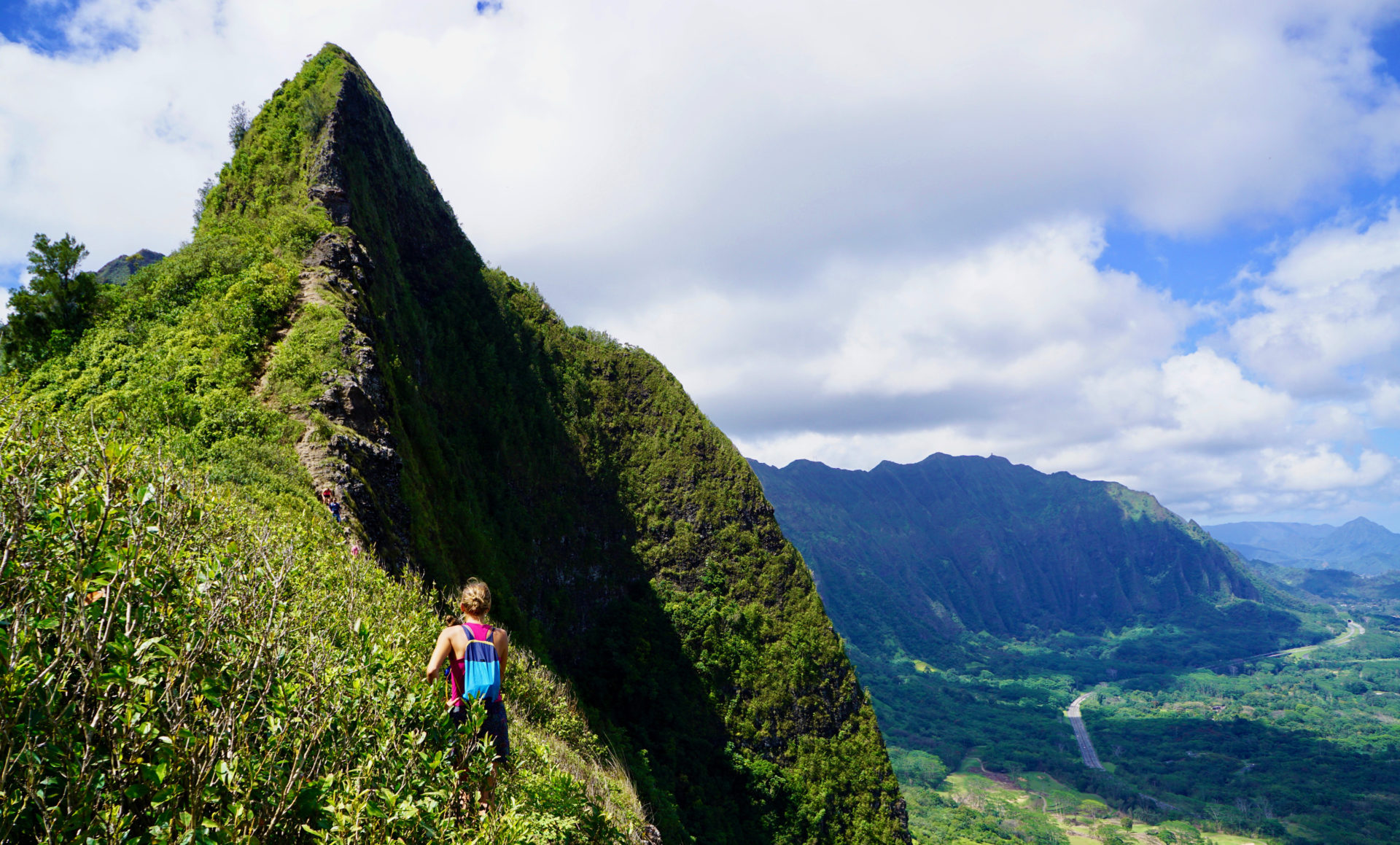 Social distancing is already a common feature of hiking trails, but there are a few new policies in place at many parks.
Horseback Riding
Only private tours available, with limited group sizes (usually two to four people).
Kayaking
Only private tours available, with limited group sizes (usually two to six people).

Even when guided tours are not available, rentals will often be available from the same tour companies.
SCUBA
During boat dives, face masks will be required at all times while topside (no, not while underwater).

You're likely to have assigned seats on the boat, with appropriate social distancing measures.

You will also likely have a personal dry bucket/space.

You will probably be required to bring your own water bottle and have individually wrapped lunches/snacks.

Expect enhanced cleaning of all high-traffic surfaces, including the marine head (or bathroom to you landlubbers).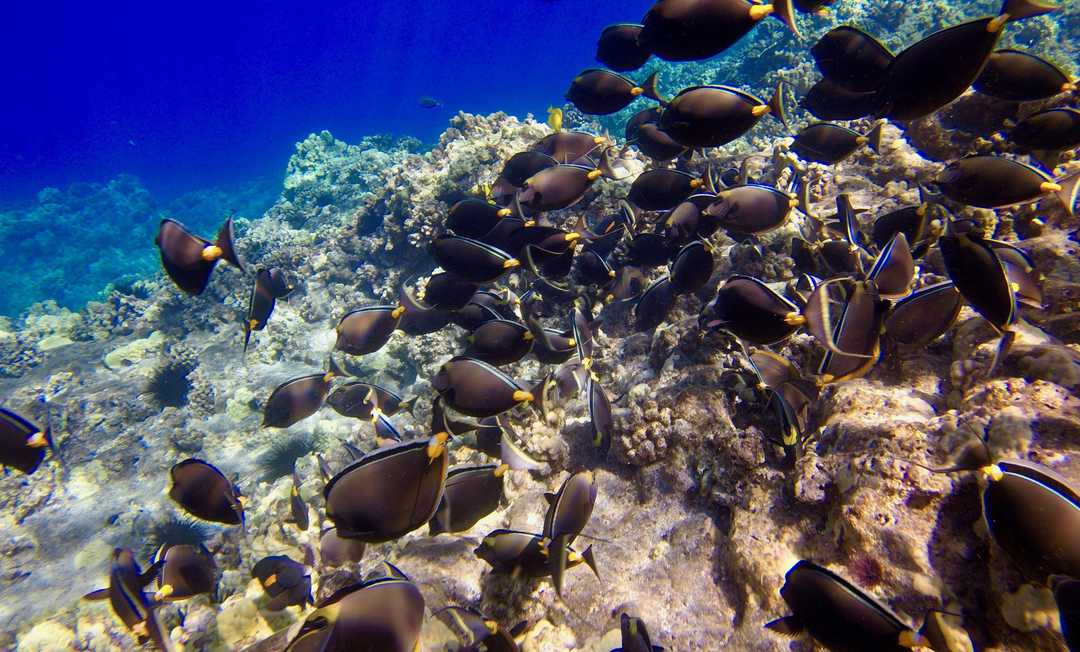 Boat policies look a little different to keep surfaces clean, but fortunately the reefs are still as pretty as ever.
Spas
Most are associated with hotels and guidelines/policies have yet to be announced.

Expect limited services, if any at all.
Surfing/Kiteboarding/SUP
Limited group sizes with most only offering private tours.

Rentals will be available from the usual providers.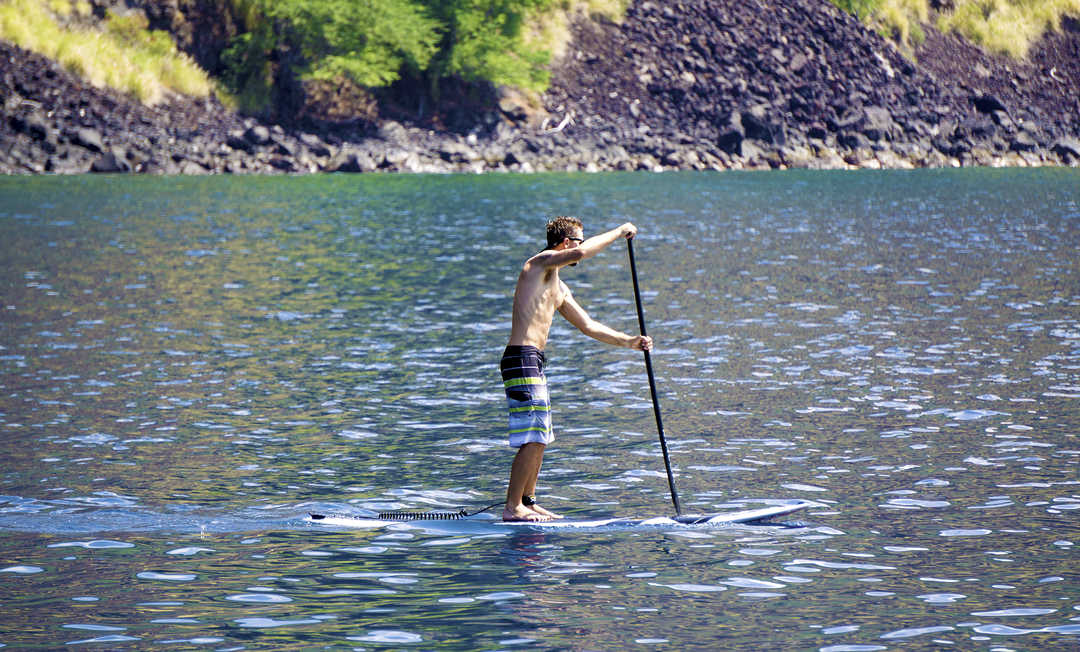 The good news is it's already easy to stay a safe distance apart on a SUP board.
Ziplines
Many companies are not planning to open until December and have not given any updates as to COVID-19 procedures.

So there you have it. Hawai'i is opening its doors, and you will find businesses hungry and eager to have you. The beaches are still the same (though less crowded), and the landscape hasn't changed. Hawai'i has missed you more than you could know. 
Our Revealed guidebooks still make a great travel companion, but it's not possible to update them yet because things are constantly changing. Our apps, however, will be updated constantly, and the changes will seamlessly get pushed to all our Hawaii Revealed apps.
Also, our new GPS driving tour apps (coming soon) are like having the author with you in the car, personally guiding you and telling stories and legends. (In fact, it's even better than having him in the back seat because you won't have to buy him a mai tai at the end of the day.)
Nothing in this blog is carved in stone. So many things here are a moving target and hard to predict. (Kind of like 2020 as a whole, huh?) So as things change, we will update it all here.