Many folks visit Las Vegas with the expectation that they will be dazzled by neon signs, slot machines, and the grandeur that the palatial casinos have to offer. They aren't wrong either—Vegas is a high octane place, with some of the most luxurious amenities and carefully crafted experiences a city could offer. But the idea that Vegas is only a city couldn't be further from the truth. The area around Las Vegas is home to some of the most beautiful natural areas I've had the good fortune to see, so if you have a bit of city fatigue, here are five natural areas you can visit to unwind before hitting The Strip again.
---
Red Rock Canyon National Conservation Area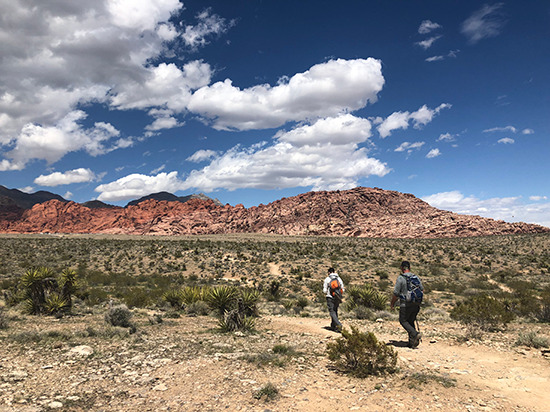 One of the most easily accessible natural areas, Red Rock Canyon is a mere half hour from The Strip. We see folks who live in Summerlin riding their bikes into the park all the time because it's so easy to get to, and it's worth the visit. Red Rock Canyon is an unbelievable landscape marked by beautiful red and cream-colored stones, surrounded by towering mountains and vast tracts of open land. We've seen lizards, burros, scorpions and tortoises out here, making this area a reminder that even the desert is home to abundant life. Red Rock is a popular place for hikers, with dozens of well-worn trails that track up mountains, lead to springs, showcase petroglyphs (thought to be at least 800 years old) and carve deep into canyons. You may also see rock climbers, bikers, and occasional horseback riders as you work your way through this beautiful natural area. Much of the conservation area is built around the 13-mile scenic drive, so you can quickly get from one location to another by car, then step out and wander to your heart's content.
---
Valley of Fire State Park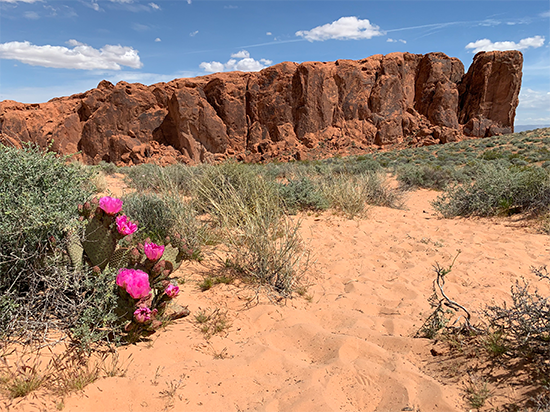 Valley of Fire offers a similar environment to Red Rock Canyon, but in a much larger area, and with a higher frequency of awe-inspiring rock formations. Valley of Fire is known around the world for its stunning Aztec sandstone. These impressive rock formations are bright red and stretch on for miles throughout the park, creating a landscape that is almost martian in appearance. Valley of Fire spans 40,000 acres, but is nearly an hour away from The Strip, making it harder to reach, but with more to explore. In all that acreage you'll find enormous rock formations like Gibraltar Rock and the Beehives (which look like… well, beehives), as well as Atlatl Rock's 2,000-year old petroglyphs and multiple areas with petrified trees. Many folks who visit Valley of Fire use their cars to drive around the park, then hike to their choice of jaw-dropping vistas, but you don't have to leave the car to be awestruck—the entire valley is like a painting come to life. This is one of the best places to see Bighorn Sheep, if you were looking for them. During a superbloom, entire meadows seem to spring up out of nowhere, and cactuses showcase every color of the rainbow in their flowers. By the way, if you want to get into nature but still want a bit of adventure, there are companies that run ATV tours in the Valley of Fire area. You can race along the mountains, soaking up all the scenery while zipping along the desert.
---
Lake Mead National Recreation Area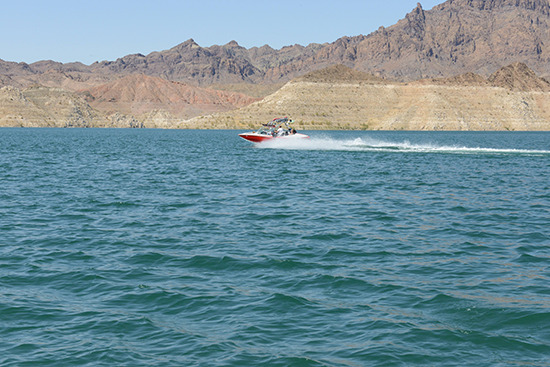 Lake Mead's water levels have been in decline for years, making this region less of a desert oasis, but there's still plenty to see along the miles of lakeshore. Lake Mead is a well-maintained natural area that winds all around the enormous manmade lake, created by Hoover Dam's construction. This reservoir offers camping near the water's edge, hiking and biking along various trails, and miles of water and tributaries to boat through. Lake Mead is about a 40-minute drive from The Strip, but it's easy to fill an entire day up with all there is to see out here. If you'd prefer digging into the history of the area, aim for Hoover Dam and its tour. Or, if you want to see some of the stunning scenery that has drawn millions to this lake's emerald waters over the years, hop on Lakeshore Road and pull to the side when you see something interesting. One of our favorite drives along Northshore Road will actually take you near a ghost town that was put underwater by the lake (making for a very spooky sight), and if you're inclined to see two of my favorite natural areas in one day, you can head all the way up to Valley of Fire by taking Northshore Road to valley of Fire Highway.
---
Mt. Charleston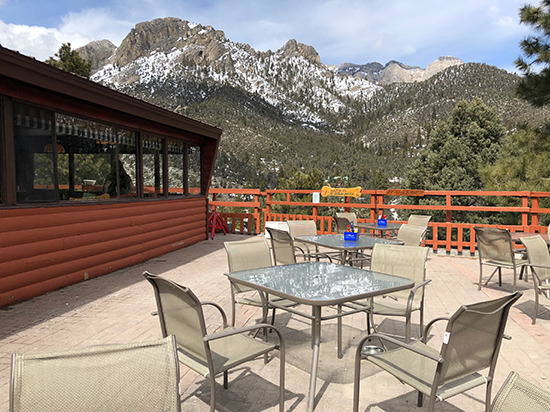 Before getting into Mt. Charleston, let's talk a bit about geography. Mt. Whitney is the tallest point in the lower 48 states. Badwater Basin is the lowest point in the lower 48. Those two points are only about 80 miles apart from each other, and they aren't that far from Vegas. That's the sort of geography you see out in this part of the U.S. Las Vegas has some examples of those ultra-prominent mountains as well, and Mt. Charleston is perhaps one of the coolest ones. It's only a 45-minute drive, but in that time, you'll gain about 5,500 feet in elevation, bringing you from Las Vegas' lower desert region to Mt. Charleston's alpine peaks. You can see snow, waterfalls, pine trees, and plenty of mountainous hiking all throughout this area, making it a very different environment than what you'll see around the city. Mt. Charleston is also home to a ski resort, so if you'd rather trade your hiking boots for some skis, that's absolutely an option. Mt. Charleston is an exceedingly peaceful place, and if you're feeling the need to get out of Vegas' heat, this is a great place to plan a day trip to. By the way, Mt. Charleston is also known as Spring Mountains National Recreation Area.
Hey, before you read that last entry, consider checking out our mobile apps. We have reviews for our favorite places throughout Vegas (including detailed info on the five natural areas listed here). You can follow the links below to check out our App Store and Google Play store pages!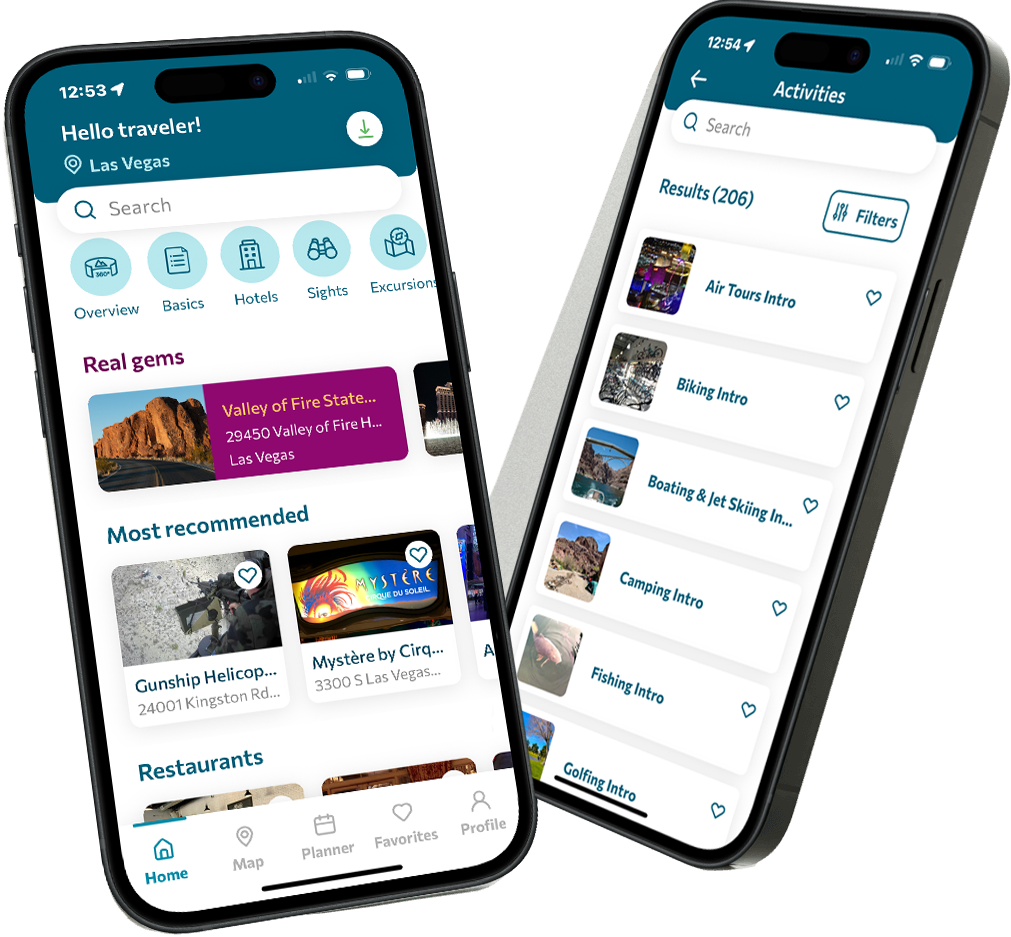 ---
Springs Preserve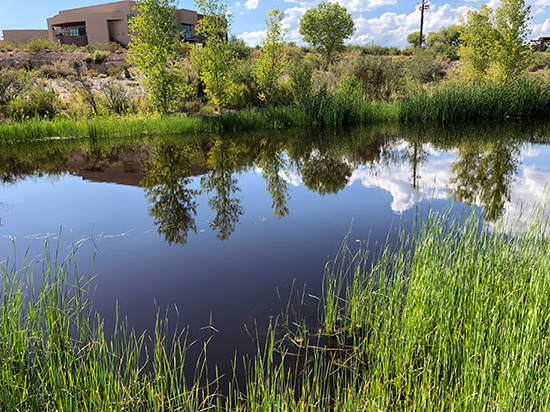 Perhaps the most easily accessible of the natural areas, the Springs Preserve is a mere 10-minute drive from The Strip. This feels more like a true park than many of the enormous recreational areas on our list, but it's well-conceived and carefully taken care of. The Springs Preserve is all about showcasing the natural springs that allowed the Las Vegas Valley to sustain life. At the Springs Preserve, you'll be able to see some of these pristine natural springs, visit several museums (which are great options for those traveling with kids) and learn a bit about how life sprung up in this valley. They cover a lot of history, and do a good job of educating visitors on the natural history of the Las Vegas region. There are plenty of walking paths around here, so it's easy to get into nature. If you're looking for a good natural area but don't want to leave the city completely, this is a great spot for an afternoon.