The Southwest is one of the best regions in the United States for stargazing. There are plenty of wide, open spaces between cities where the stars really shine at night. When people call Las Vegas the "City of Lights" they aren't referring to the night sky, but the areas around Vegas do have some spectacular stargazing opportunities just the same.
A lot of folks point out that the light pollution around Las Vegas makes it difficult to even see the stars, which is a fair point. It's tough to see the night sky… when you're in the city. But Las Vegas also has plenty of really awesome natural areas that are far enough from the lights of The Strip. Here are some of our favorite stargazing spots around Las Vegas.
---
Red Rock Canyon Area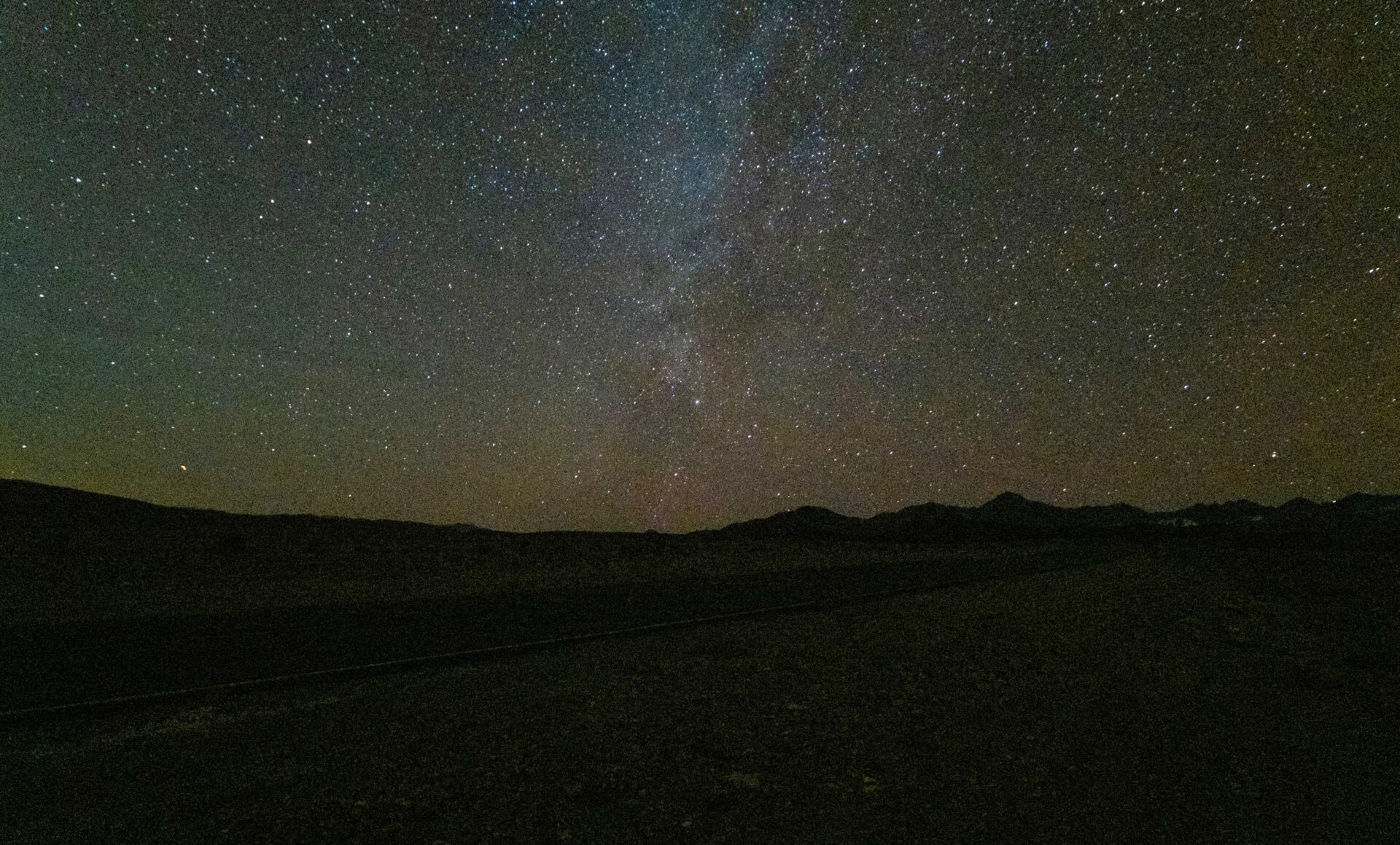 Probably your closest option for good stargazing, Red Rock Canyon has good night skies if you look to the west, away from the city. Though night skies out here aren't as clear as other places further from the city, there are still good opportunities on clear nights. This is an exceptionally popular spot, especially during eclipses or meteor showers.
If you decide to visit Red Rock Canyon, you should know that you're technically stargazing from outside of the scenic loop road. Red Rock's hours are 8 a.m. – 5 p.m., so your viewing options are going to be from pullouts along SR-159, also known as Blue Diamond Road. It'll take about half an hour to go from The Strip to the Red Rock Canyon area.
---
Lake Mead
The Lake Mead area has over 750 miles of shoreline, and some very expansive drives that allow you to see all of it. Much of Lake Mead is far enough away from any major development that light pollution becomes far less of an issue. Additionally, the lake has several areas that you can pull off and park at, allowing you good areas to stargaze from.
Unfortunately, Lake Mead is still close enough to Boulder City and Henderson that you don't have clear skies all around. Your best stargazing will be towards the northeast, as the glow of the surrounding cities can outshine the night sky. However, if you choose to take Northshore Road further north, towards Valley of Fire, you can get far clearer skies.
By the way, if you're looking for more than just stargazing spots, check out our mobile app. We cover all of our favorite Vegas restaurants, hotels, shows, casinos, natural areas and so much more.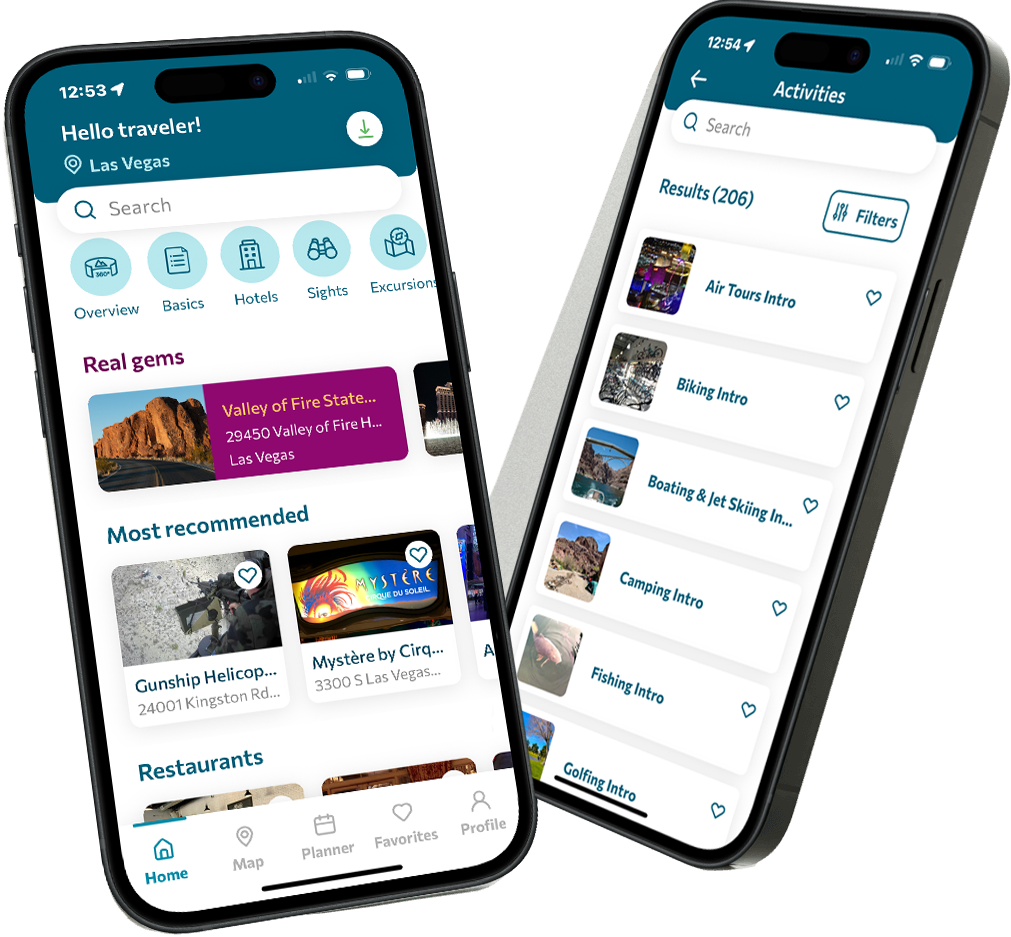 Keep an eye out for pullouts and parking areas around the lake. I was in the Sunset View Overlook area during an eclipse and this is one of the most popular areas to view the night sky from, in part because it's fairly close to the city. It'll take half an hour or forty five minutes to visit some of the closer lookouts from The Strip.
---
Valley of Fire
Valley of Fire sits about 40 miles northeast of Las Vegas. Because it is so much further from the city, Valley of Fire offers excellent night sky conditions much of the time. It isn't uncommon to see the Milky Way with the naked eye on particularly clear nights, and the surrounding desert is full of dramatic natural formations that can really add to the experience.
Valley of Fire can be a tricky area to stargaze from. They close their gates at night, which means you can't get into the park after hours. You really only have two options: you can stargaze from just outside of the park, or you can go camping inside of the park and stargaze from the comfort of your campground.
If you go with the first option, there are plenty of areas around Valley of Fire to see the sky from. If you take Northshore Road north from Lake Mead, you can view the sky from closer to the east entrance, or you can head towards one of the beaches along the Overton Arm of Lake Mead.
If you choose to camp from the park, you can choose between Atlatl Rock Campground or Arch Rock Campground. However, after dark, activity in Valley of Fire is limited to those campgrounds, so you won't be able to explore at your leisure. Make sure to research which campground is better suited to your needs in advance. Valley of Fire is about an hour from The Strip if you take I-15, or an hour and a half if you take Northshore Road.
---
Death Valley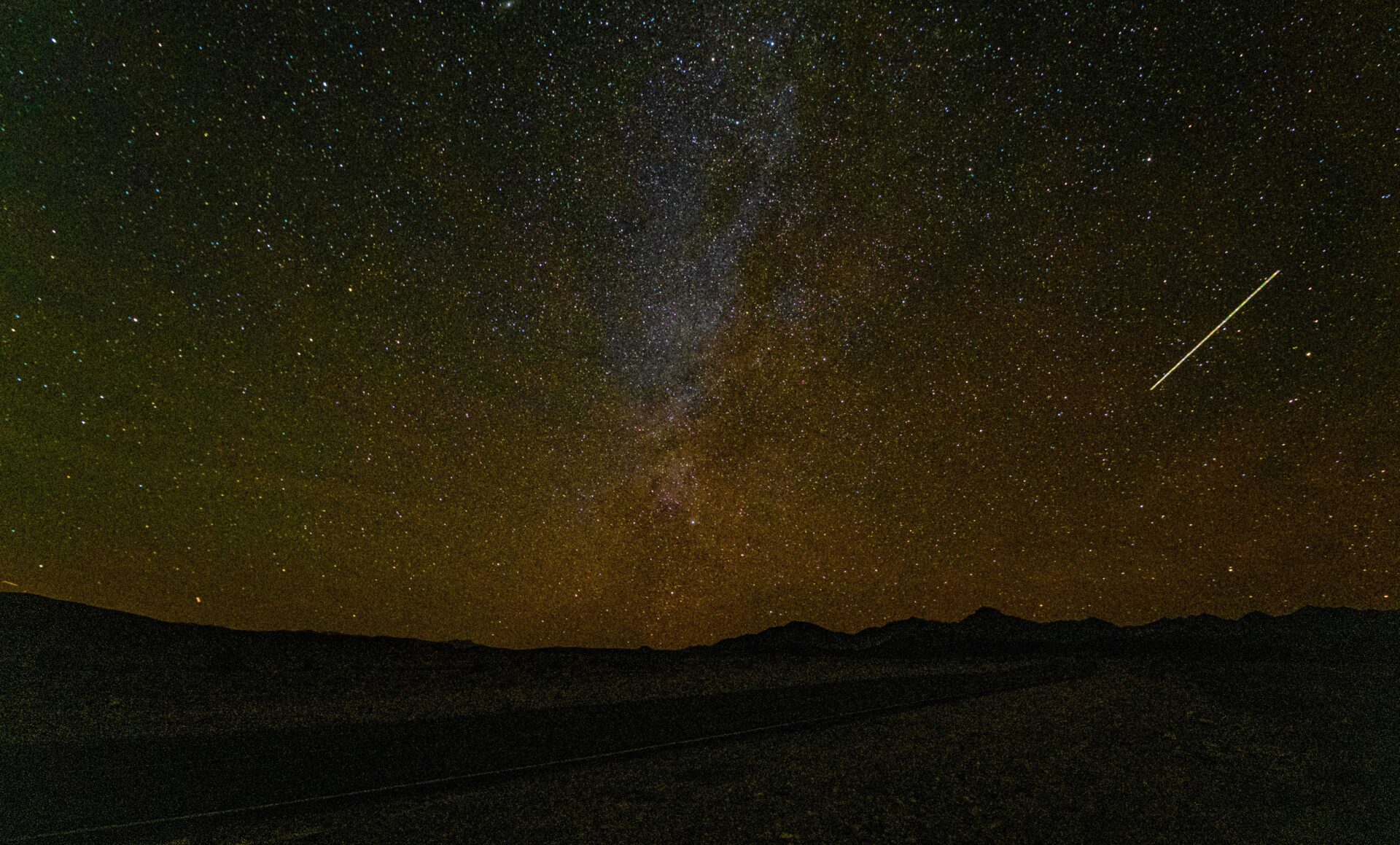 This is the best option on the list… and unfortunately, also the furthest from The Strip. Death Valley National Park is an exceptional park, with old ghost towns, miles of desert road, and beautiful scenery in the daytime. At night, the entire park becomes one giant stargazing spot, with exceptional viewpoints and minimal light pollution from surrounding towns. Stovepipe Wells is where a lot of people stay in Death Valley, but you'll want to get at least a few minutes into the desert to avoid the minimal lights from its buildings.
There are probably too many vantage points to list here, but we've had excellent viewing experiences to the northeast of Stovepipe Wells, between there and Beatty. Beatty is the closest town, and has some of the strongest light pollution in the area… and it ain't much. If you look to the north, you'll have some of the best stargazing opportunities, but really anywhere Daylight Pass Road will give you incredible views of the night sky.
---
We're all about showing you the best places, both on and off the beaten path. Besides our guide to Las Vegas, we also have guidebooks, apps and GPS driving tours to the islands of Hawai'i. Check out our believable guides for your next unbelievable vacation.