When it comes to sand, sea, and shore, Kauai's got the whole package. Invigorate your senses and delve into the natural wonders of this small yet mighty island. Home to a lush, tropical rainforest spanning most of its area, every angle is simply picture-perfect. Whether you're looking for a peaceful, natural getaway or wanting to make some friends and explore the zesty realm of authentic Kauai cuisine, the island has something to offer for everyone! Here are the top five sights (tough as nails to narrow down) you've got to see to believe: Kaua'i is located in the tropics at 22° latitude, meaning that it receives direct overhead sunlight twice each year three weeks before and after the summer solstice. (No part of the mainland United States ever receives direct overhead sunshine due to its more northern location.) The island is 553 square miles, with 50 of its 113 miles of shoreline composed of sand beaches. Compared to the other Hawaiian Islands, Kaua'i and O'ahu have by far the highest proportion of sand beach shoreline. (Quick tip: At Lihu'e Airport, rental cars can easily be obtained from the booths across the street from the main terminal. It's usually a good idea to reserve your car in advance since companies can run out of cars during peak hours!)
Na Pali Coast Hanalei
Na Pali Coast Hanalei has a good product and a fun crew. Their 32-foot power cat (called UFO II) is small enough to poke into nearly all of the sea caves, and the crew does a good job.
Morning tours are best with around 4 hours to sightsee, snorkel at Nu'alolo and eat a deli lunch for $239, while the 2-hour sunset tour does not include snorkeling and comes with snacks only for $189. Up to 18 passengers; minimal shade. Wear waterproof (or none at all) shoes to wade out to the boat at the Hanalei River. Grab a seat on the left (OK, OK, port) side going out for the best views. March–October is their season from the north shore. They also launch their older, slightly smaller boat from the west side (Kekaha) year round for a similar snorkel tour but for only $148.
Kalalau Lookout
At mile marker 18 is the Kalalau Lookout where most people stop. We suggest that you drive right past it and go to the far superior, but less used, Pu'u o Kila Lookout. You are not about to see another canyon lookout. You are about to be treated to one of the greatest views in the Pacific. The Kalalau Valley is the largest valley on Na Pali. It was inhabited until 1919, and its beach is only reachable by an 11-mile hike or by kayak.
Clouds are always moving in and out of the valley, so if it's cloudy, wait a while before you give up. It's well worth it. The earlier you go, the fewer clouds there tend to be. You can usually see clouds coming from the interior of the island. When they encounter the valley, they sink.
Waimea Canyon Lookouts
To reach the canyon, turn mauka onto Waimea Canyon Drive just past mile marker 23 near a church. The road twists and turns its way up the canyon's side. On the way, keep an eye out to the west for Ni'ihau. There are some great views of that private island from up here. (Even on cloudless days there's almost always a cloud over Ni'ihau. Its land mass causes them.) Past mile marker 10 is the Waimea Canyon Lookout. This is one of several vantage points and worth a stop. From here on, you will probably see lots of wild chickens about. They thrive in this environment.
Princeville Botanical Gardens
Princeville Botanical Gardens near Princeville is small (8 acres) but packed with exotic tropical plants and fruits (which they are generous in letting you eat), including their own chocolate. They spend 3 hours covering the acreage (kids under 6 will probably stage a mutiny—not the best tour for them), and it's a bit overpriced at $69, but you can feel the family pride (and they have some of the best fruit we've ever tasted).
Koke'e Trails
Just past the lodge (on the opposite side of the road), driving Waineke Road to Mohihi Road makes a wonderful diversion if you happen to have a 4WD vehicle. You can drive 6 miles into the interior of Koke'e, visiting beautiful sights along the way.
We'd love to hear some of your favorite experiences or stories if you've visited any of these sights – we are always excited to hear your travel stories! Read more about our Kauai stories or submit your own story and get featured on our website here: Submit Here!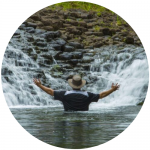 Andrew Doughty is the famous author of the widely popular Hawaii Revealed series including Kauai Revealed, Oahu Revealed, Maui Revealed and the Big Island Revealed. He moved to Kauai many years ago after he fell in love with the beauty of the islands and decided to never go back. He is known for his candid opinion on each of Hawaii's attractions, be it a restaurant, a helicopter ride, a beach or a resort. For the last two decades, he has managed to keep his identity anonymous so that his reviews can remain unbiased and only be influenced by his own opinions and thoughts. You can learn more about his beautiful journey at this link – About the author
For more info on Kauai island, download our Hawaii Revealed app.
Mahalo.