By day, Hawai'i is known for its lush, tropical scenery, sun-soaked beaches, and historic locations. But by night, the Hukai'po begin their ghostly march, obake linger in the shadows, the choking demon waits for the perfect moment to strike, and many tourists and locals alike are reminded that Hawai'i is a place for cultural ghost stories to come alive.
Hawai'i has a rich history thanks to its mix of native and immigrant cultures. Stories of spirits interacting with the living have been passed down through generations across the islands, and some persist today. It's not uncommon to talk to locals and find that at least one person in every household has had a supernatural experience.
If you're looking for a thrilling time on the islands this Halloween, check out some of these well-known haunted locations below:
O'ahu
1. O'ahu Ghost Tours
According to the Oahu Ghost Tours website, "O'ahu is said to be one of the most haunted islands in the world and is akin to Savannah, Georgia, New Orleans, Louisiana and St. Augustine, Florida with its share of ghost sightings and stories." The tour operates year-round and focuses on spots with gory histories, including sites of ancient sacrifices and old hospitals that housed sick children during World War II. As a bonus, all of their guides have had a personal experience with the supernatural.
2. Manoa Falls Trail
A banyan tree marks the beginning of the Manoa Falls Trail, which is said to be frequented by the Hukai'po or Night Marchers. If you are hiking on this trail listen for the beating of drums, and the sound of conch shells being blown, as these mark the arrival of the Night Marchers. Originally guards of Hawaiian royalty or even Gods, the spirits have no legs but make their way along this trail, and have been spotted many times near the banyan tree. Commoners were not allowed to look at royalty, and the guards would instantly kill anyone who tried to do so. If you hear the approach of Night Marchers, you should lay down on the ground and not look up until they pass.
3. Honolulu Airport
If you're flying into Honolulu Airport, be on the lookout for the Lady in Waiting. This ghostly figure is said to be wearing a white dress and has blonde hair. According to legend, she fell in love with a man who promised to marry her, but he took off on an international flight and never returned. She's been seen at night looking out at the runway or in security clearance zones where the public does not have access.
4. Hilton Hawaiian Village
The largest resort in Hawaii is always bustling with activity, even of the paranormal variety. The hotel sits on land that was once a Hawaiian fishing village. At night, guests have reported seeing a woman in a red dress wandering in the halls or on the beach suddenly vanish into thin air. Some say she appears as a beautiful young woman while others say she is an older lady, possibly a village elder from the fishing village.
Maui
1. The 'Iao Theatre
Built in 1928 as a movie and Vaudeville theatre, there have been several supernatural activities recorded at the Iao Theatre. There have been reports of a misty ghost sitting in seats around the theatre, but this ghost is said to be friendly. Other apparitions have been seen in the basement of Hawaiian soldiers who died in battle several centuries ago. The theatre was featured on an episode of Haunted Collector in 2012.
2. Old Maui High School
The first co-ed public high school built on Maui was for the children of plantation farmers in Hamakuapoko. The building itself was abandoned in 1972 after a steady decline in enrollment, and the school was relocated to Kahului twenty minutes away. The spirits of early students and teachers are said to live on inside the abandoned school, with sounds of a crying girl inside the school's bathroom. People have reported feeling as if they were being choked or pressed into the ground as soon as they set foot on the site. Others say these choking ghosts target students who skipped class. The school is on private property and can only be viewed from the road, so please respect both past and present spirits and don't trespass.
Big Island
On Big Island, people are taught that if you see an older woman on the side of Saddle Road, you should pick her up and bring her with you. This is because it might be Pele, the goddess of fire and volcanoes, and to leave her would bring bad luck. But if it's not Pele, you still end up helping an older woman.
All of Hawaii knows that you shouldn't take a rock or sand from Kilauea, the active volcano on Big Island. It is said to bring bad luck as Pele will curse you. Many park rangers receive rocks sent back to them in the mail, usually with an apology note.
Kauai
1. Wailua
Wailua is known for its ancient heiau, or temples, but is also known for ghosts and spirits. It was thought that during a certain phase of the moon, spirits of those who had recently died would paddle down the river in large numbers and work their way around the island to a cliff at Polihale where they would leap to the next life. Known as night marchers, these ghosts are still believed by many Hawaiians to exist, and sightings are most prevalent along the highway between Wailua and Lihu'e. Interestingly, this stretch of road has also been responsible for many bad car accidents. Of course, police blame the wrecks on another type of spirit—the kind that comes in a bottle.
2. Polihale
The Hawaiians believed that the cliffs at the end of Polihale Beach, called Ha'ele'ele, were the jumping off point for spirits or 'uhane leaving this world. There they would leave this life and join their ancestors forever. If there was no 'aumakua, or family of spirits, to receive them, they would wander around the area, attaching themselves to rocks and generally causing mischief. That's why it's considered unwise to take anything, such as stones, from this area. You may bring back a wayward spirit itching to get back home.
Do you love visiting haunted places? Let us know in the comments how you celebrate Halloween in Hawaii!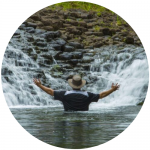 Andrew Doughty is the famous author of the widely popular Hawaii Revealed series including Kauai Revealed, Oahu Revealed, Maui Revealed and the Big Island Revealed. He moved to Kauai many years ago after he fell in love with the beauty of the islands and decided to never go back. He is known for his candid opinion on each of Hawaii's attractions, be it a restaurant, a helicopter ride, a beach or a resort. For the last two decades, he has managed to keep his identity anonymous so that his reviews can remain unbiased and only be influenced by his own opinions and thoughts. You can learn more about his beautiful journey at this link – About the author
For more info on any of the islands, download our Hawaii Revealed app.
Mahalo.