If you search for Hawaii travel apps in the app store, you'll have plenty to choose from in the results. But ratings alone won't let you know which apps have the information that will actually be useful on your trip.
Hawaii Travel Apps
Some of the information you need is a given, such as knowing about the weather in Hawaii or knowing about the top places to stay. But what if you're searching for more and want to know the local spot for Mai Tais or the stories that took place at a historical site?
Below we've organized different Hawaii travel apps into separate categories and tell you what information is included in each one, so you can choose the app best suited for your needs.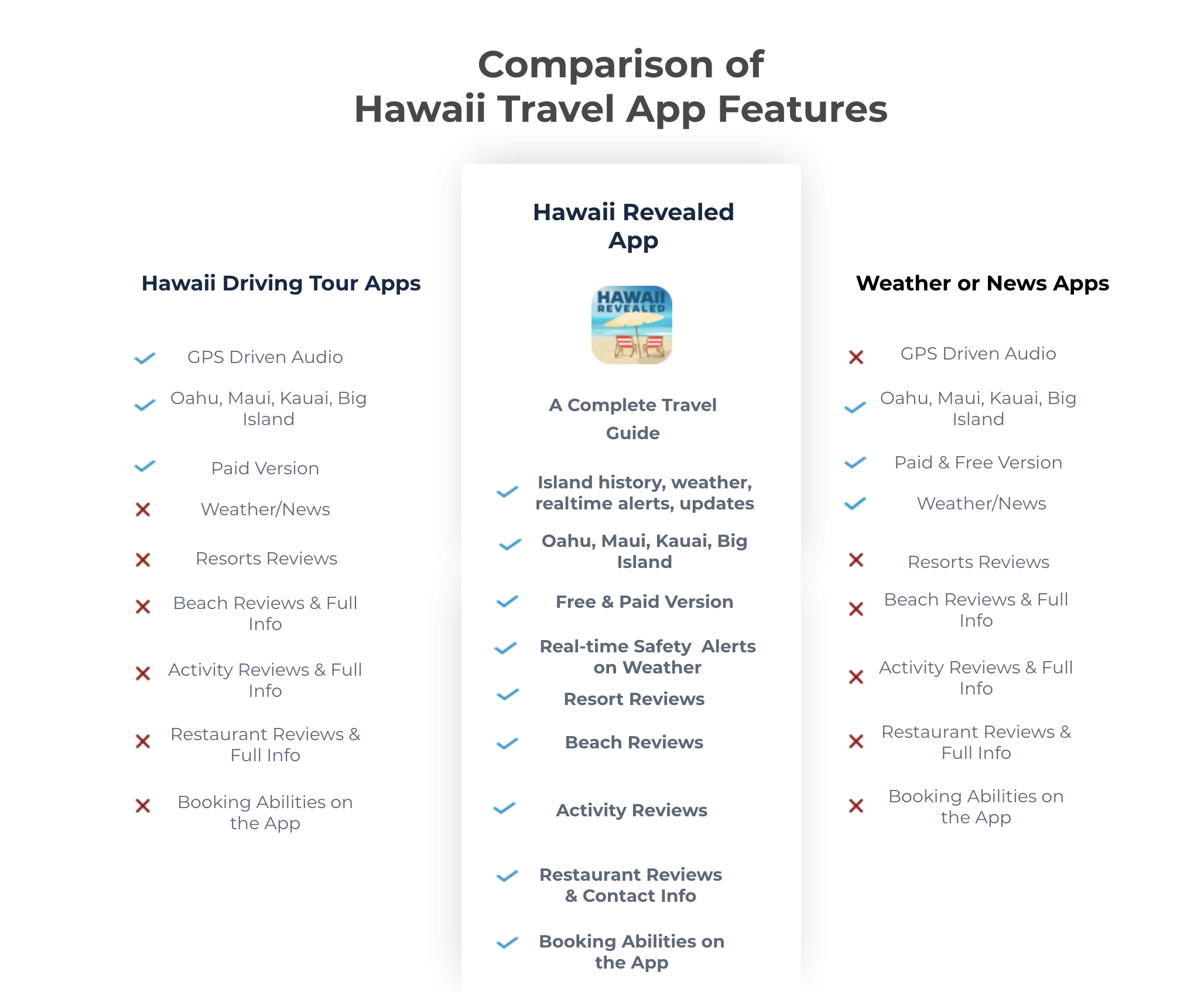 Hawaii Travel Guide Apps
App: Hawaii Revealed App
First up we've got yours truly, the ultimate travel guide app. Travel guide apps generally have all the information you need to have a fantastic stay, from resort reviews to restaurants to the top-rated activities on each island. What's different about Hawaii Revealed, however, is two-fold. One, all of our reviews are done anonymously, meaning the businesses don't have a chance to give us world-class treatment or pamper us because we're reviewing them. We go in as regular travellers and are treated as such. If we gush over a certain company, it comes from personal experience, and if we rail against a business, it is for the same reason. The second thing is, we haven't just placed our honest reviews in the app, we've made it so planning your trip is a breeze. You can favourite all the spots you want to check out, and then use our custom maps, as seen in our best-selling Hawaii Revealed guidebooks, to navigate like a local. We show you real gems on the island: spots that are worth your precious vacation time. You can even filter through all of our reviews and content to plan your ideal trip: whether that includes a hotel in West Maui on a beach that's good for families or a resort with a swim-up bar. Travel guide apps are for you if you want to plan your trip with information from people who have lived there and have done both touristy and traditional activities. Download Now!
Hawaii News Apps
Apps: Honolulu Star-Advertiser
For those who like to keep up to date with local news, Hawaii news apps are what you want to download. These apps are mainly used for quick news updates as they provide details on what is happening in Hawaii's cultural and political scene and any breaking news. Hawaii news apps also cover weather and sports. Apps such as the Honolulu Star-Advertiser, which is Hawaii's largest daily newspaper, also publish great local features that capture life on Hawaii. However, they typically do not publish regular reviews of hotels, restaurants or activities, meaning you would have to look for that information elsewhere.    
Hawaii Driving Tour Apps
Apps: Shaka Guide, Gypsy Guide
Driving tour apps let you listen to a pre-recorded audio tour while you drive on the islands. Because the tour is in your car, people are free to explore at their own pace while still getting the background and fun facts included in a tour guide. However, the downside of these apps is that their use is limited to the car. Travelling to Hawaii can be expensive and every second of your trip should be well-spent. Especially when travelling with loved ones, more time should be spent out of the car, immersed in the gorgeous greenery. Another drawback of these apps is that you can't use them to plan out a trip or find specific information on resorts or dining options. While good for on the go travelling in a car, over 79 percent of travellers like to read about the places they want to visit beforehand and plan their itinerary to avoid any hassles. These apps are for those who want a guide on a particular drive they have in mind.
Hawaii Weather Update Apps
Apps: Hawaii WeatherNOW, Surf News Network
Even in the rain, Hawaii is stunning, but if your plan for the day is weather dependent, you can use these weather update apps. Although your device likely has a built-in weather app that provides real-time forecasts, these Hawaii weather apps are mostly useful to local travellers. Some apps also have information on surf conditions and tell you whether it's safe to head out in the water. The surf conditions include details on which way the surf is headed, where the winds are blowing, etc. These apps are best used for planning the day out to see if your activities line up with the weather.
The above apps all offer something different, but if you want everything in one then a travel guide app is for you. These apps will give you details not only on resorts, activities and sights, but also delve into local history and legends. To learn more about Hawaii, you'll need a personal tour guide in your pocket, such as Hawaii Revealed. Our app has all of our reviews, as well as up to the minute information on weather forecasts, weather warnings, road closures, and even restaurant closures. Plan your ideal Hawaii vacation and get the perfect mix of information you need on the go, unbiased reviews of resorts, beaches, sights and more, and in-depth knowledge of Hawaii in one app.
Get reliable and accurate content no matter where you stay in Hawaii: Oahu, Maui, Kauai or the Big Island. Download the Hawaii Revealed app now!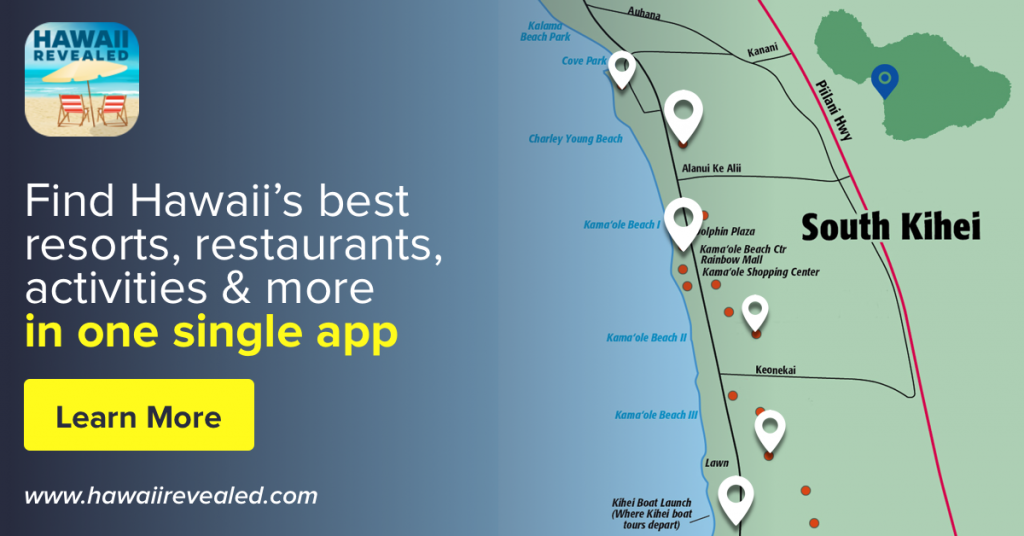 For more info on Hawaii app comparison, visit this page.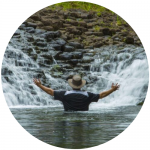 Andrew Doughty is the famous author of the widely popular Hawaii Revealed series including Kauai Revealed, Oahu Revealed, Maui Revealed and the Big Island Revealed. He moved to Kauai many years ago after he fell in love with the beauty of the islands and decided to never go back. He is known for his candid opinion on each of Hawaii's attractions, be it a restaurant, a helicopter ride, a beach or a resort. For the last two decades, he has managed to keep his identity anonymous so that his reviews can remain unbiased and only be influenced by his own opinions and thoughts. You can learn more about his beautiful journey at this link – About the author