If relaxing by the ocean is not your ideal vacation, we've reviewed hundreds of adventures just for you. Each of our guidebooks has an Adventures section that will satisfy even the hardest to please adrenaline junkies.
The adventures described below are for the serious adventurer. They can be experiences of a lifetime. We are assuming that, if you consider attempting any of them, you are a person of sound judgment, capable of assessing risks. All adventures carry potential dangers of one kind or another. Our descriptions below do not attempt to convey all risks associated with an activity. These activities are not for everyone. Preparation is essential. In the end, it comes down to your own good judgment.
Read through for adventurous things to do in Hawaii.
Things to do in Hawaii – Oahu
Mermaid Cave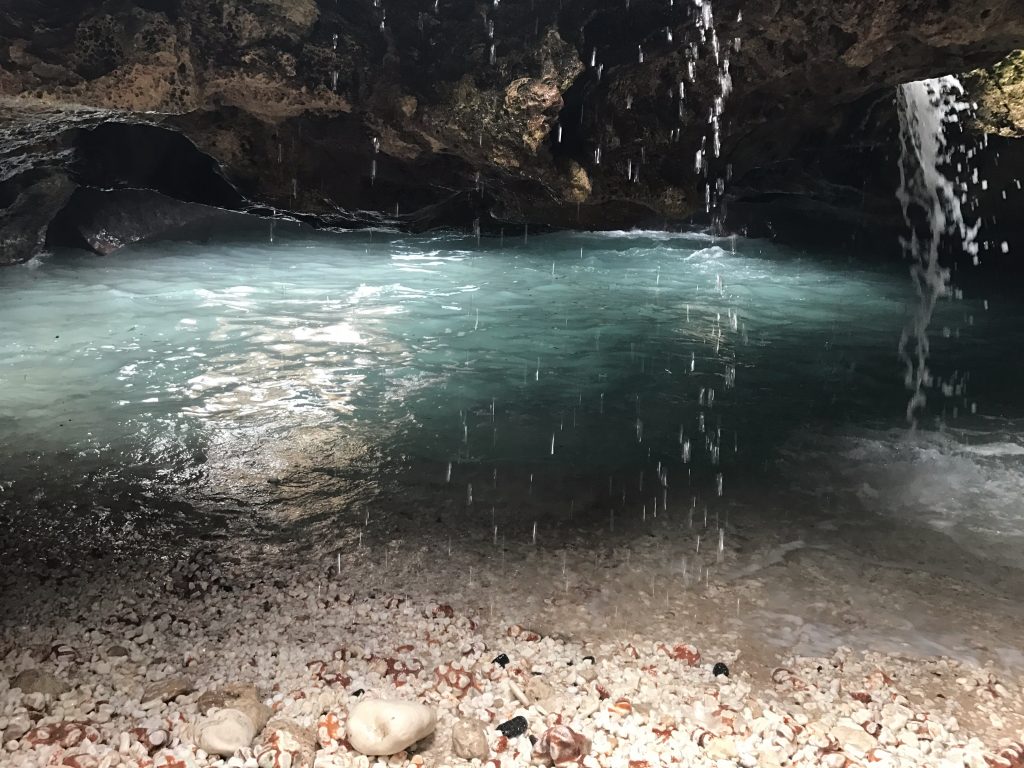 On the Wai'anae coast there's a stretch of shoreline where an ancient coral reef has been stranded above the water. Scientists differ as to whether this was caused by higher sea levels dropping to where they are today (regardless of current trends, seas have been higher in the distant past than they are now) or due to uplifting. (Visualize a heavier person next to you sinking into a bean bag and raising you up. In this case, the displacer is the massive Big Island of Hawai'i.) Regardless of its cause, it's a very rare thing in Hawai'i. And as this ancient, stranded coral table is pummeled by the relentless ocean, it has a tendency to be undercut, forming caves. Such is the case with Mermaid Cave (aka The Tunnels).
Moanalua Valley to Haiku Stairs (Puukeahiakahoe)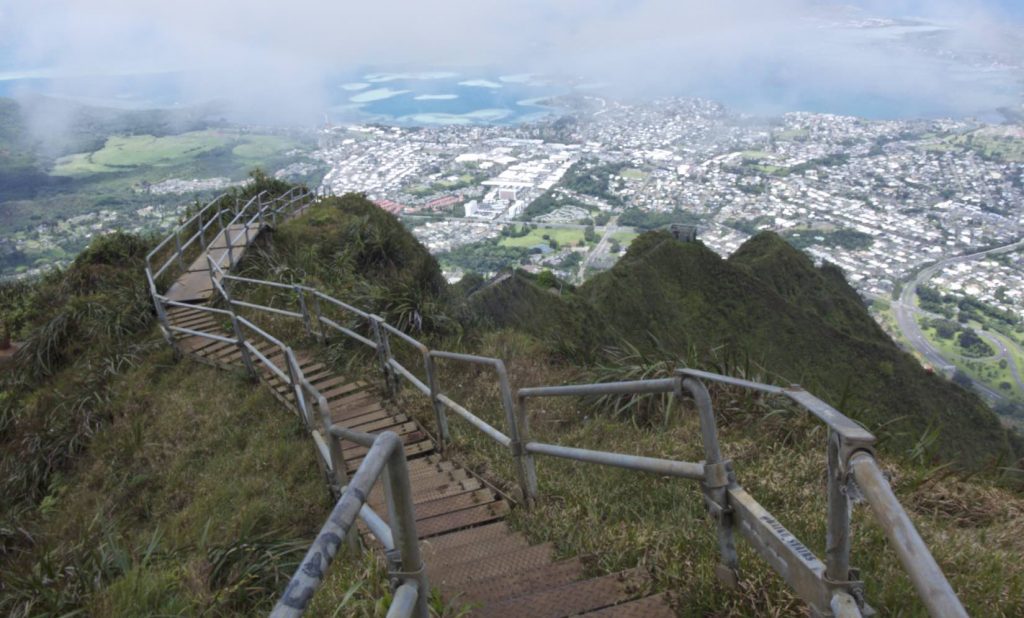 One of the coolest things to do in Hawaii is to visit the Haiku Stairs. Wooden ladders were originally strung up the ridge of Haiku Valley during WWII to facilitate the creation of a tower anchoring part of a mile-long ultra-powerful radio antenna stretching across the valley. The military would use this antenna to communicate with their ships throughout the Pacific and supposedly into the Indian Ocean. (Their goal was to have a transmitter so powerful that it could transmit to submerged submarines in Tokyo Bay.) Those access ladders were replaced by wooden stairs and finally a metal staircase. The 3,922 stairs climbing 2,200 feet became one of the coolest hikes on the island until vandals damaged part of the staircase in 1987. The local government was all set to reopen these stairs in 2005, going so far as spending almost $1 million to fix them up for hikers. But then intra-government squabbles and intransigence took hold, and today there is a guard posted at the base of the stairs to keep out hikers while the politicians point fingers at each other.
Things to do in Hawaii – Big Island
Mauna Ulu Crater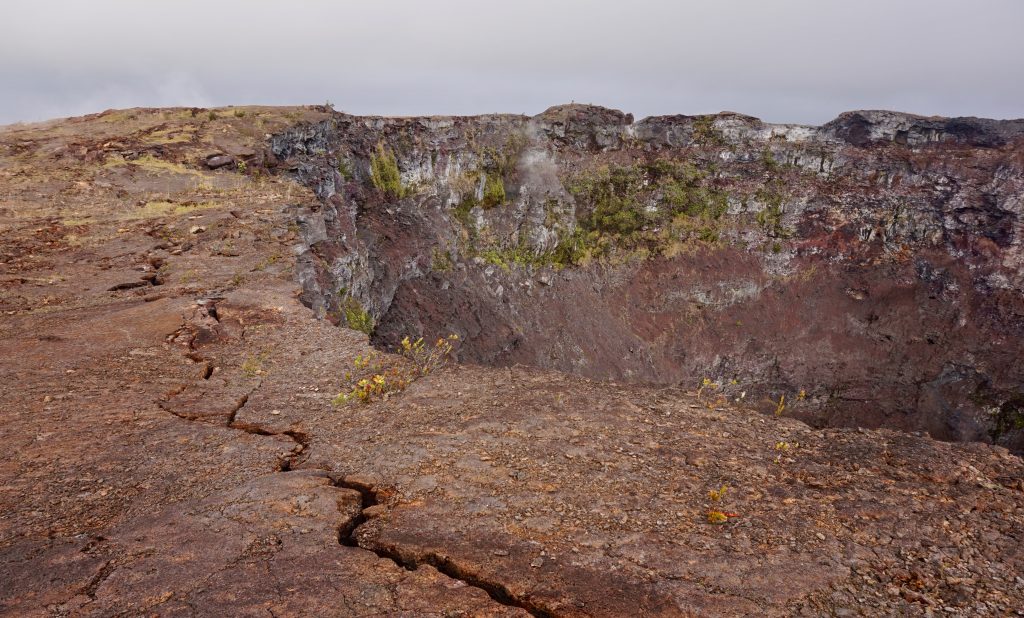 Of all the things to do in Hawaii, this short hike is not for the easily frightened or the faint at heart. Mauna Ulu erupted between 1969 and 1974, at times shooting fountains of lava more than 1,770 feet into the air—that's as high as the One World Trade Center building in New York. When it was all over, the event left a smoldering maw 400 feet deep and 500 feet across. We need to stress that this is new land. The part of the hill adjacent to Pu'u Huluhulu seems to be the most stable, but that is a relative term. There are several areas where thin, shelly lava breaks beneath your feet. You may only drop an inch or two, but your adrenaline tells you otherwise. The rim of the crater is nearly straight down and crumbling all the time. If you get too close, it may break off, you may fall in, and then you're really out of luck. If all this doesn't dissuade you, you'll get to see a view that is beyond belief.
Lose Yourself in Waimanu Valley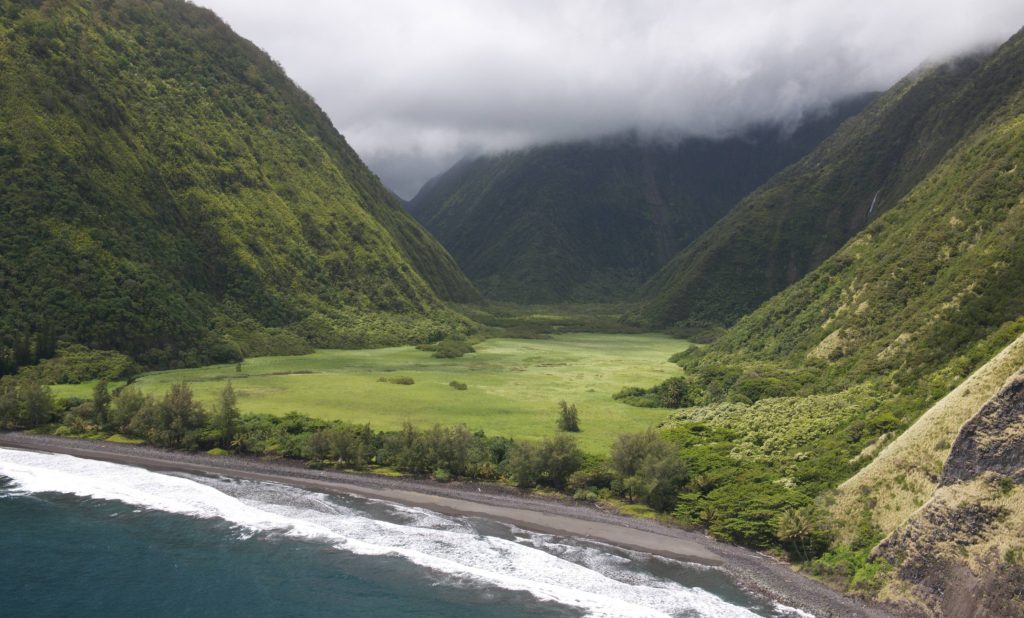 Hawai'i is the most isolated chain of islands in the world. If that isn't enough for you, and you are looking for things to do in Hawaii that take you away from it all, this is the adventure for you. Waimanu Valley has all the ingredients you would expect from a pristine Hawaiian valley, such as lush green jungle, waterfalls and a black sand beach. At one time it supported a large number of Hawaiians until the 1946 tsunami ruined their taro fields. These days you'll see more helicopters here than people. Hiking in takes 5–6 hours, and you may even have the valley all to yourself, if you can make the grueling 7.75 mile trek. Don't try to do this as a day hike. Stay at least two nights to really soak in the majesty of the valley.
Things to do in Hawaii – Maui
Mountain Bike Haleakala's Spine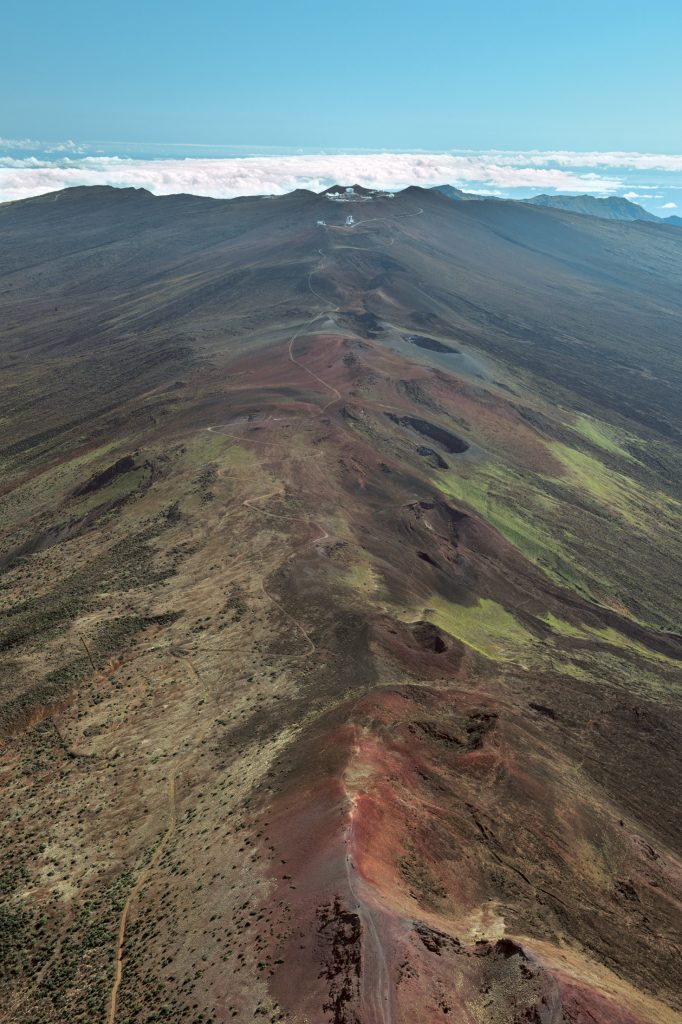 OK, so everyone's heard of the Haleakala Downhill bike ride mentioned in Biking. But few are aware of this—there's a road called Skyline that meanders down the other side of the volcano, and it makes an incredible downhill mountain bike ride. After Skyline's downhill trek, you have 2 miles of relatively flat dirt road, then almost 6 miles of paved, downhill, yee-haw riding. Talk about exhilarating things to do in Hawaii! Best of all, there are no commercial operators clogging the roads. (Some might tell you that you're not allowed to mountain bike it, but the truth is they're not allowed to do it commercially.)
Swimming with Sharks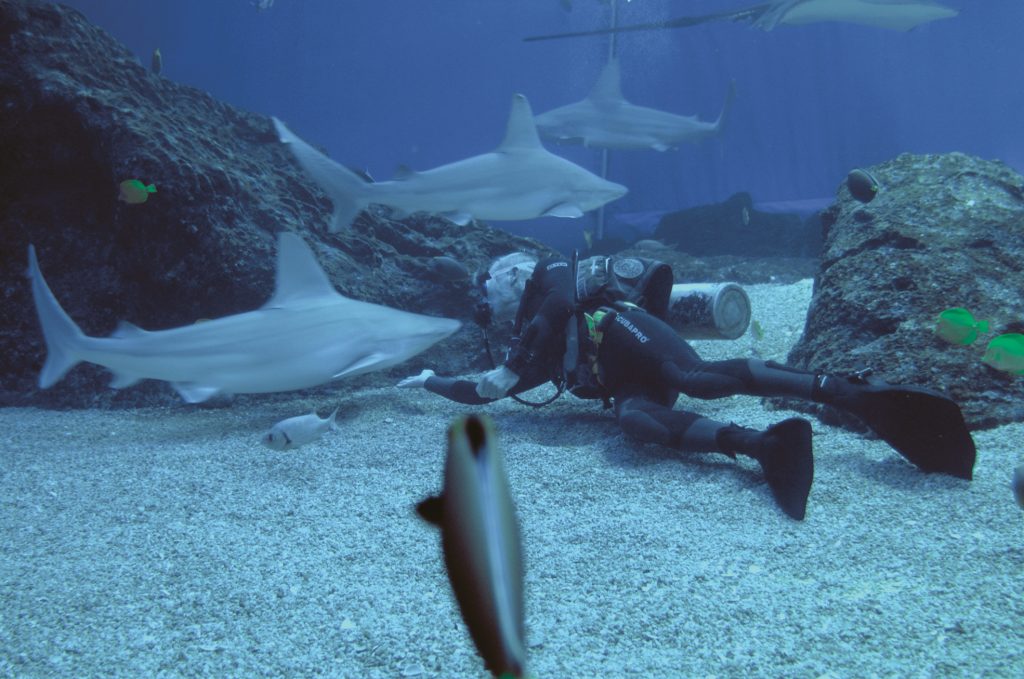 Have you ever visited a large aquarium and wished you could observe the fish and sharks from the other side of the glass? Here's your chance, and the experience is ridiculously cool.
Three times a week the Maui Ocean Center in Ma'alaea allows two pairs of divers to spend around 40 minutes swimming with sharks, stingrays, puffer fish and all the other species in their three-quarter million-gallon exhibit. And while the draw might be the 20 or so sharks in the tank, it's surprising that after a short amount of time many people start to forget that they're supposed to be afraid of sharks and find themselves oddly at home.
Things to do in Hawaii – Kauai
Na Pali Kayak Trip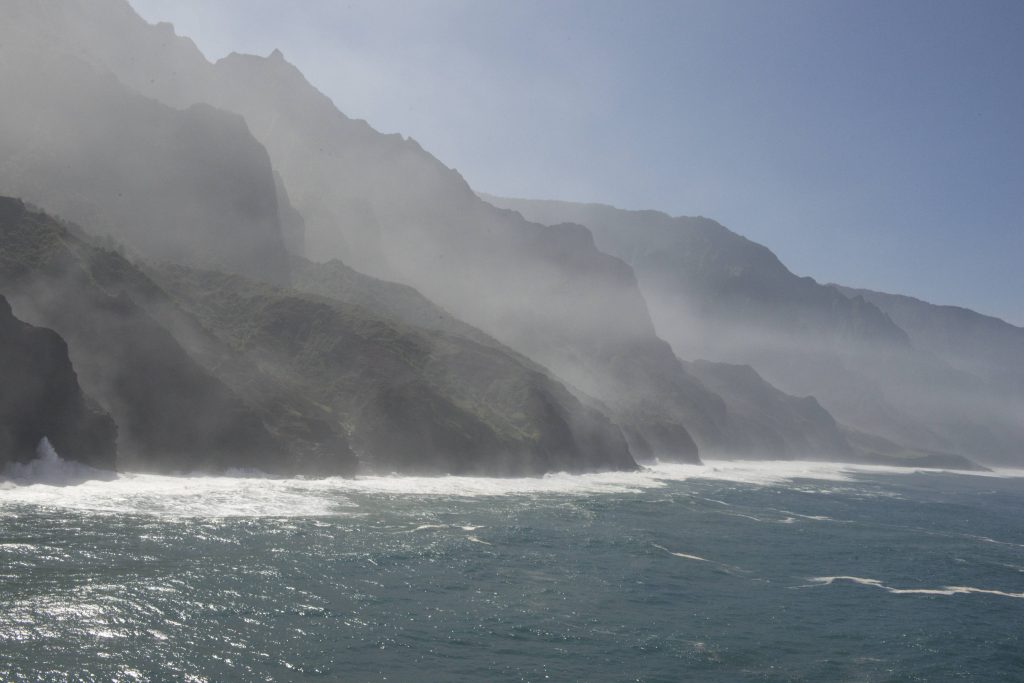 If you really want adventurous things to do in Hawaii, consider a kayak trip down the Na Pali Coast. June through August are normally the only months where ocean conditions permit kayak transit. Kayakers put in at Ke'e Beach on the north shore, exiting at Polihale Beach on the west shore, a total of 16 miles. Along the way you'll encounter incomparable beauty, innumerable waterfalls and sea caves, pristine aquamarine seas, turtles, flying fish and possibly dolphins. If you're doing this as a maverick trip, at night you can camp on beautiful beaches, sleeping to the sound of the surf. The experience will stay with you for a lifetime.
Hike to the Blue Hole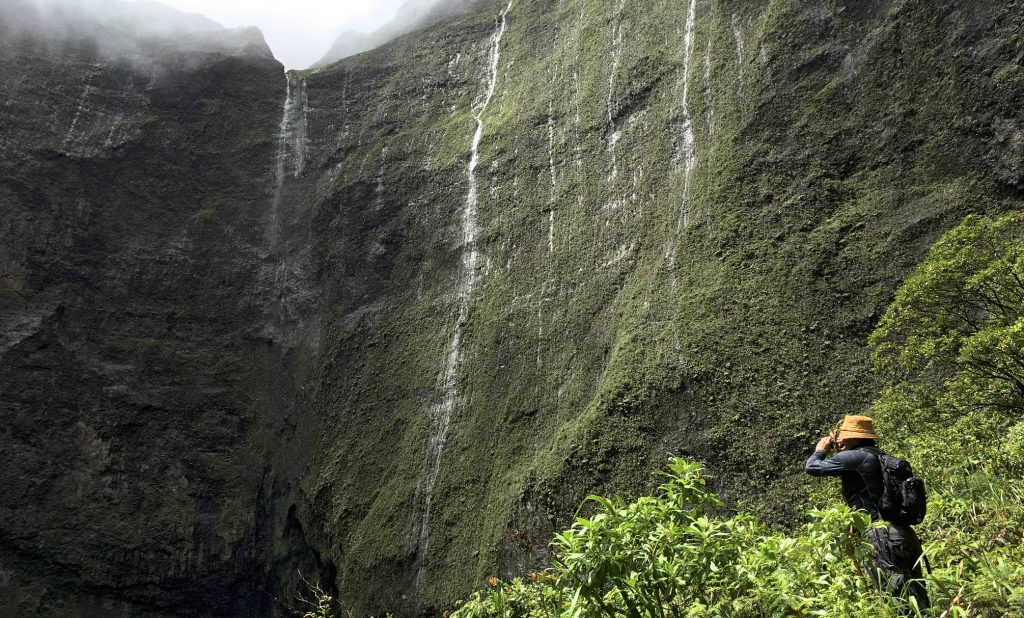 The term Blue Hole is widely used on Kaua'i yet is oddly ambiguous. Some use it to refer to Wai'ale'ale Crater. Some use it for the dam at the end of the dirt road that marks the trailhead. And others say Blue Hole is the pool at the end of an arduous hike. Let's go with the latter.
Getting to the trailhead can be difficult if you don't have 4WD. Read the directions to the Jungle Hike. Instead of looking for that trailhead, keep going on the road 0.4 miles until it ends at a concrete diversion dam. If the water is turbid and nasty, it's an indication that heavy rains have occurred, and this ain't the day for you. (Of course, any river can flash flood at any time.)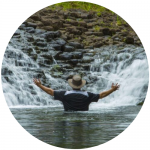 Andrew Doughty is the famous author of the widely popular Hawaii Revealed series including Kauai Revealed, Oahu Revealed, Maui Revealed and the Big Island Revealed. He moved to Kauai many years ago after he fell in love with the beauty of the islands and decided to never go back. He is known for his candid opinion on each of Hawaii's attractions, be it a restaurant, a helicopter ride, a beach or a resort. For the last two decades, he has managed to keep his identity anonymous so that his reviews can remain unbiased and only be influenced by his own opinions and thoughts. You can learn more about his beautiful journey at this link – About the author