So you're in Hawai'i and want to eat some local cuisine. The options can be overwhelming, with most everyplace having at least one item that's considered a local dish. (Heck, even McDonald's carried saimin—the Hawaiian version of ramen—until recently.) The most local way to eat is probably running into the grocery store (Foodland is one of the better options) and grabbing a Spam musubi from the hot case or a half pound of poke from the counter. If you're looking for a heartier meal that passes the authenticity test, here's my favorite options on Maui. For even more options, check out our guides to the islands.
---
Kalei's Lunchbox, Central Maui and Upcountry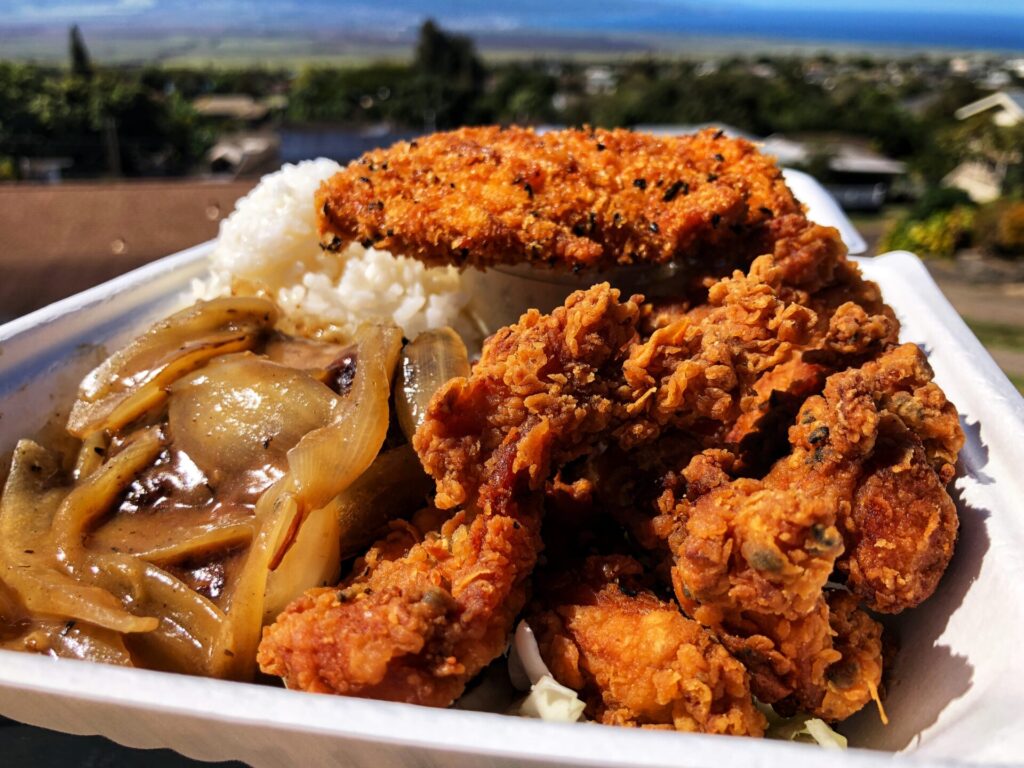 Some of the best local cuisine you can find on Maui. This was a longtime food truck (their website is even foodtruckmaui.com). The truck no longer in operation, but they have a couple of brick-and-mortar locations that are popular among residents. They serve breakfast until around 10:30 a.m., but you can order off their lunch/dinner menu at any time. Breakfast features more familiar dishes such as omelets, pancakes and French toast. Lunch and dinner bring plate lunches, noodles, sandwiches and burgers, plus some salads and tasty sides. (Consider the hurricane Brussels sprouts.) We haven't found a bad dish here, and if you have trouble deciding, Da Big Kahuna plate lunch offers a good mix of some of their more popular items. Online ordering is available, and though both locations have some seating both inside and out, most people opt for takeout. It can get very busy at lunch time. Overall, breakfast isn't as compelling as the lunch options. You can find them Upcountry at Pukalani Terrace next to Foodland, and in Kahului at Maui Lani Shopping Center near Safeway.
Tin Roof, Central Maui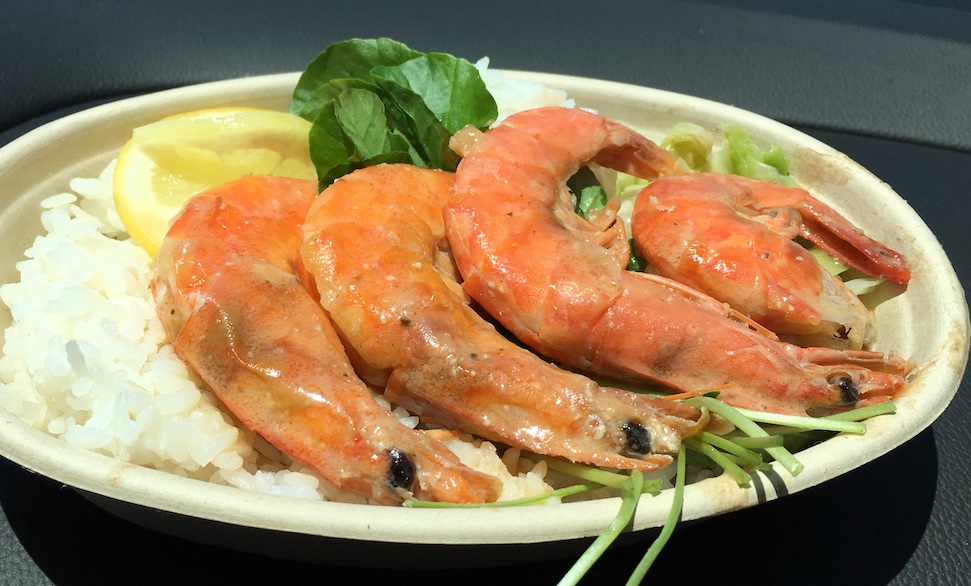 Killer local grinds, brah. Tin Roof is what happens when a local boy becomes an accomplished chef and uses his skills to make gourmet local food at food truck prices. Kau kau tins, dry mein and garlic shrimp, fat chow funn. We haven't had a bad item. The selection is small, but they're all items most visitors are unfamiliar with, so no worries. Be sure to add a few extras onto whatever you order, such as a six-minute egg, kim chee or furikake (in "dime bag" portions). Lines can be long and it's take-out only. Since local cuisine might not be familiar to you, consider ordering on their website where you have time to really look at the descriptions. Find them in Kahului on Dairy Road (despite their actual mailing address) near the intersection with Hana Highway.
Kilo's Kitchen, Hana Highway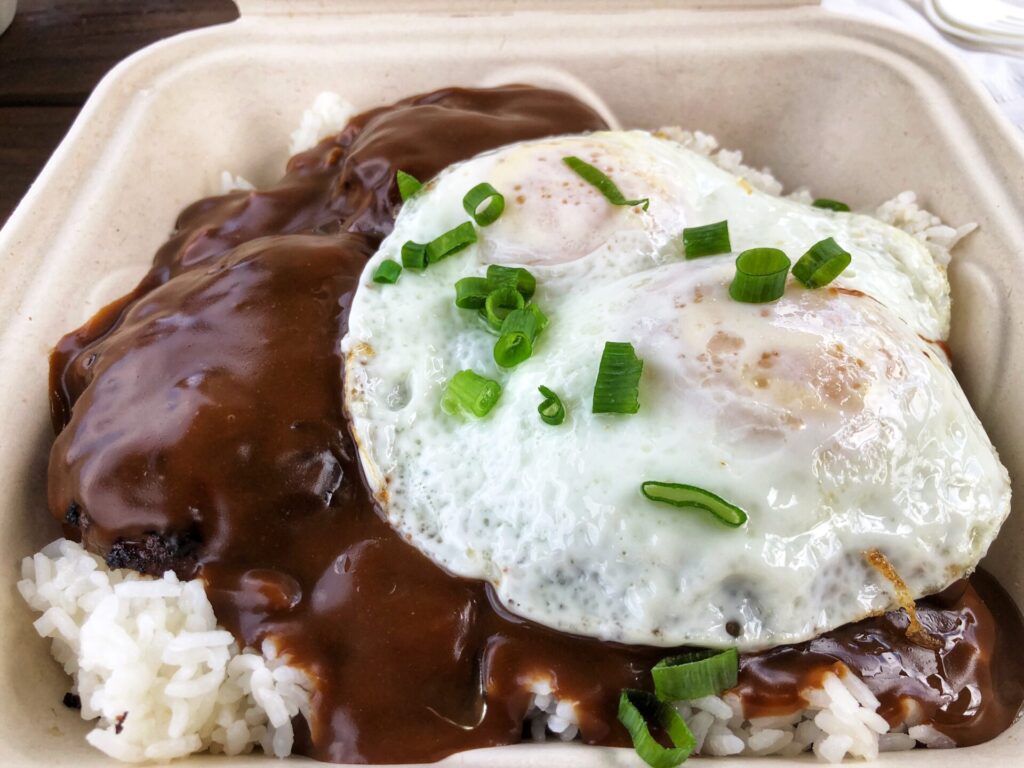 Probably the favorite food truck of Hana residents, Kilo's Kitchen is the place to go if you skipped breakfast. Portions are huge, often about three times the size of any other eatery. (The standard loco moco has three burger patties!) It's all local cuisine, with an emphasis on filling, comfort food. Plate lunches, poke bowls, burgers and sandwiches make up the menu with plate lunches giving the best value. Flavors are well executed, down to the macaroni salad. We can't tell if it's the effect of being in Hana that makes everything here taste good, but we'll keep checking to find out. On the ocean side of Uakea Road before you reach Hana Bay. Hours can be hit or miss, with the most reliable times on Wednesday through Friday. Check their Facebook page for the weekly schedule.
---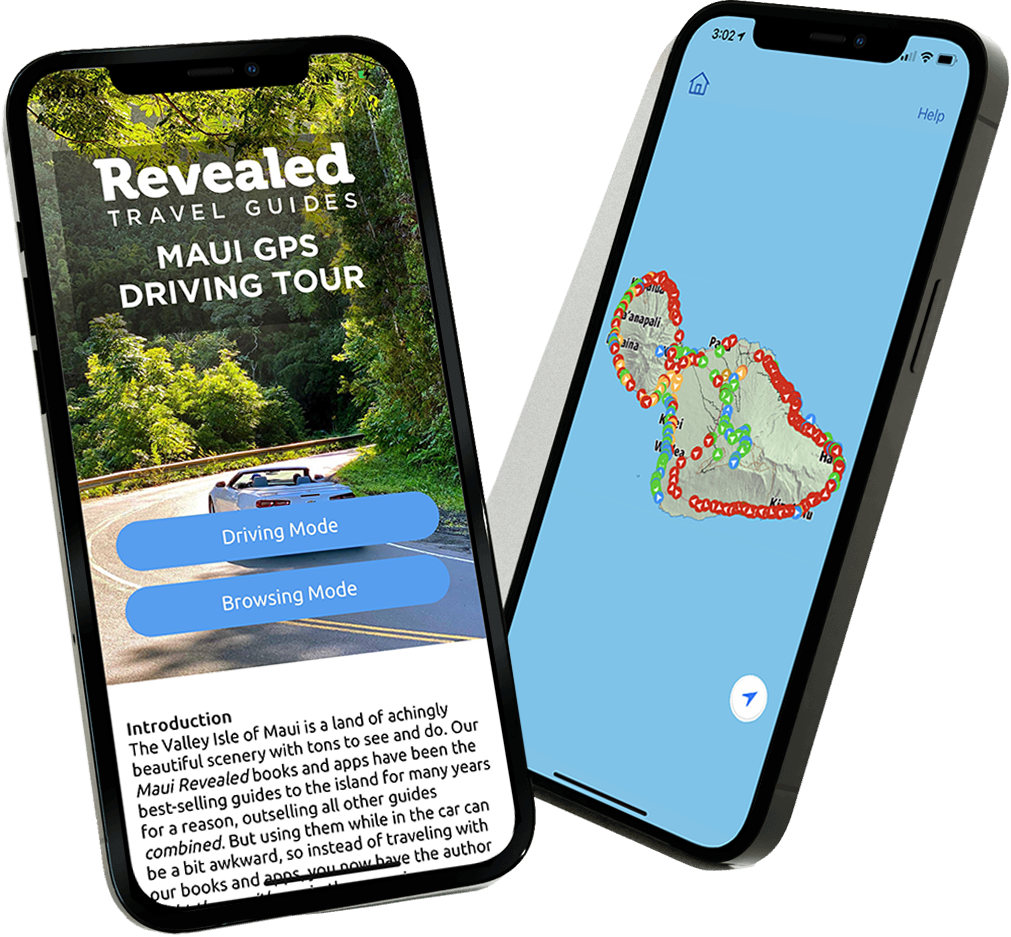 ---
Da Kitchen, South Maui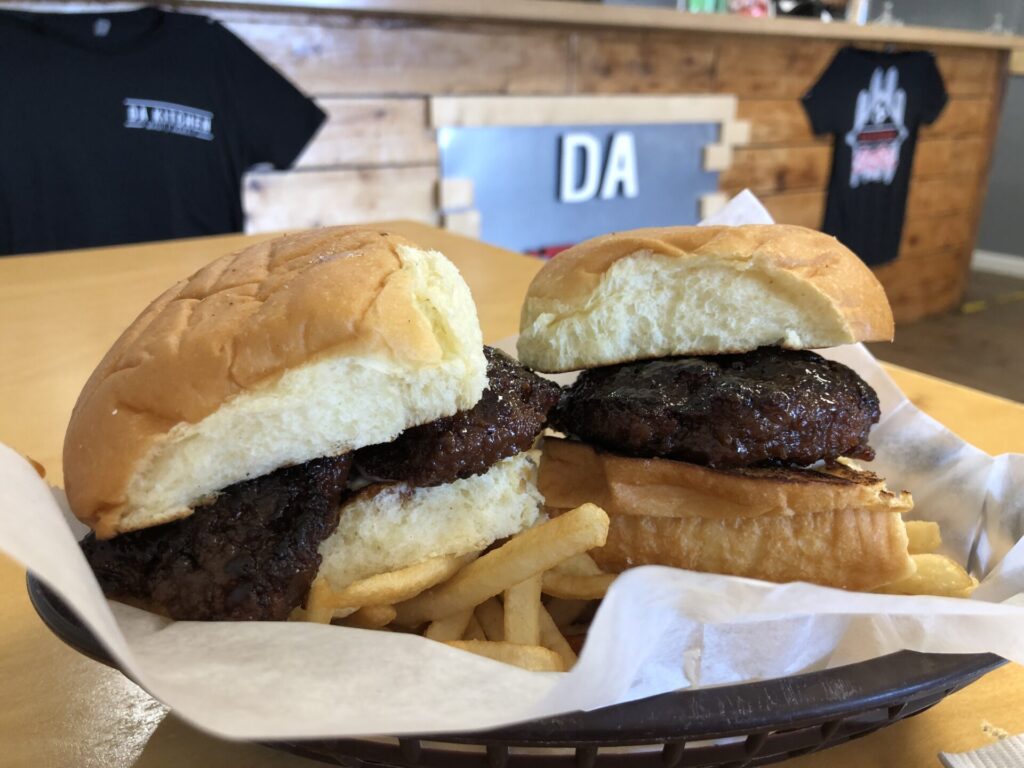 A longtime favorite of visitors and residents alike, Da Kitchen focuses on good local grinds, and they do it right. Laulau, katsu, teriyaki and tempura are just some of the local cuisine they serve up. Some of the menu items might seem pricey… until you see how big the portions are. (You eat until you're tired here, not until you're full.) Case in point: One of our favorites is the teriyaki burger sliders, which are essentially two full-sized burgers. $15 gets you both burgers on a bed of fries—not bad for an island where it's easy to pay double the money for half the food. Check the daily specials before you commit to anything. Find them in the back corner of the Longs Center on South Kihei Road.
Aloha 'Aina BBQ, Hana Highway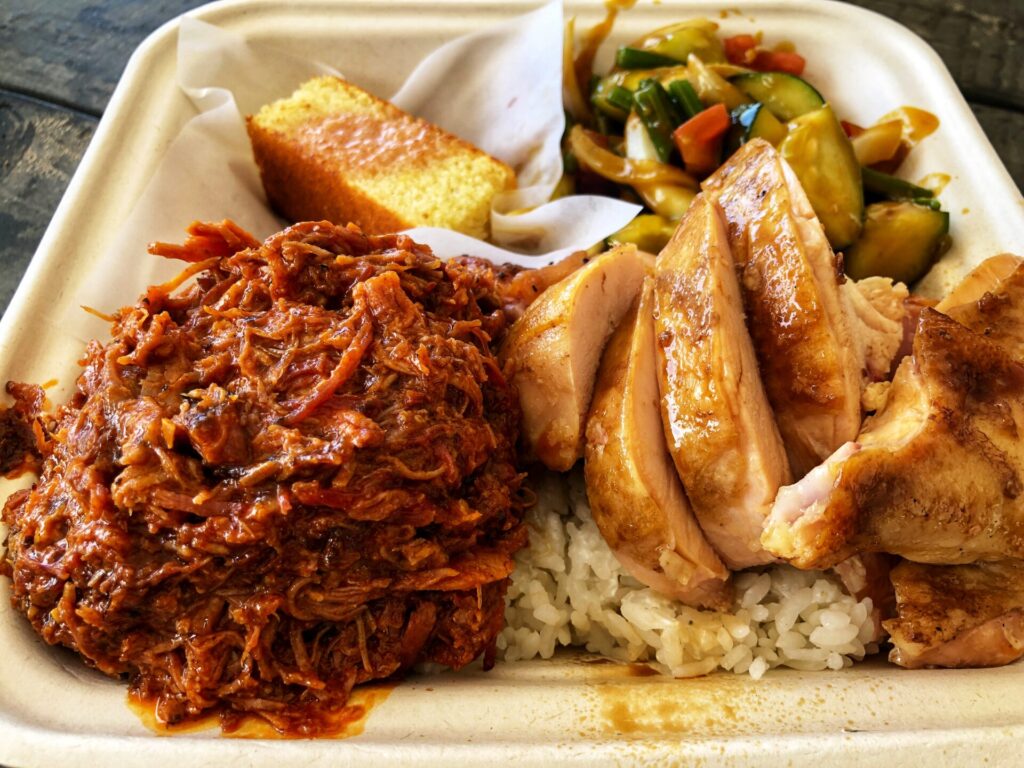 Aloha 'Aina BBQ at the Maliko Farmstand between Pa'ia and Ha'iku lives up to the hype. Chef Chewy (gotta love the name) definitely gets the aloha part right and has been serving some of our favorite barbecue on the Road to Hana for years. The menu is straightforward—brisket, huli huli chicken (some of the juiciest we've found on Maui), pork belly, kalua pork, venison sausage, ribs and burgers are the usual lineup. Besides being tasty, there are a few interesting twists to some dishes, such as the kalua pork that uses a Carolina-style barbecue sauce. The sides are more than an afterthought and at times outshine the main dishes. (Love the pohole fern salad.) Consider the fruit smoothies that feature whatever's in season. This is a place that hits all the checkboxes for hearty comfort food. Only ding is the location—it's before the real start of the Road to Hana, and they don't open until after we like to begin the journey.
'Ula 'Ula Café, Wai'ehu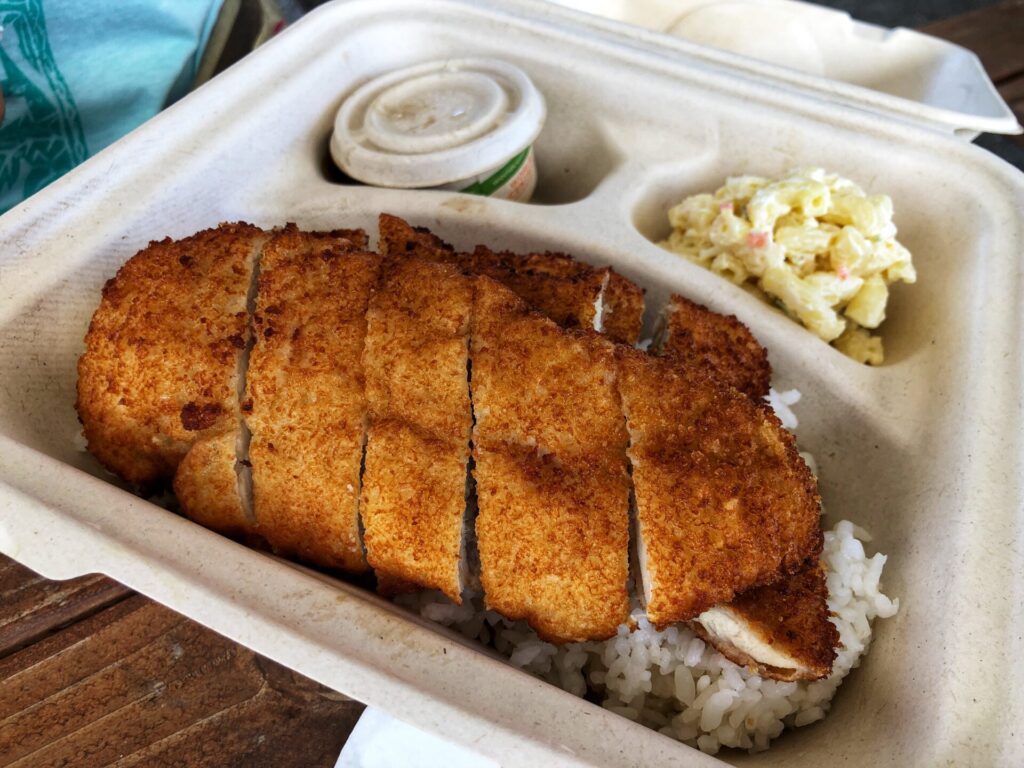 The sleepy community of Waiehu isn't on many visitors' itineraries. Most only pass by after driving around the top of West Maui, or maybe heading to a horseback ride, hike or the municipal golf course. What started as a farm stand has grown to include a food truck with some of the best local cuisine you'll find. 'Ula 'Ula Café is a gem hiding in open view along the Kahekili Highway on the edge of Wai'ehu, and the food is good enough to make this area your day's destination. They incorporate lots of ingredients grown in the vicinity, such as macadamia nuts, papaya and dragonfruit. The smoothies, juices and açaí bowls are the epitome of fresh; however, it's the plate lunch options that grabbed our attention. It's not that there's anything fancy or trendy about the menu—there are relatively few options, but all are executed the way they should be and without cutting corners. The kalua pork is smoky, moist and flavorful, the chicken katsu is properly tenderized with a good meat-to-breading ratio, and the mac nut-encrusted mahimahi is sublime in its simplicity. They even manage to make vanilla ice cream exciting by adding banana lumpia and fresh mac nuts. This is farm-to-table done in true Hawaiian style. There's plenty of shaded seating, though it's just as easy to grab and go to nearby Wai'ehu Beach Park. The majority of the clientele is the local community, and you can tell by the many smiling faces that they approve of the food, too. Closed Sundays.
---