DOWNLOAD THE LATEST REVEALED TRAVEL APPS
From the world's best-selling guidebooks to your phone
The perfect companion to the books, our app is specially designed to help you discover points of interest. Choose your dream vacation using our unique filters and then see what's nearby on the high-resolution interactive maps.
It's Not Just A Guidebook, It's A Love Affair
Welcome to our website. Our full-time job is pretty unusual. We hike the trails, ride the boats, eat in the restaurants, explore the reefs, and do the things we write about—and we do it all anonymously. No sifting through endless online reviews of a company, trying to form a consensus here. We do it all and compare them all to each other. We also explore every nook and cranny of the islands, looking for the coolest places to show you. Our method gives us the ability to tell it like it is in a way no one else can. We put in many long hours, and doing all these activities is a burdensome grind. But we do it for you, only for you. (Feel free to gag at this point.) Although we've just met, I promise that you will come to think of us as your trusted friends in the islands.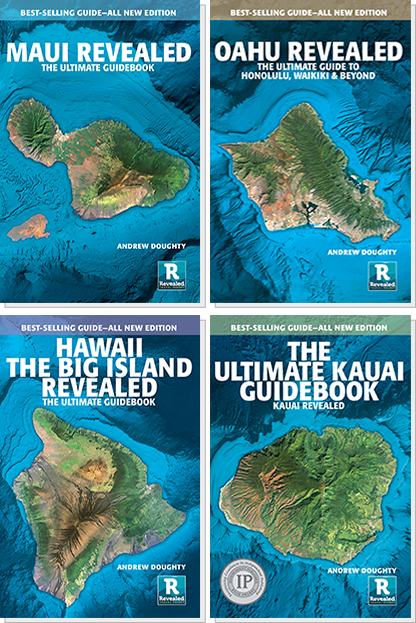 "Thank you so much for writing such amazing guidebooks. I picked up my first book of yours — the Big Island Revealed — in 2003 and have been hooked on them ever since. My family and I have at least one book of yours for each of the four main islands. Even though we are from Chicago, we have been to the Hawaiian islands six times since 2003, and each time we go, we buy the most recent version of your books. Your books have made our trips memorable and we don't know what we would do without them. A large part of why we keep coming back to the islands is because we want to do more things suggested in your books."
"While on Kaua'i, the guidebook was our constant companion. The clarity of directions, the accuracy of the hiking maps and never-fail recommendations made our week an experience we will never forget!"
"Thanks for a great book and a great vacation! Your book guided us around Kauai for a week in March as we hiked, beached, kayaked, surfed and lu'aued… We are a family of four with two teenage boys. By the middle of the week we had all come to trust your reviews so much that no one was willing to do anything without first checking to "see what the book says." And it was so much fun to read!.. I can't wait to visit another island now that I have a personal guide."
"We both work at a large bookstore and make a point to recommend your books anytime we see someone shopping the Hawaii travel section. In fact, I like to tell people that the Revealed series is to Hawaii as Rick Steves is to Europe. Mahalo nui loa for creating these wonderful resources!"