The year 2015 will go down as the 'year of the hurricane' in the Central Pacific, and at times here in Hawai'i, we feel pretty surrounded by them. Here are some things potential visitors need to know.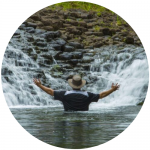 Andrew Doughty is the famous author of the widely popular Hawaii Revealed series including Kauai Revealed, Oahu Revealed, Maui Revealed and the Big Island Revealed. He moved to Kauai many years ago after he fell in love with the beauty of the islands and decided to never go back. He is known for his candid opinion on each of Hawaii's attractions, be it a restaurant, a helicopter ride, a beach or a resort. For the last two decades, he has managed to keep his identity anonymous so that his reviews can remain unbiased and only be influenced by his own opinions and thoughts. You can learn more about his beautiful journey at this link –

About the author

There have been only a handful of hurricanes that have struck the islands in recorded history. Hurricane Dot in 1959, Iwa in 1982, 'Iniki in 1992 and a mild hit by Iselle in 2014 plus some possible landfalls in the 1800s and early 1900s. When Isabella Bird spent 6 months in the islands in the 1870s, she wrote a famous book in which she said, "Hurricanes are unknown in the islands," meaning none had happened in living memory. So how is it possible that we can be surrounded by so many hurricanes and get struck so infrequently? An even bigger factor is wind shear. Trade winds that normally keep the islands cooler travel from east to west. But upper level winds often come from the west or south. Hurricanes are tall beasts, with cloud tops 30,000 to 50,000 feet tall. It's an important characteristic since convection—rising warm air—is part of what powers them. Most of the time when the hurricanes get near Hawai'i, the upper level winds start chopping of their tops, slicing their power down in the process. Historically, hurricanes that are the most feared are those that linger in the southern waters below Hawai'i and south of the wind shear. They are usually kept in those southern waters by high pressure to our north, which acts like a hill, keeping the hurricanes from rolling up to the north. When that high-pressure ridge fades, hurricanes are allowed to bolt from their equatorial nest and pounce on the islands while near their peak. This year is a powerful El Niño year, where Pacific waters are much warmer and the normal rules of the road that hurricanes follow can be violated. So when you watch the hurricanes, one after another, heading our way, now you'll have a better understanding on how they operate. Let's keep our fingers crossed that Hawai'i can escape getting whacked by another Category 4 hurricane, like 'Iniki did on September 11th, 1992.