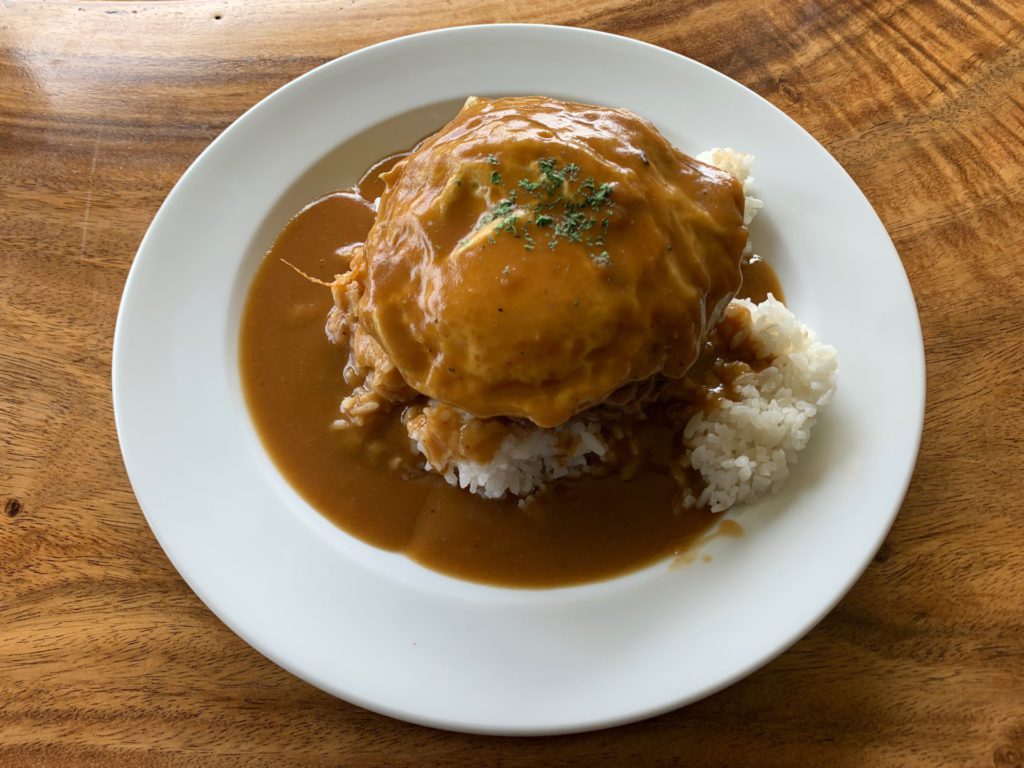 The Lodge at Kokee makes a truly classic looking moco.
If you've visited Hawaii, and eaten at virtually any restaurant, you most likely will have seen an item called the Loco Moco. Consisting of four items (that you would virtually never think would go together) rice, hamburger, fried egg and brown gravy, this heart attack in a box is absolutely delicious.  Supposedly invented in Hilo, the dish can trace its history to the Lincoln Wreckers Athletic Club, an informal organization for local teenagers. The story goes that the teenagers would gather at the Lincoln Grill Restaurant across the street from Lincoln Park, where they practiced barefoot football for the league that they played in. Being teenagers, they were always hungry and would order burgers and bowls of saimin. What they wanted was an inexpensive meal that was filling and fast. One day (in 1949) they told one of the players, a kid nicknamed Loco (slang for crazy because of the way he played) to approach the owners, Richard and Nancy Inouye, and ask them to come up with something. Well, they did and the "Loco Moco" was born (moco was added to the name because it rhymes with loco).  Somehow it caught on and is now one of Hawaii's signature dishes, loved by visitors and locals alike. Want to know how to make it? It's fast and easy. Here's our personal recipe:
Cook some rice
Sounds easy, but to make rice right you need to follow some rules.  Use Japanese short grain rice, like Calrose or Hinode (two popular brands in Hawaii). Make sure to rinse it in cold water until the water is clear, like really clear. Like really, really clear. We use a rice maker and rinse and drain over and over until there is zero hint of cloudiness. Did we mention it should be clear?  Cook it according to your favorite recipe, but after cooking make sure you let it sit for at least 15–20 minutes. This allows it to become fluffy and tender.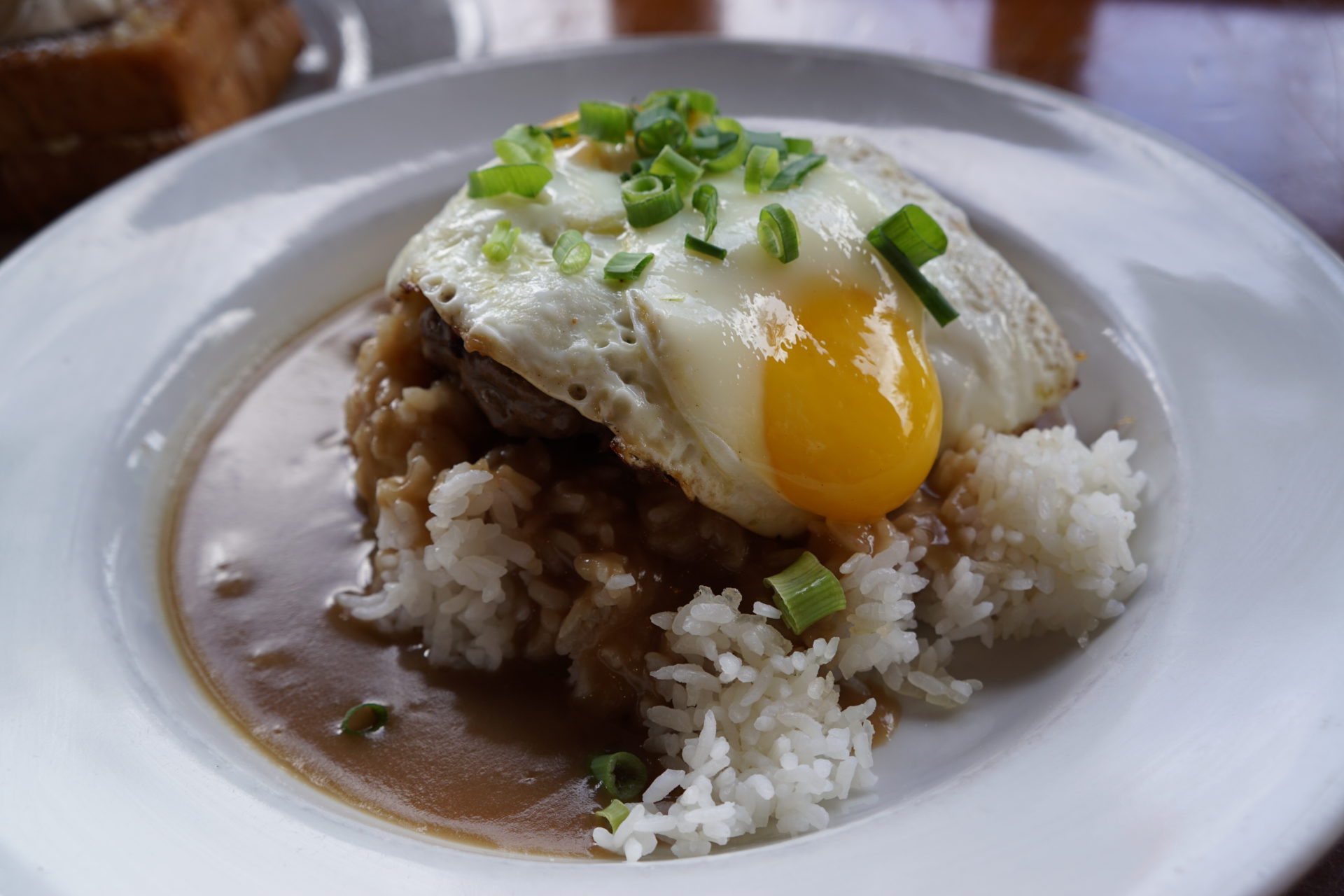 Lulu's makes theirs just like we like it, nice and runny!
Make a ground beef patty
We use a pound of lean ground beef but you can use what you prefer. Add ½ cup of bread crumbs (or panko), an egg, minced onion, a shot of Worcestershire sauce, a shot of ketchup, salt and pepper. Mix it all together with your hands then make it into a patty and pan fry.  Add the patty to the top of a large scoop of rice.
Next fry an egg or two 
You can do sunny side up, over easy, or pretty much anyway you like (we've never seen anyone do scrambled, but hey, it's your food, do what you want!).  The most preferred method is over easy, with the yolk still runny. Put the egg(s) on top of the patty.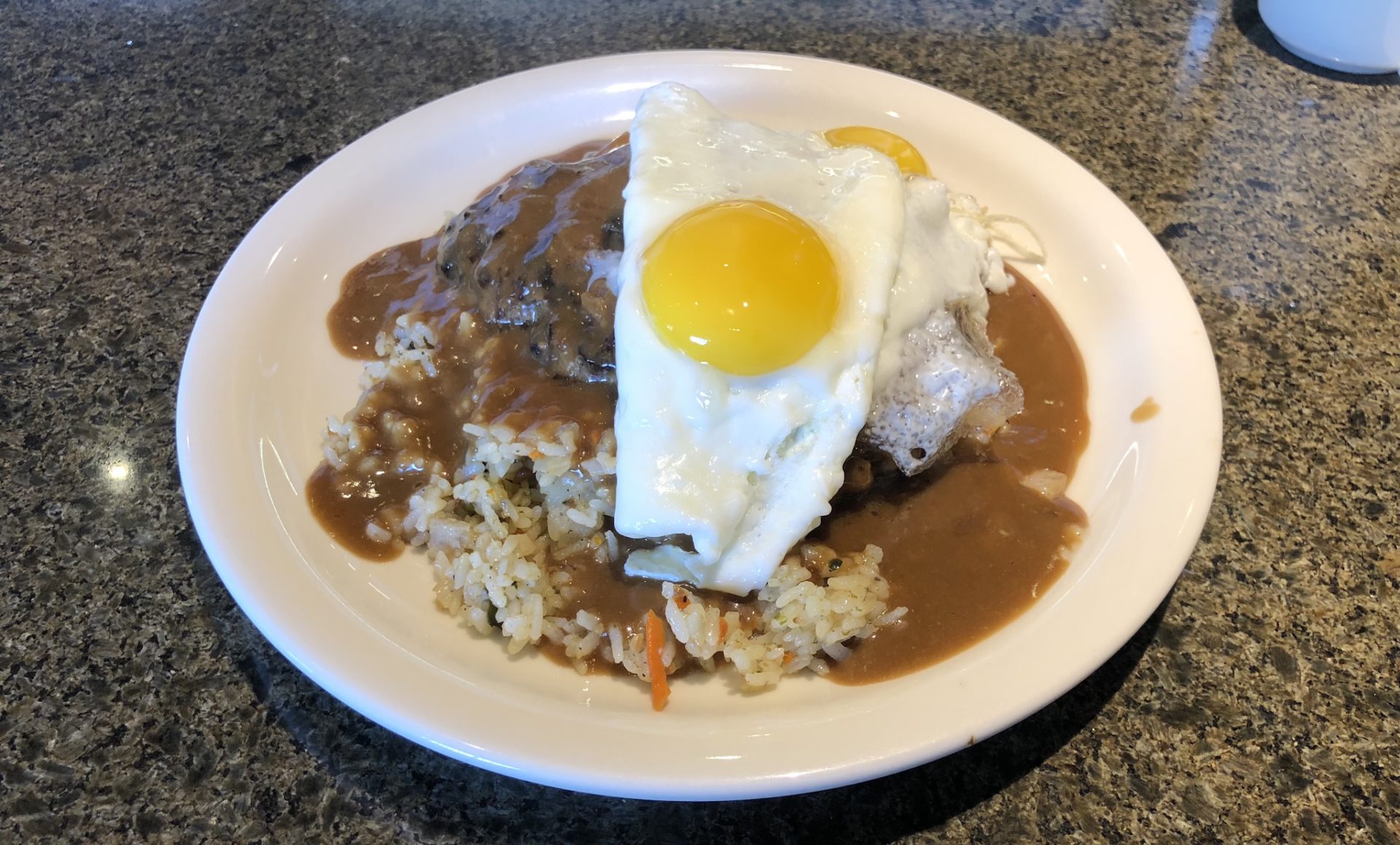 Some people put their eggs on top of the gravy. The audacity!
Last, but definitely not least, slather it with brown gravy: Believe it or not, we prefer the inexpensive packaged gravy that you just add water to, you know the ones next to the taco seasoning that sell for $.99. But if you have leftover gravy, or one that you like to make, there is really no set type to use.  If it's gravy, then it go!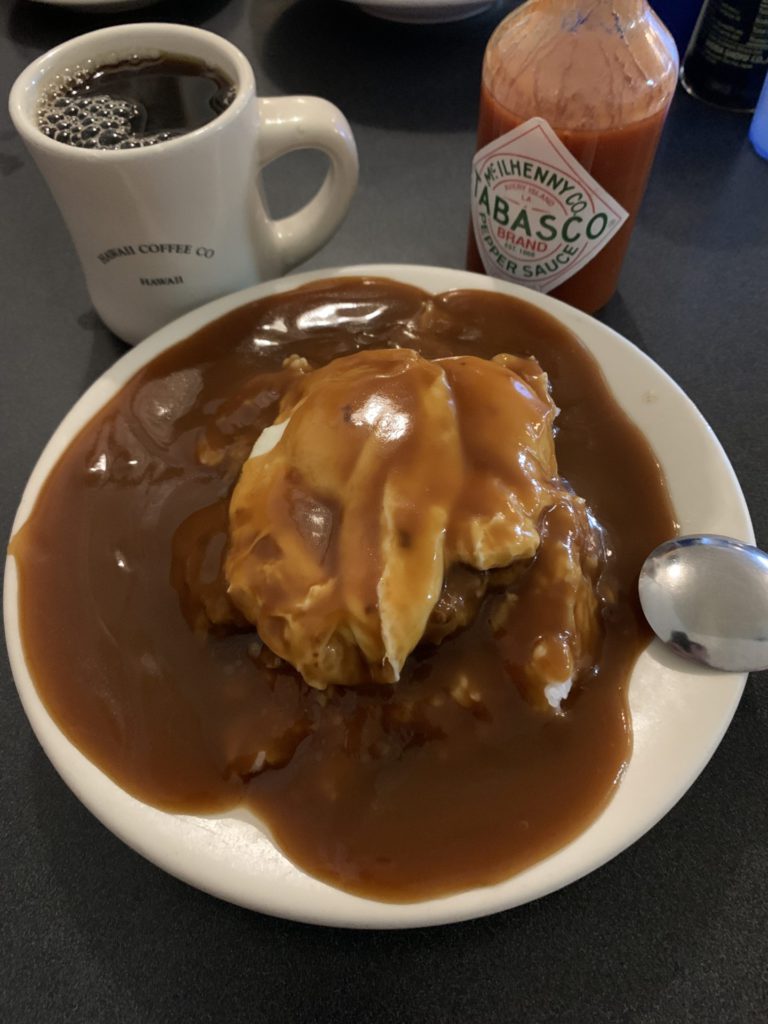 Tip Top Cafe knows how to slather!
One last thing: some people (raises hand) like to add a splash of Tabasco on top to give it a little kick, but it's definitely not required. 
So there you go. You can now enjoy this culinary treat without traveling to Hawaii (although eating it on your favorite beach can only improve the flavor. And just in case you are in Hawaii, we put a few links below to our favorite places to get one). Breakfast, lunch or dinner; there's never a bad time for loco moco, and after writing this, guess what we're going to go make! Yup!  Now where did we put that panko! 
Kauai, Lihue,Tip Top Cafe
These guys make an absolutely classic version.  Located in Lihue, they also make a great Oxtail Soup. You can check out their menu at Tip Top Cafe
Maui, Kula, Grandma's Coffee House
These guys use Uncle Willy Jacintho's grass-fed local beef for their patty, and although we don't know Uncle Willy, we hope he invites us over for a BBQ someday. You can order food online and pick up or sit done and grind there.  Check out their menu at Grandmas Coffee house
Big Island, Kona side, 808 Grindz
Another classic and you can eat in or take out.  Check them out at 808 Grindz Cafe