The Chinese New Year was traditionally the most important festival every year. The entire household would become fixated on the celebration and work life would nearly come to a stop, allowing all to make home and family the primary focus. Households are thoroughly cleaned to appease the gods coming to make inspections. The new lunar year is celebrated annually from mid-January to the waxing of the full moon in mid-February through a variety of unique traditions. The Chinese community gathers, often wearing the symbolic color red, to bring good luck and to have prosperity in the coming year, exchange red envelopes with cash gifts, and participate in festivals with parades, music, dancing, and fireworks. During the first five days, celebrations involve eating long noodles as a symbol of living a long life. Extended families share a meal together that includes a fish course not meant to eat as a symbol of abundance. And finally, on the last day of the New Year, dumplings in the shape of the full moon are shared to symbolize the family unit.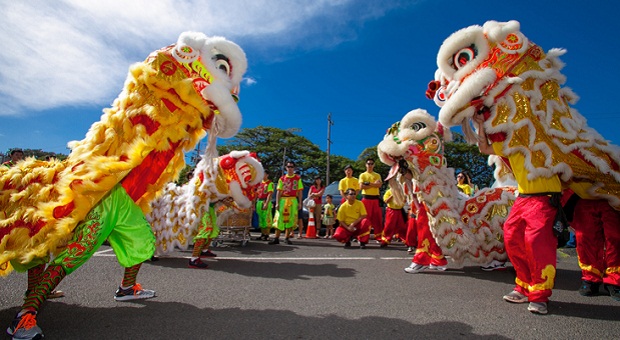 Source:Image via Hawaii NYE
Where to Celebrate in Hawaii
You can celebrate the Chinese New Year throughout the islands of Hawaii. Here's a list of popular events:
Chinese New Year in Oahu
Chinese New Year in Maui
Wo Hing Museum Lahaina Celebrate on Friday, February 23rd from 5 pm to 9 pm with traditional lion dancing with drums, firecrackers, and cymbals. Martial arts demonstrations and instrumental performances can be enjoyed with Chinese tea served in the garden.
Chinese New Year in the Big Island
How to celebrate As a Native

The Cantonese pronunciation of Happy New Year is: Gung Hay Fat Choy
The Mandarin pronunciation of Happy New Year is: Gungshi Shin Nien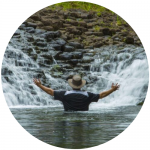 Andrew Doughty is the famous author of the widely popular Hawaii Revealed series including Kauai Revealed, Oahu Revealed, Maui Revealed and the Big Island Revealed. He moved to Kauai many years ago after he fell in love with the beauty of the islands and decided to never go back. He is known for his candid opinion on each of Hawaii's attractions, be it a restaurant, a helicopter ride, a beach or a resort. For the last two decades, he has managed to keep his identity anonymous so that his reviews can remain unbiased and only be influenced by his own opinions and thoughts. You can learn more about his beautiful journey at this link – About the author