At this 27-acre resort, peace and privacy are yours—the trade-off is relative isolation given the location on the extreme west side. It started out as a dairy in the mid-1800s and then was a sugar cane plantation until it re-opened as a hotel in 1994. There is much feeling of 'ohana (family) here, and you will definitely experience the aloha spirit. With their location so close to the mouth of the very reddish Waimea River, swimming in the murky ocean water is pretty poor at this marginal beach. The coconut grove, banyan trees and hammocks scattered about add to the quiet charm of this property, and this is a good place to watch the sunset over the private island of Ni'ihau. They have a few activities on site, such as sand volleyball, bocce ball and shuffleboard. Many weddings take place on the grounds here.
Many of these cottages were once plantation workers' homes (many have been moved to the property from other locations), and each is as different as their former owner's tastes. We had a hard time coming up with adjectives to describe the rooms. They have old-style floors and furniture, just like from the plantation days. Units vary tremendously in décor, price and proximity to the ocean. Rooms have been refurbished with modern amenities, but they retain the old-style feel inside, without feeling too old and worn. They are very clean. Many bathrooms have showers only, so if you need a tub, request one when booking. All rooms have a full kitchen. Most bedrooms have A/C. In units where A/C could not fit in bedroom, you'll find it in the living room. Housekeeping is every three days. It may be worthwhile springing for an ocean view at this property, but garden views are pretty.
Prices have come down with the recent management making this an easy Solid Gold Value. Studios (300 sq. ft.) are $149–$199, 1/1s (360–768 sq. ft.) are $210–$389, 2/1s or 2/2s (726–1,024 sq. ft.) are $275–$455, 3/1s or 3/2s (638–2,400 sq. ft.) are $335–$515 4/3s (approx. 1,250 sq. ft.) are $519–$619, 5/5s (3,500–4,240 sq. ft.) are $760–$1,025. 2- to 5-night minimum. Discounts available.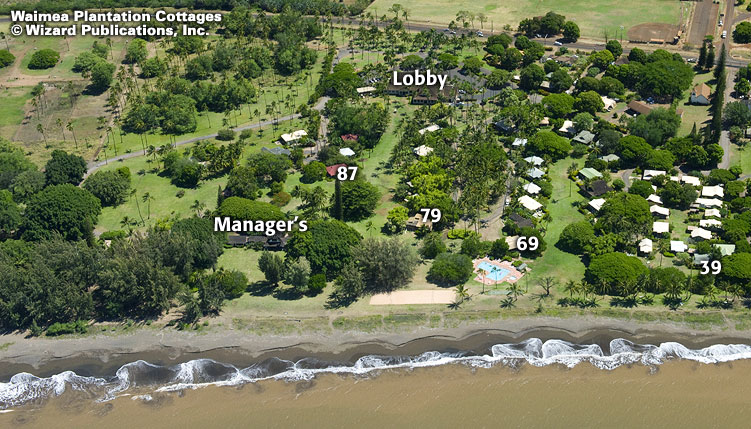 Address

(800) 716-6199 or (808) 338-1625


9400 Kaumualii Hwy, Waimea


Visit website
Our Location