This condo property is divided into three separate areas: Golf, Ridge and Bay. The units are priced based on view and room quality—not area. The Bay has the best ocean views; the Ridge can have some decent ocean views or partial ocean views. Fairway view or partial ocean view units can be found in both the Ridge and the Golf villas. Many of the units have been upgraded to luxury (they call them "gold") standards, including new bathrooms, kitchens with granite counters, high-end appliances and new furnishings.
Golf villas have 186 units, 4 pools, and are older (built in 1977) and smaller than Ridge villas, which have 161 units and 2 pools. Bay villas have 141 units that hug the shoreline (at least some units do), as well as 3 pools and 2 tennis courts. Floor plans are variable, but roomy. Some are two-story, and there can be a lot of stairs leading to and from units. All villas are comfortably sized but prices ain't cheap. 1/2s (1,200–1,500 sq. ft.) are $471–$729, 2/2s (1,800–2,200 sq. ft.) are $657–$991. 5-night minimum at Christmas.
The second agent listed above is Sullivan Properties, which has units here without the resort fee, but most have A/C (all at Golf), no daily housekeeping, and all have Wi-Fi. Though you don't get all the privileges listed in the resort fee from the other agent, and units may not be "gold" standard, some are very nice, all are clean and well-maintained, and you get much better rates. They start at $175 for Golf and Ridge for 1/2s and $250 for 2/2s. Bay villas start at $190 for 1/2s and $350 for 2/2s. 4-night minimum.
To view more agents' units see: Sullivan Properties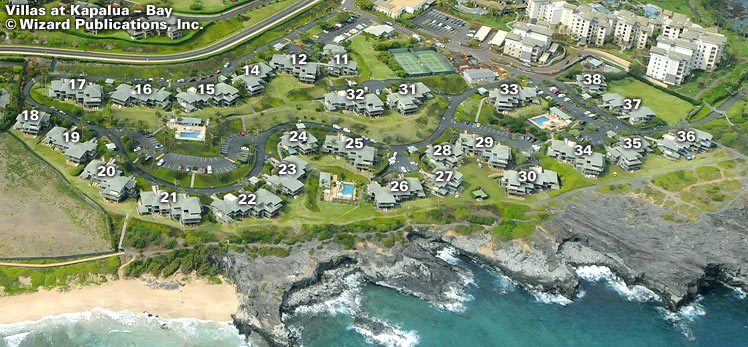 Address

(800) 545-0018 or (808) 665-9170


2000 Village Rd, Kapalua


Visit website
Our Location