The Sheraton is the perfect complement to the Hyatt. While the Hyatt excels at gorgeous and exotic grounds, the Sheraton boldly embraces the ocean. The hotel went through an extensive $20 million change in 2018-19 and converted the garden wing of the property to all timeshare units as well as updating all the hotel rooms. Our review only pertains to the hotel side of the property.
The Ocean and Beach wings are closer to the ocean than at any other major Kaua'i hotel. The sound of the surf hitting the rocks below the Ocean Wing is soothing. Kiahuna Beach, in front of the Beach Wing, is wonderfully close and easy to access. Recent room renovations don't feel particularly Hawaiian, but they are modern and fresh. Sort of what you expect from the Sheraton brand. But the resort makes up for it with its cozy relationship with the water. Most rooms are connected to others by a lock-off—good for families needing more than one room.
Their restaurants have incredible beach views. Private dinners by the beach start at $365 per couple. We love the three fire pits they added to the courtyards (especially the one by the beach for a sunset view) where there is often entertainment in the evenings.
The beachside pool is nice but small for a resort of this size. (But with the ocean right there, does it really matter?) You can rent all your beach gear there, as well as take a surf, snorkel or SCUBA lesson. Cabanas (they call them bungalows) by the pool are $150 per day with ceiling fan, TV and cooler of water. Given the style of the resort, they look a little out of place with their bright red canopies. Casabella chairs (with retractable shade) by the beach are $75. The pool area can feel crowded and busy, but you have access to the pool in the garden wing if you want a quieter experience. There are also two state-of-the-art fitness rooms—one for each side of the resort— that you can use. There are plenty of activities to keep everyone busy and happy during the day, including hula and 'ukulele lessons well as crafts for the kids. When selecting a room, this is one of those places where it's worth the extra money to spring for an ocean view. Rates for rooms (510–530 sq. ft.) are $749–$999. Suites (1,310 sq. ft.) are $1,310–$1,349. Specials and packages take some of the sting off those rack rates.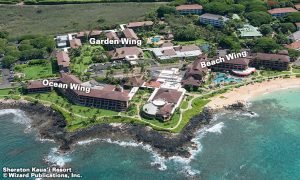 Address

(866) 716-8109 or (808) 742-1661


2440 Hoonani Rd, Poipu


Visit website
Our Location