Nice centrally located resort with a good attitude, this is the most recently renovated resort on the east side. It has been through a lot of changes over the years, and this one makes all the others pale by comparison with its latest $28 million update completed in 2019. The feeling is mid-century modern meets Hawai'i. (How's that for a décor style?) They've opened up a lot of the areas that were closed in, like the ballroom and the restaurants, and it now embraces its ocean location well. This is not located on a swimming beach, but it makes for a great place to watch the waves roll in from on the many hammocks and chairs they have by the beach.
The pool courtyard boast 4,000 sq. ft of water features and has been completely redone. It now hosts a zero edge pool, keiki pool and a large spa. Plenty of umbrellas are spread about and are free for the taking, but sadly no cabanas. We do love the floating bean bag chairs in the adult pool area, which are very popular. There are multiple fire pits (one you could walk on, but please don't do that—even on a dare). Plenty of cushy outdoor seating is available for relaxing by those fire pits after your day's outings. There's a pool bar area that serves lunch and dinner to complement their two other restaurants.
The rooms feature a wave mural, which works well with the new renovations. Lanais on most rooms tend to be tiny, but the view categories seem more than fair. If you need a tub, only rooms with two queens offer a tub/shower combo. King rooms have showers only. They include cultural activities with their resort fee, which is fairly pricey at $32 per night, but you do get a good amount of amenities for that price—like bicycles, a GoPro camera for your stay, welcome mai tais, a yoga class, self- or valet-parking and some other items.
A more-than-acceptable place to stay on the east side. Rooms (320 sq. ft) are $229–$299. Premium oceanfront rooms feel considerably larger at 550 sq. ft., have larger lanai and an extra vanity and sink and are $259–$359. Suites (1,060 sq. ft.) are $900–$1,200.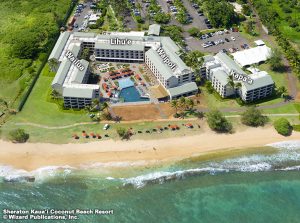 Address

(808) 822-3455


650 Aleka Loop, Kapaa


Visit website
Our Location