The overall feeling of the resort is very Hawaiian and calming with rich wood tones and warm color schemes. The hotel is expensively furnished with lots of artwork spread about the grounds (which you can self tour by scanning QR codes). The buildings and the hotel itself are handsome. The staff is eager to please and will get you anything you need. They show a lot of aloha to each and every guest—including children.
They have an on-site program called "Jean-Michel Cousteau Ambassador of the Environment" (closed October through mid-December) for guests 5 years old and up during which keiki and adults learn about sea creatures, take underwater pictures, go on hikes, etc. Prices start at $85 and go up depending on the activity. They also offer a "kids' night out" where they'll help your keiki make pizzas and gaze at the stars or do other activities for $95. There is a cultural adviser who offers tours and programs—many of which are included with the resort fee. Their 17,500-sq.-ft. day spa is very nice with co-ed areas and showers off the treatment rooms. Their awesome fitness center has daily classes and personal trainers available.
The rooms are 440 sq. ft. (plus lanai), a full 160 sq. ft. smaller than a Four Seasons room (their biggest competitor), but all were newly renovated in 2017 with an understated modern elegance in pale neutrals that nicely sets off the surrounding landscape and ocean. There are separate showers and tubs in the bathrooms. Every room has a Nespresso machine with free pods provided daily. Their Club floor rooms have their own private lounge with free goodies, like top-shelf liquor and breakfast. Their residential suites consist of one or two hotel-type rooms joined by a main living area with complete kitchen with grocery service available.
The swimming pool is 3-tiered and shallow (3.5–4 feet deep) but open 24 hours with the center section for adults only. Kids have access to the on-site playground. They have covered cabanas next to the pool for $225 per day and luxury cabanas, which are $450 per day and include a TV, sofa, private attendant, fruit, water, fridge, etc. These are very large and can easily fit a family of 8. (You can get a room at some places for that much!)
The resort is as far north as you can get in West Maui. Allow extra time when planning off-site activities. Due to the Hawaiian sacred site adjacent to its grounds, it is set farther back from the ocean than many other large resorts. However, there is a shuttle that will take you to and from the beach and its lunch restaurant, called The Beach House. Their beach doesn't stack up well against other island hotels, and they often erect a beach closed sign, especially in the winter since it's more susceptible to high surf here. The weather is not as good in Kapalua as at other resort areas on the island. Very strong winds are common (we often see people by the pool covered with towels to ward off a chill), as are passing drizzly showers.
However, the remoteness of this resort may also be its charm, and the Ritz works for us. Rooms (440 sq. ft.) are $545–$1,250, club rooms (440 sq. ft.) are $950–$1,9405, residential suites (900–1,510 sq. ft.) are $870–$2,110, suites (900–2,560 sq. ft.) are $760–$9,500.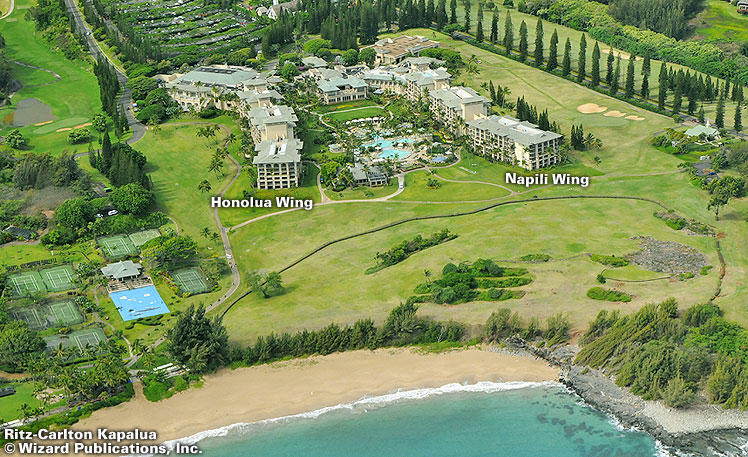 Address

(800) 262-8440 or (808) 669-6200


1 Ritz Carlton Dr, Kapalua


Visit website
Our Location