Though this resort was built in the 1960s with only 11 rooms, they've certainly grown. But at the same time they've managed to retain that old world charm with new world amenities.
And these amenities are almost always free, including children's programs during parts of the year, weekly classes in lei making, free snorkel gear (but no fins for some reason), SUP board storage, putting greens with clubs, shuffleboard, morning coffee and talk story by the ocean, weekly putting competitions with $0.50 drinks (couples are split up because they often don't "play" well together, we were told), afternoon tea in the lobby, free weekly keiki hula show, etc. (It's odd they charge $0.50 for a local call with so many other items free, but hey that's what a cell phone is for, right?)
They have weekly slack key guitar concerts on site that are very popular hosted by slack key guitar virtuoso (and Maui resident) George Kahumoku Jr. Dinner for two by the ocean can be arranged on a secluded grassy area at the point for $620 per couple.
The multi-level grounds are serene and well-groomed. They're adjacent to Napili Beach, which is excellent, and Kapalua Beach isn't a far walk. Their restaurant, Sea House, is also a winner and nearly on the beach (kids eat free with paying hotel guest). They renovated the rooms in 2016 with pleasant results. The original "Lahaina" building rooms tend to be smaller, and the bathrooms have showers only. Most of the renovations have been replacing tubs with showers only, so if you need a tub, ask for one. Some buildings have adjoining lanais and rooms—great for families. The rooms from studio and up all have kitchenettes with large fridges. Air conditioning was being installed in the remaining two buildings at press time.
This is place great to relax—the adopted cats certainly seem to agree. All those freebies don't come cheap, but there is no resort fee here, so you feel less nickel and dimed than at some other resorts. Hotel rooms (680 sq. ft.) are $310–$493, studios (450–680 sq. ft.) are $390–$560, 1/1s or 1/2s (865–960 sq. ft.) are $720–$839, 2/2s (960–1,930 sq. ft.) are $1,020–$1,286, 3/3s (2,040 sq. ft.—three adjoining rooms) are $1,090–$1,376. Square footages include the rooms' lanais.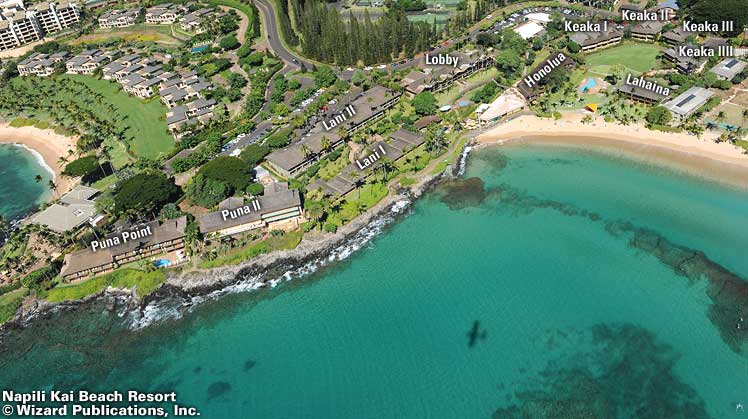 Address

(800) 367-5030 or (808) 669-6271


5900 Lower Honoapiilani Rd, Napili


Visit website
Our Location