This is a very well-run condo property with particularly competent staff. Their beach is a winner. The pools are pleasant with a designated quiet pool. If you don't love to cook but love to eat, some weekend nights they have a grill master who will season (from the on-site herb garden) your food and grill it with you for free—sweet! (You supply the food; they supply the plates and utensils.)
Rooms are spacious with mostly upscale furnishings. The oceanfront units (which are corner condos) have particularly dreamy views from second or higher floors. There are four 11-story buildings: 1 and 3 are closest to the water, but some views may be partially blocked by palm fronds, and units in other buildings may face the ocean more directly. You have charging privileges at some of the nearby resorts. Grocery delivery service is available for a fee, and there is a small sundries shop that also has sandwiches and salads. Room service is available from the Westin.
They have a 3,000-sq.-ft., state-of-the-art fitness room (personal trainers and fitness classes are also available for a fee). Massage services can be arranged through the concierge in private rooms at the fitness center. Private tennis lessons are also available. There's a free kids' program June through August only. Oddly, they charge $0.75 for local calls.
Ka'anapali Ali'i has a calm, spacious, very luxurious feel, but it's not cheap. The 1,388-sq.-ft. 1/2s are $495–$665, the 1,893-sq.-ft. 2/2s are $745–$975. 3-night minimum. They often have specials and packages.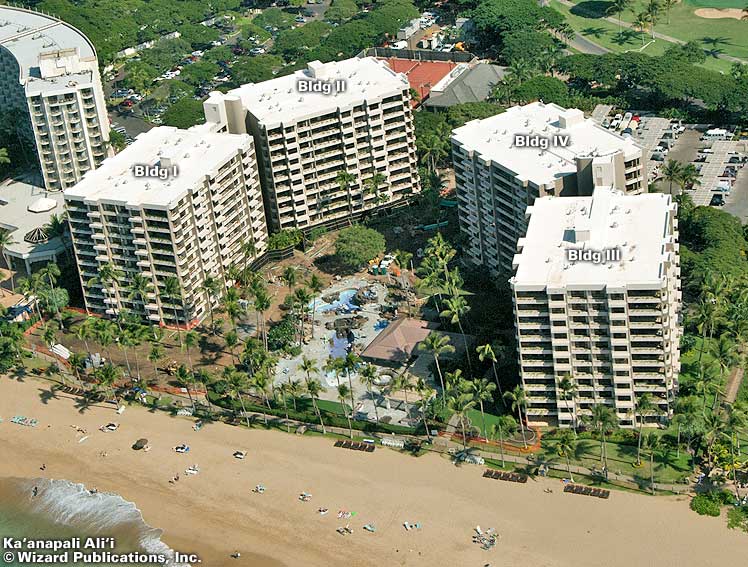 Address

(866) 664-6410 or (808) 667-1400


50 Nohea Kai Dr, Kaanapali


Visit website
Our Location