This is probably the only "new" resort in Waikiki that, unlike others, wasn't a resort before it opened in late 2016. It had a previous life as an office building, which gives it some added benefits, such as 12-foot ceilings, unique room layouts and a lobby on the eighth floor.
When you walk in, you feel suddenly transported from the street noise because the lobby is open and welcoming with a lounge and plenty of seating areas, a large screen TV and an enormous hanging chair (popular for selfies). Many events are held in the lobby, which is called the lanai (because no rooms have an actual lanai). The front desk staff is often seen making sure guests have everything they need, including the hotel's signature whiskey that is aged in wooden barrels in the basement.
The rooms evoke a true sense of place with wave designs on the walls, koa wood wardrobes, even large taro photo-murals in the bathrooms. Rooms feel much larger than the listed square footage. They're modern and clean with simple but functional layouts, such as a pull-out desk that swings open to a large workspace for business people. Bathrooms have either showers only, tub/shower combo or deep soaking tubs with separate showers and even some bidets. All rooms have smart TVs, and you can even "text" resort staff from your phone using a special number for anything you may need from extra towels to room service 24 hours a day. Some rooms have sort of peek-a-boo views of the ocean between the many high-rise hotels that line the beach.
The Hyatt Centric has not forgotten its Hawaiian roots. Taro grows by the pool, and when it's time for harvest, guests can join in the fun, picking and pounding poi, even making laulau. They offer cultural activities in the lobby such as lei making, Hawaiian language lessons, Hawaiian chants (oli) and other similar events and entertainment most nights. They really want you to have a truly Hawaiian experience.
The pool is long and shallow with a spa/hot tub at one end and a 9-inch "deep" middle section with lounge chairs (good for small children) and a 14-inch deep (that's shallow) far end. Forget about doing those high dives. There are cabanas and covered lounge chairs scattered around for the taking. Free snacks are served in the afternoons, like smoothies and fresh fruits. It's very fun and yet relaxed in the lobby, and food can be ordered and eaten anyplace in there. There is even a fire pit on the pool deck. The fitness room has what you need with a commanding view of downtown, and their restaurant is also on that lobby level overlooking the pool.
Overall, this is an easy Real Gem in the center of Waikiki. Rooms (320–620 sq. ft.) are $249–$399, suites (510–640 sq. ft.) are $349–$499.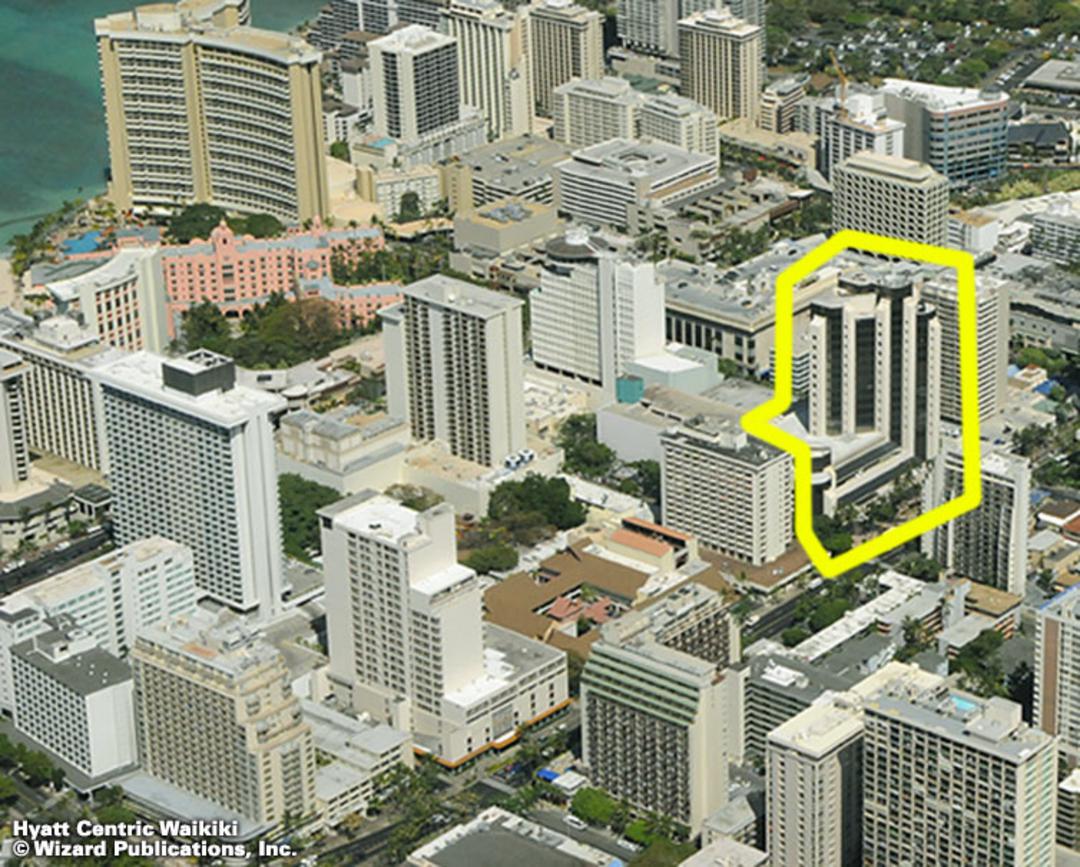 Address

(800) 233-1234 or (808) 237-1234


349 Seaside Ave, Waikiki


Visit website
Our Location