What a great find this inn is! This 30-acre property in Holualoa town above Kona began its life in 1978 as the vacation retreat for Thurston Twigg-Smith, publisher of the Honolulu Star-Advertiser newspaper, and his eight children. It was remodeled in 1987 to a boutique inn, and so it remains today with the current owner taking over in 2005. Some of the original furnishings remain with added touches from Bali and other places. The flooring is all eucalyptus and immaculately maintained. (You are asked to leave shoes outside and they offer booties.) The spectacular views include 16 miles of Kona coastline and can be enjoyed from many of the rooms, the pool, the hot tub, the massage hale (therapist on-call), event pavilion and ohana room.
Each guest room and suite enjoys its own private bath and expensive bedding. (They sell the sheet sets.) The Coffee Cherry room has a private outdoor hot tub—perfect for couples. The rooms do not have a/c (you don't need it at the 1,400-foot elevation), phone or tv (except Plumeria Suite), but a free guest phone is available in the lobby for local calls. There is a tv in the ohana room, which also has a full kitchen (no oven but a grill outside) with all the utensils, dishes, glassware, spices, games, DVDs, etc. You can store your wine (or other foodstuffs) in the fridge. They serve savory and sweet snacks in the afternoon. Basically, think of it as your home away from home. At night the staff leaves, but is available by phone if needed. You are given keys to common areas and you are on your own to enjoy the piano in the living room, the pool, gardens, etc. Speaking of gardens, they grow over 3,000 coffee plants and serve their own signature Kona coffee at breakfast and all day. Anything you want or need, the staff will try their best to accommodate you. Special diets are no problem. They grow most of the produce they serve. The cottage has a full kitchen but includes breakfast at the main house.
The entire house may be rented, and many events are held at their pavilion, which is lovely and has a catering kitchen, restrooms and a massive manicured lawn. Although there is no age limit (anymore) the area isn't child-proofed and there's no gates around the pool. Besides, it's more of a quiet, romantic getaway. You will feel pretty pampered here and may not want to leave. (We didn't.) Rooms (295–330 sq. ft.) are $405–$495, suites (416–525 sq. ft.) are $485–$520, cottage (700 sq. ft.) is $570–$605, Red Barn (1,400 sq. ft.) is $635–$670. 2-night minimum.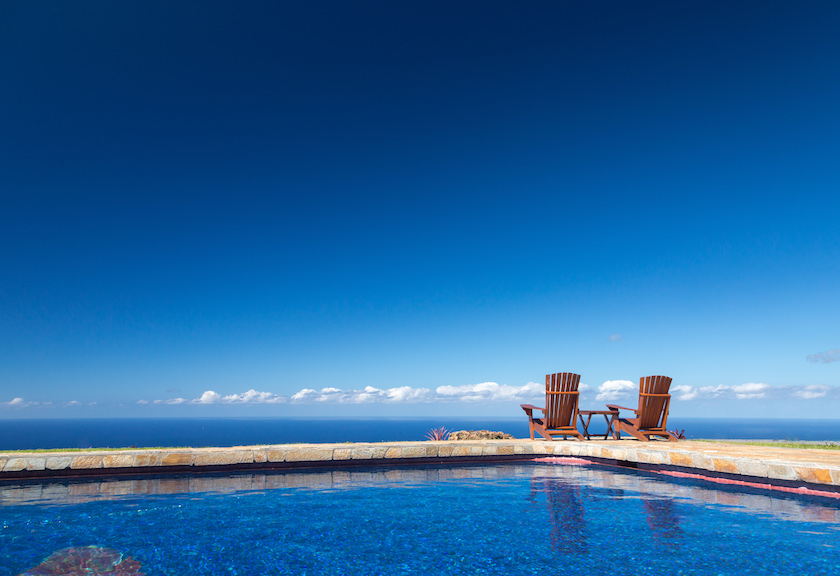 Address

(800) 392-1812 or (808) 324-1121


76-5932 Mamalahoa Hwy, Holualoa
Our Location