Formerly the Maile Sky Court, this hotel was remodeled and rebranded in 2017 for $40 million. They did a good job of turning around a very dated property, but certain things couldn't be changed because they're part of the original building—for example, no room has a lanai. Rooms are basic, clean and modern without being overly furnished for their small size. King bed rooms have showers only. Other rooms have small tub/shower combos.
The location is pretty poor—it's only convenient when you want to leave Waikiki; otherwise, it's a ways from the beach here—at least a 15-minute walk and a long walk to most restaurants. Good thing they have their trademark full breakfast included in your room rate. There's on-demand coffee in the lobby all day and a convenience market for cooking up some snacks in the microwave in your room. Business travelers will appreciate that it's reasonably convenient if they need to walk to the convention center.
The ocean views aren't worth the upgrade—too distant. Stick with cheaper rooms. But the highest floors do at least have views that stretch pretty far. Avoid the 25th floor—for some reason they failed to make elevator doors there. (Weird, but true.) Their pool is pretty small for a building this size, but they have a nice-sized spa/hot tub. And they have a lot of activities on the pool deck ranging from yoga to giant chess to mini golf. Rooms (190–296 sq. ft.) are $229–$309, suites (395 sq. ft.) are $319.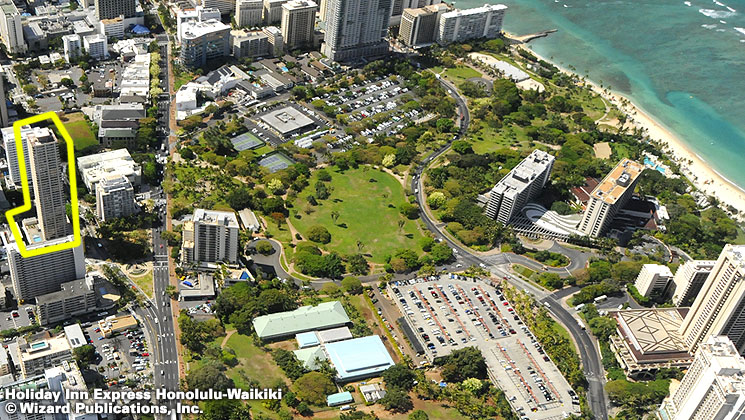 Address

(888) 465-4329 or (808) 947-2828


2058 Kuhio Ave, Waikiki


Visit website
Our Location