This resort is now part of the Hyatt family. We will be back to re-review it soon.
This resort has been through quite a lot. Built decades ago as a high-end getaway for the well-to-do, it fell into disrepair. A few owners later it has reclaimed much of its former glory and now exudes an old-world feel. It's impossible to stay here and not feel relaxed—unless you contemplate the bill that awaits you at the end.
You'll find tranquil green hillside grounds, fairly large rooms and relaxed staff. Every guest gets a welcome basket of banana bread. Their spa is small, but their treatment rooms are fairly large, and you get to use all the facilities when you book an appointment. They have a variety of classes from yoga to smoothie making, where you can even out the calories by using their "blender bike" to make your creation. They offer free cultural classes like 'ukulele and hula lessons, lei making, bamboo pole and Hawaiian throw-net fishing. They also have bikes available for guests.
But for this edition, we had to pull the Real Gem, and here's why. With their last few price hikes, we're having a tough time swallowing their biggest issue: no A/C. The fact is that when the sun goes down, you're left with a stark choice. If you want any kind of visual or audio privacy, you gotta seal up your unit and roast. We could accept this—because it's Hana—when prices started at $300. But the fact is you're paying at least $550 per night (probably more), and for this much money, a cheap Walmart fan next to the bed is ridiculous (the ceiling fans look cool, but they actually don't move much air). Yes, it's dreamy Hana, but it's not Bora Bora. Their prices are higher than most of the resorts on Maui. They gotta pick up their game a bit if they're going to command these rates.
Rooms are comfortably-sized, if a bit stark, and many have nice ocean views. No TVs or alarm clocks. This is Hana, and you're not supposed to care what's on TV or what time to get up.
Hana-Maui is expensive, but it's the kind of place that captures the essence of Hana's unique place in Hawai'i. Rooms (543–835 sq. ft.) are $550–$1,250. Suites (942–1,475 sq. ft.) are $890–$1,250.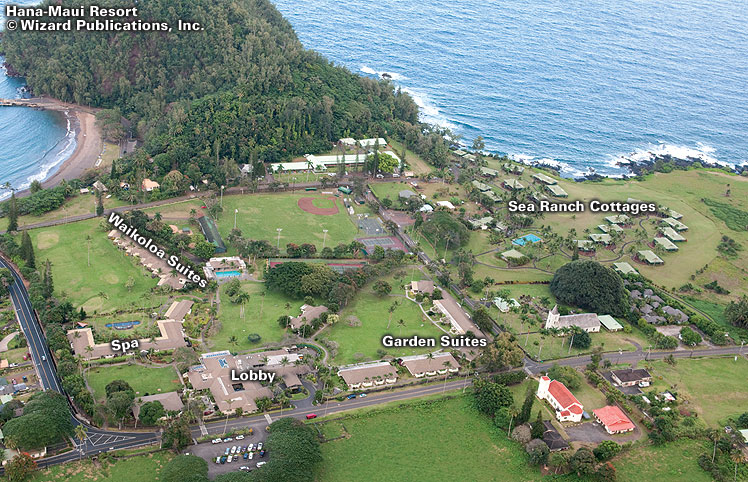 Address

(800) 720-0059 or (808) 359-2401


5031 Hana Hwy, Hana


Visit website
Our Location