Words that describe this place are: wow, huge, awesome, overwhelming, crowded, fun. Grand Wailea is indeed one of the largest resorts on Maui. They took every dream and whim that the designers could come up with and sprinkled in a half billion dollars or so (give or take a hundred million—I mean, who's counting when it gets that high?). The result is an outrageous, exotic tropical playground.
When you drive up, you are greeted by a waterfall that would look natural along the road to Hana. (In fact, one of the tour companies shows this waterfall in their jungle tour of Hana brochure—shame on them.) Once you've checked in, you just gotta check out the pools. Imagine nine interconnected pools with a current running between many of them. Waterslides, Tarzan rope swings, rapids to shoot, a sandy baby beach portion, and a swim-up bar. This pool is wildly popular, and you'll be forgiven if you sometimes wonder if everyone staying at the resort has decided to hang out at the pool for the day (quiet, it ain't, even at the adult pool). The chairs are very tightly packed around all the pools.
Speaking of chairs, if you rent the cabanas at the pool, it costs $250–$1,250 per day—among the most expensive in all of Hawaii in peak season. And you should reserve it in advance. But hey, they sure do pamper you. They'll serve you water, popsicles and fruit. We think at that price they should at least include a personal masseuse. Casabella chairs are $50–$300 per day by the pool and on the lawn by the beach. At least the umbrellas and chairs are free.
The 40 acres of grounds do hide lots of nooks and crannies where one can find some privacy. They are more smoker-friendly, in that the areas where you can smoke feel less like a punishment and more like a pleasant spot to enjoy a cigar. Over $30 million worth of art—some beautiful, some bizarre—adorns the grounds and lobby.
Countless shops are here, mostly upscale. They have numerous restaurants. Wedding services here are extensive. They host gobs of weddings each year, and their chapel is utterly gorgeous.
Their children's program is one of the most extensive we've ever seen at a resort. It's housed in a 20,000-square-foot space that includes a teen center called The Spot (with snack bar, video games, air hockey, etc.) and a family Ohana Hale (with video games) along with the playroom for the keiki (5–12 years old) to hang out, but it's ultra-pricey at $125 per day—the most expensive program on the island. They also have a night camp for $95.
Grand Wailea is blessed with being located on one of the finest beaches on Maui—Wailea Beach. Endless frolicking fun is yours to be had here. They have windsurfing lessons, snorkeling and boogie boarding accoutrements for rent and scuba lessons. The latter take place in their dedicated scuba pool, which is 10 feet deep and lined with sea critter tiles. They also have indoor racquetball and basketball in the fitness center along with fitness classes (for a fee).
The day spa, like everything else here, is huge and busy. Every bone-melting treatment that the human race has created seems available here for every member of the family.
The rooms are nothing special when compared to other resorts in Wailea, but they have what you need. They have what we call a "close family fee." If you want to use that door connecting adjacent rooms, it's $50 per night. (Ridiculous but true.) They say it will guarantee you a connecting room.
We've been to this resort a number of times over the years, and though we've liked it a bit less each time, the staff seem to have improved on this visit. Still, we found it felt more like a visitor-processing machine than a warm, welcoming resort.
Grand Wailea can feel like Disneyland on the beach. It's one of those places where you can hang out at the resort and stay entertained for days. (Which, of course, we hope you won't do.) What's the catch? Wadayatink? Rooms (640–715 sq. ft.) are $399–$999. Suites (1,300–5,500 sq. ft.) start at $1,000 and go up to the Grand Suite, which used to be more expensive, but now will only set you back a mere $7,500. (For that price, I wonder if they allow you to steal all the towels you can carry.) Packages alleviate some of the rate pain.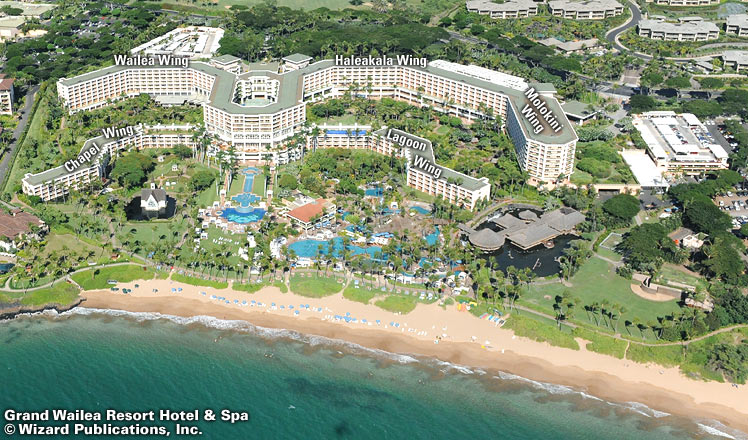 Address

(800) 888-6100 or (808) 875-1234


3849 Wailea Alanui Dr, Wailea


Visit website
Our Location