Most locals don't know this small inn exists—you can blink and drive right by the simple mailbox entrance—but we hope you won't do that because you'd miss a true Hawaiian-style experience. This inn was originally built by a Japanese widow in the 1940s after the war. It was called Fujita Camp back then. She used wood from old cargo ships to build the units that still stand today. There are five buildings that were added throughout the 1950s. In the 1980s, after her passing, the property fell into disrepair until the current owner picked it up in 2005. He slowly started to polish what was worth saving, renovate areas that needed it and reopened in 2007. A second-story was added to one building in 2017.
This is a quiet place with lovely, peaceful gardens all planted by the owner. Many varieties of fruit trees are scattered about, and you are encouraged to partake of the bounty. (They even have a fruit picker for those juicy mangoes too high to reach.) There are lots of BBQs around the grounds, and the outdoor seating areas are great places to enjoy your evening meal. Family touches in the gardens—like stepping stones with handprints of children and relatives of the current owner—make this an inviting property.
Each unit is unique, some with original kitchens lovingly restored and others with new kitchens. All furnishings feel like old-world Hawai'i with a bit of Bali thrown in. Bathrooms have showers only, except the 3/3 unit, which also has a tub. The cleaning staff adds extra touches such as fresh flowers, chocolates, bottled water and even a couple of beers in the fridge for your arrival, along with a personalized welcome note. Speaking of arrival, there's no formal check in—you just drive up, park, follow the map they emailed you, find your unit, and walk in. Keys are waiting inside. There is a note explaining everything in your kitchen; some have ovens and some have only hot plates. Coffee beans as well as ground coffee are kept in the room during your stay.
All units have ceiling fans. Only two of the nine units don't have A/C, which you'll need because not many breezes flow through here. Those two units are by the Wailua River, which catches some pleasant breezes to keep them cool. They have a free guest laundry room (soap included) on site. There is a phone available (though none in the units) to make free local and long-distance calls to the mainland and Canada if your cell phone isn't getting any service. (Ours was spotty.) This isn't really a family-type place, but they don't discourage children. However, the studios are for two people only with a possible infant (cribs are available). Other than that, you are pretty much left to the peace and quiet of the place, though outside you'll hear some road noise on the grounds because they're close to Kuhio Highway.
Since they are located right on the river, they have a couple of free kayaks and stand-up paddle boards (first-come, first-served) on site. From there it's just a few steps down to the river. They also lend coolers, bicycles, boogie boards, beach chairs, umbrellas, snorkels, masks, fins, etc. Be sure to wave to your jealous family and friends back home on the live web cams scattered around the property.
Overall, we liked this place. There's nothing else like it on the east side. Studios
(252–480 sq. ft.) are $180–$300
2/1 (532 sq. ft.) is $260–$340
3/3 (1,200 sq. ft.) is $400–$500. 4-night minimum.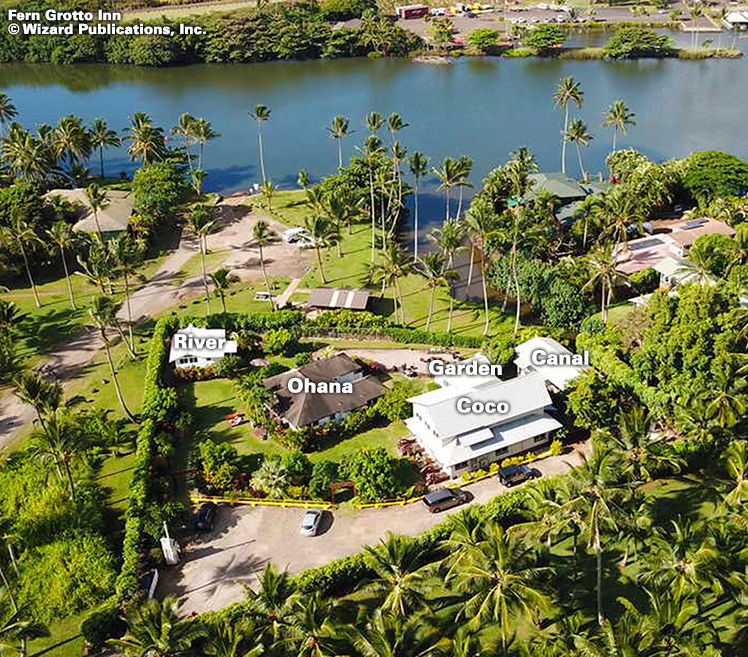 Address

(808) 821-9836


4561 Kuamoo Rd, Wailua


Visit website
Our Location