Let's start with the reaction that almost everyone has when they approach this resort: Wow, this is a really goofy looking place! The impression is one of Ali Baba and the 40 Thieves meets King Kamehameha. According to the resort's story, the developer asked the architect to create something that blends with the land. This is the result, a mix of Hawaiian and Moorish design. (For those who missed the Moors in geography class, think Casablanca.) Once you get inside, however, you realize that everything about the resort screams money, as if the developer opened a vault and poured money onto the floor. The results are impressive. Everything feels expensive. The name Kea Lani means White Heaven, and it certainly lives up to its name. Much of the building is bright white, so don't skimp on the expensive sunglasses (though they have added some earth tones in recent years on interior spaces). One downside to the white (aside from being a bit blinding) is that the resort is hotter than others in the area. The bright reflective light and the U-shaped building (which prevents breezes from passing through) make the resort pretty warm much of the time. The rooms are air conditioned, with eco-friendly units that automatically shut off if you open lanai doors or leave the room, and the ceiling fans can also be turned on.
Speaking of the rooms, all are either suites or villas. The suites are a spacious 860 sq. ft. (including lanai) and nicely furnished. The bathrooms are huge with deep tubs, a door-less shower and a posh feel. All rooms have very large lanais. Villas, on the other hand, are for the rich and famous. They all sit very close to the ocean. Starting at $1,829 a night, these two- and three-bedroom, 2-story units feature their own 3.5-foot deep plunging pool, bbqs, washer/dryers, full kitchens and extra services features, valet parking and buffet breakfast in the room rate. Are the villas worth it? Of course not; that's beside the point. If you have to ask, you're probably in one of the "ordinary" suites with the rest of us peons. But you can dream, can't you?
Their beach, Polo Beach, is nice, and their neighbors have even better ones, accessible from the shoreline path linking the Wailea resorts. The overnight valet parking is extra, but you may want it because their narrow parking spaces could make a motorcycle rider sweat. The resort has a pretty good children's program included in resort fee, but they keep the young'uns inside a great room (with all the goodies, including game consoles) or outside as much as possible. They rent beach gear for your convenience and soak you, just like other resorts. Beach chairs and umbrellas are free, but the covered cabana (four) chairs are a $195–$250 (at peak season) per day by the pool, which includes a cooler stocked with juices, sodas, mochi ice cream, water, snacks and fresh fruit. They offer three-course twilight dinners for two in them for $483. Their on-site restaurants, such as Ko, are excellent. They offer complimentary cultural activities on site such as a Hawaiian canoe experience, Hawaiian language class, cultural tour and more. Their restaurants are excellent, and they have a new juice bar on site where you can create your own combos.
Kea Lani succeeds in their attempt to create a dreamy luxury resort, and rooms, frankly, start much cheaper than we would have expected (making it an exceptionally good value among Wailea resorts), especially considering that they have such spacious suites for $489–$2,979 (for the 1,100 sq. ft. Kilohana Signature suite). Villas 2/2s (1,800 sq. ft.) are $1,829–$5,499, 3/2s (2,200 sq. ft.) are $2,299–$6,999. Some packages and promotions are available during parts of the year.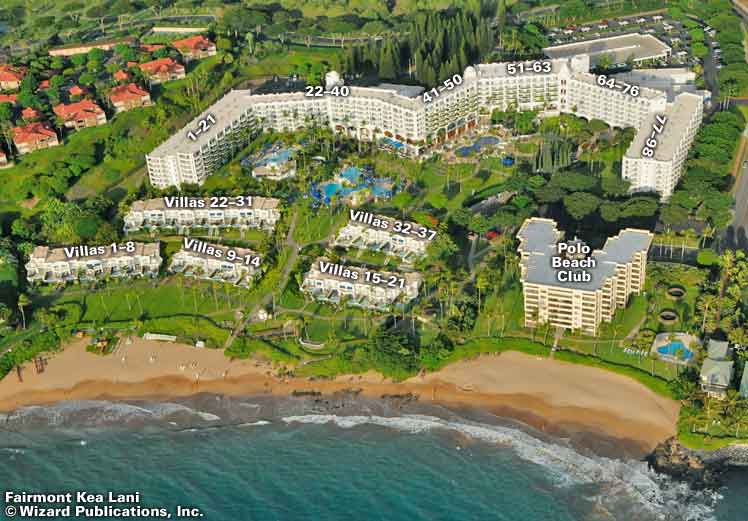 Address

(866) 540-4456 or (808) 875-4100


4099 Wailea Alanui Dr, Wailea


Visit website
Our Location