This resort sits on top of the Waikiki Beach Walk shopping center. The Hula Tower is closest to the water, and the Aloha Tower has most of its ocean views blocked by the Trump Tower building.
The resort doesn't feel like a contemporary Hawaiian resort. The lobby area has an awkward and uninviting arrangement; half of it consists of a driveway with some benches to sit on while you wait for your car. The other half is a small sitting area with check-in desks.
The suites themselves are not overly large at 416–550 sq. ft. for a one bedroom, and they have no closets—just one armoire for your clothes. The best views are from the Hula Tower's end-facing rooms above the 19th floor, which can peer over the Halekulani Resort. The Embassy based their view designations on whether you can see the ocean from the sofa. (Cool—we wish all resorts did that.) The kitchenette has a microwave and fridge, but no utensils or plates in the room (you can request some).
The pool deck on the fourth floor feels crowded with many lounge chairs and tables. They did make an effort to include free extras like hot breakfasts, nightly drinks, entertainment (some nights) and snacks by the pool. (No blender drinks, though, and you need to get there early.) Since breakfast is included, they charge $65 per person per day for extra adults in a suite, so gorge yourself to make it worth your while. Popular with families.
Rack rates seem high to us. 1/1s (416–550 sq. ft.) are $509–$649, 2/2s (747–779 sq. ft.) are $789–$989. Most do not pay those rates, however, and some good deals can knock them down quite a lot.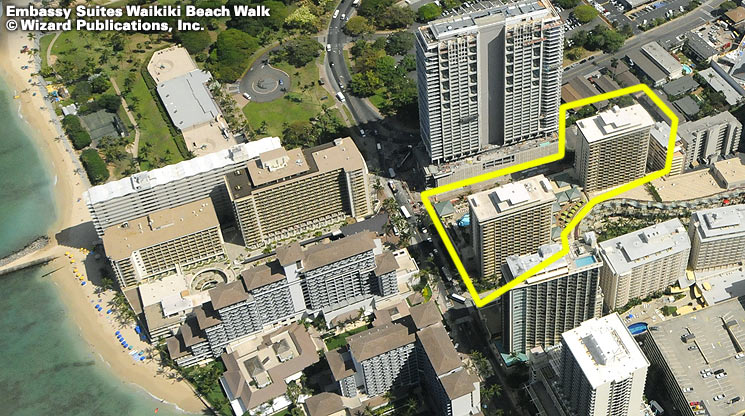 Address

(800) 362-2779 or (808) 921-2345


201 Beach Walk, Waikiki


Visit website
Our Location