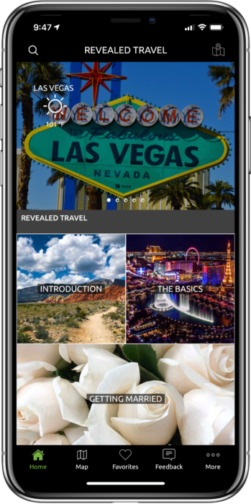 But wait! There's more! Check out our app for reviews of Vegas and the surrounding areas.
Nature? In the middle of the desert?
Just saying "Las Vegas" is enough to evoke images of bright lights, neon signs and the flashing slot machines. It's no wonder that Fremont Street bears the nickname Glitter Gulch, and it should come as no surprise either that one of Las Vegas' many nicknames is "City of Lights". Still, despite all of the neon lights and shimmering signs—or maybe because of them—it's important to get away from the city every now and then, to juxtapose and enjoy the natural beauty out in the desert. Interestingly enough, Las Vegas isn't commonly known as a gateway to the great outdoors, but if you're looking for an opportunity to swap out the sidewalk for hiking trails or to see some of the prettiest natural sights you've ever seen…Las Vegas has what you want in spades (we think that was a pun).
Though skyscrapers and industrial parks cover the city, there are several really beautiful natural spots just a few miles from the Strip. In fact, some of our favorite state and national parks border Vegas, and as a result it wasn't very hard for us to find new places to go or new sights to see.
Red Rock Canyon National Conservation Area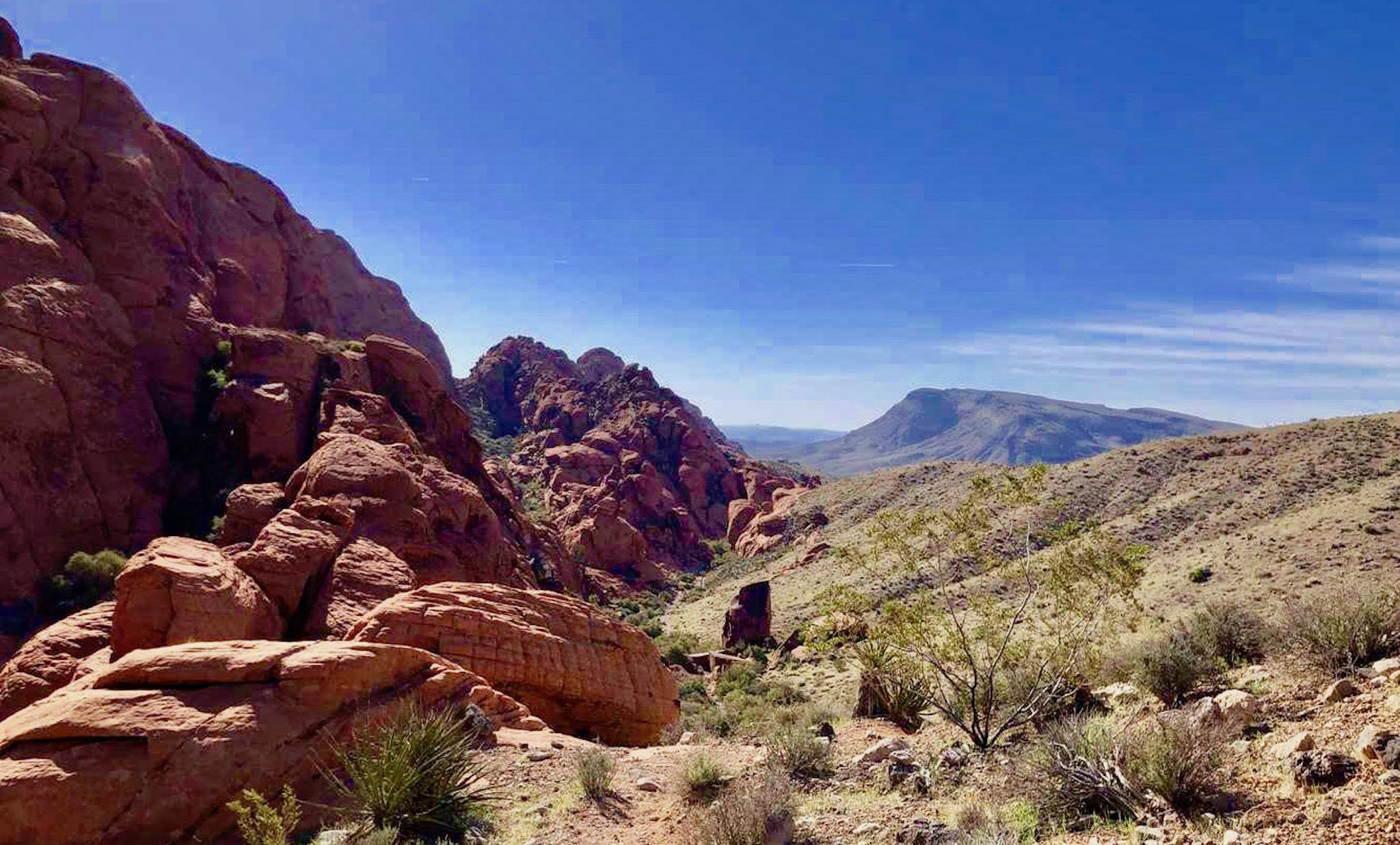 This might not surprise anyone, but Red Rock Canyon is named after the large, red rocks that make up the Keystone Thrust sandstone formation. They're very prominent features that make up the majority of the view on the right when you first enter the park. The park consists of a 13-mile long, one-way loop road that winds counterclockwise through the park. There are numerous places to pull off so you can check out the scenic vistas, picnic areas and abundant hiking trails. If you're a history buff, the park is home to many petroglyphs and roasting pits, some of which date back several thousand years. Even if you just want to get out into nature for a few hours, Red Rock is an excellent option. It's only a twenty minute drive from the Strip, making it one of the more accessible parks in the area.
Lake Mead National Recreation Area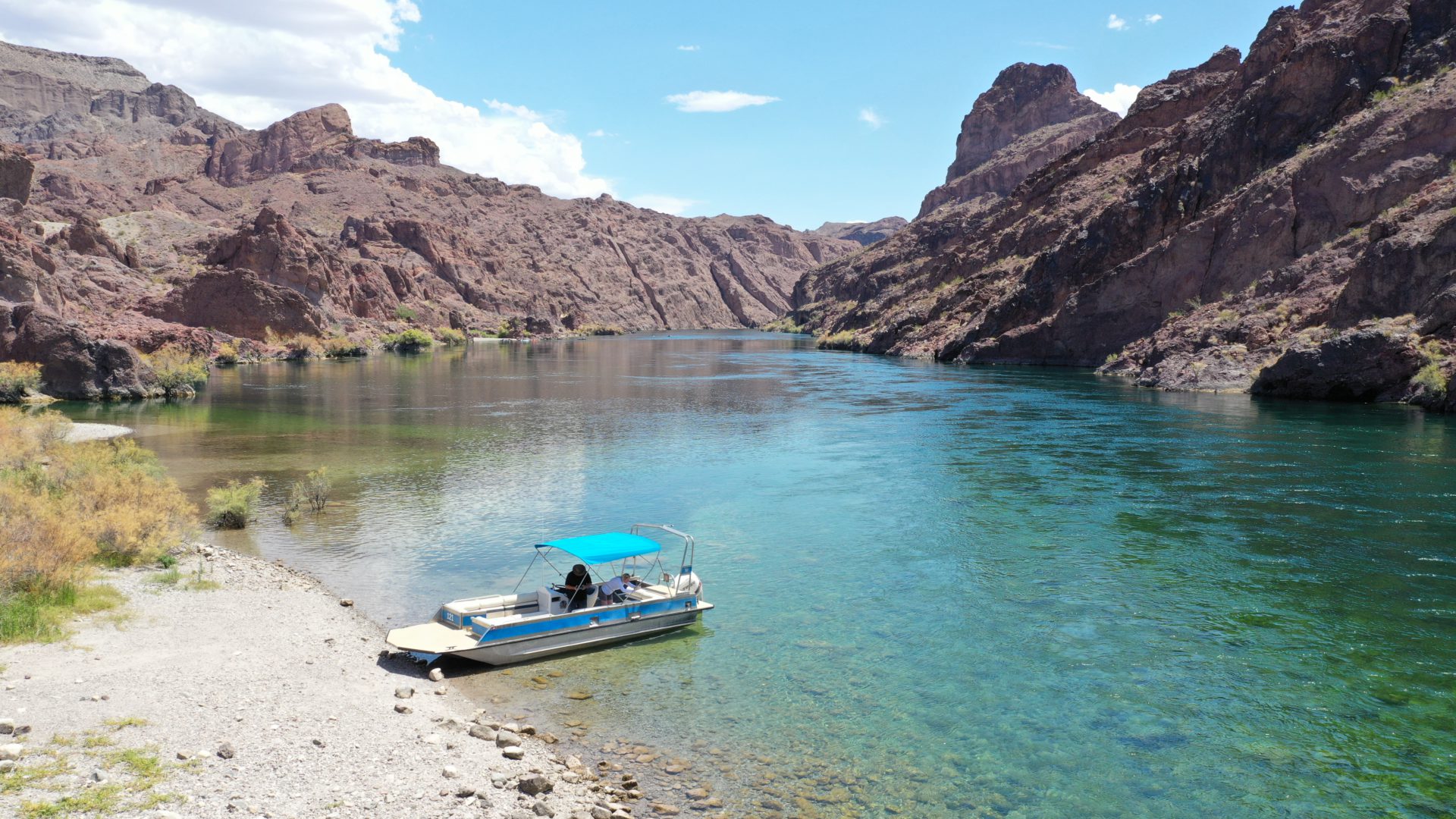 Lake Mead might just be the most well-known natural area around Vegas. The city draws a lot of power from Hoover Dam and most of its water from Lake Mead, but it's more than just a natural resource—Lake Mead is also a massive recreational hotspot. Multiple marinas along the lake and further south along the Colorado River allow you to rent boats or jet skis to explore the waterways. Or, if you'd rather stay on land, you can drive along the roads that line Lake Mead and take in the natural sights. There are also plenty of hiking and biking trails, making Lake Mead an awesome spot for a lot of different sorts of activities. Lake Mead is only a 40 minute drive from the Strip to the visitor center, but it's easy to extend that trip if you choose to drive further into the park.
Valley of Fire State Park
Valley of Fire is one of the most dramatic landscapes we've seen. Massive rock formations with a huge variety of colors make up most of the scenic vistas in this park. The sandstone formations here consist of rock deposits stacked on top of each other, which gives the impression of patterns swirling about on the rock. Many of these formations jut high out of the valley floor as well, leaving the landscape marked by deep canyons, colorful layers and an abundance of picturesque vistas. Valley of Fire is a great place to hike, but it's also one of our favorite areas to camp overnight for some really incredible stargazing. Either way, Valley of Fire is a great place to spend the day, even if you only plan on driving the road to see the sights. It takes about 45 minutes to get to Valley of Fire from the Strip, so we usually plan on spending the whole day here. By the way, Valley of Fire is one of the best places to see Bighorn Sheep if you're interested in spotting some unusual wildlife.
Mt. Charleston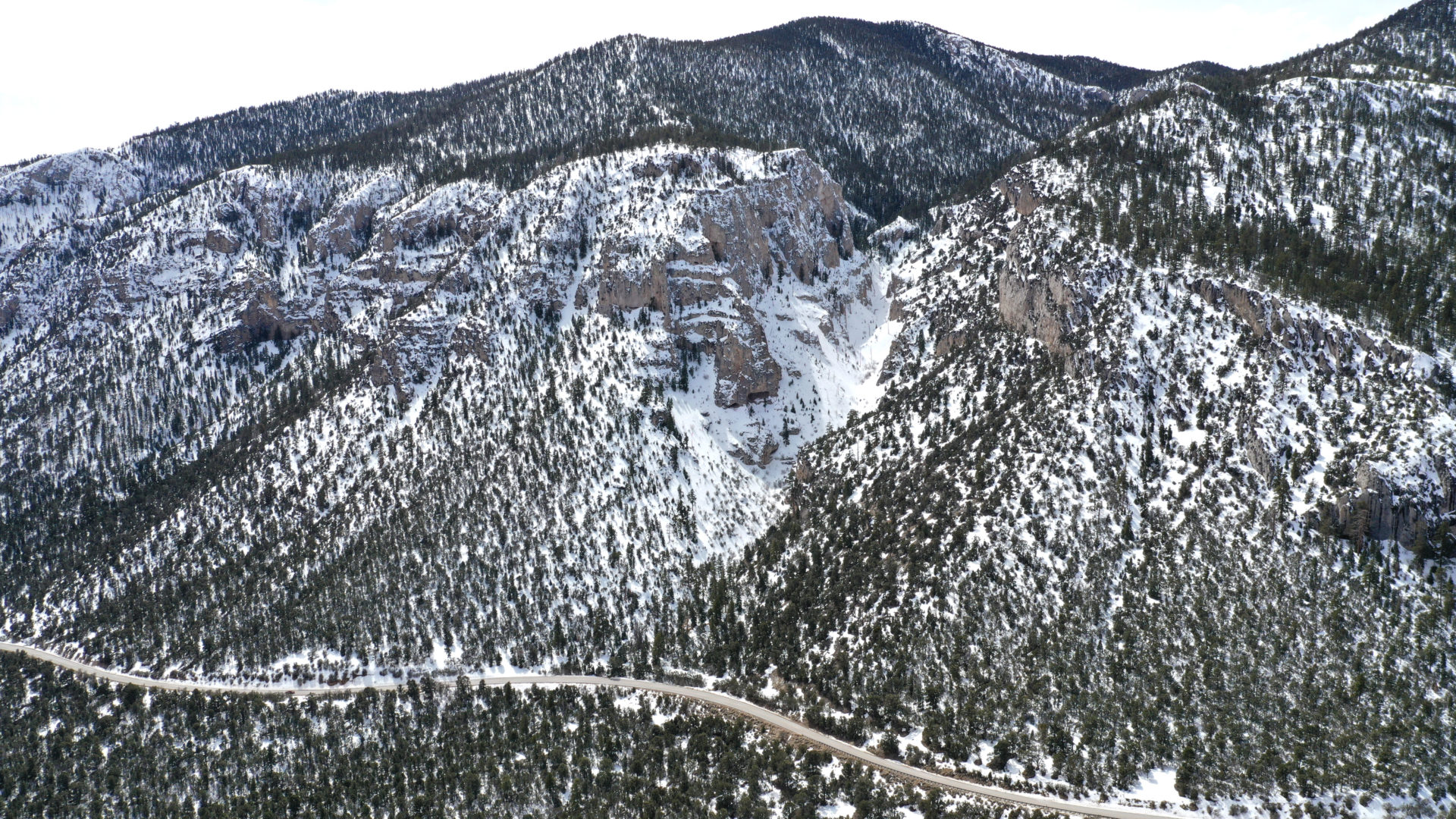 Sick of the lower desert? We get it—all the sand, heat and open desert can get a little old. If you look to the northwest of Vegas, you might spot some snowcapped mountains in the distance. Mt. Charleston is a mountain getaway with a lot going for it. In the winter, it's absolutely covered in snow, but that snow sticks around well into the spring, too. This upper elevation area stays cool much of the year, making it a great way to beat the heat from the spring until the fall. There are plenty of hikes that open each spring too, so there's a lot to do out here. Some of that snowmelt also gives way to waterfalls in the desert, which is both a rare sight and an impressive feature to hike to. If you're visiting Vegas closer to the winter, many of the hikes are probably closed, but Mt. Charleston isn't just a hiker's delight—it's also home to a full ski resort, with plenty of routes for skiers and snowboarders to hop on and tear up the slopes. No matter when you go, the mountain has plenty of springs and a variety of evergreen trees, so if you want to swap cactuses for real forests, this is your chance. Mt. Charleston is about 50 minutes from the Strip, but we could easily spend an entire trip just on the mountain, so the drive is well worth it.
Death Valley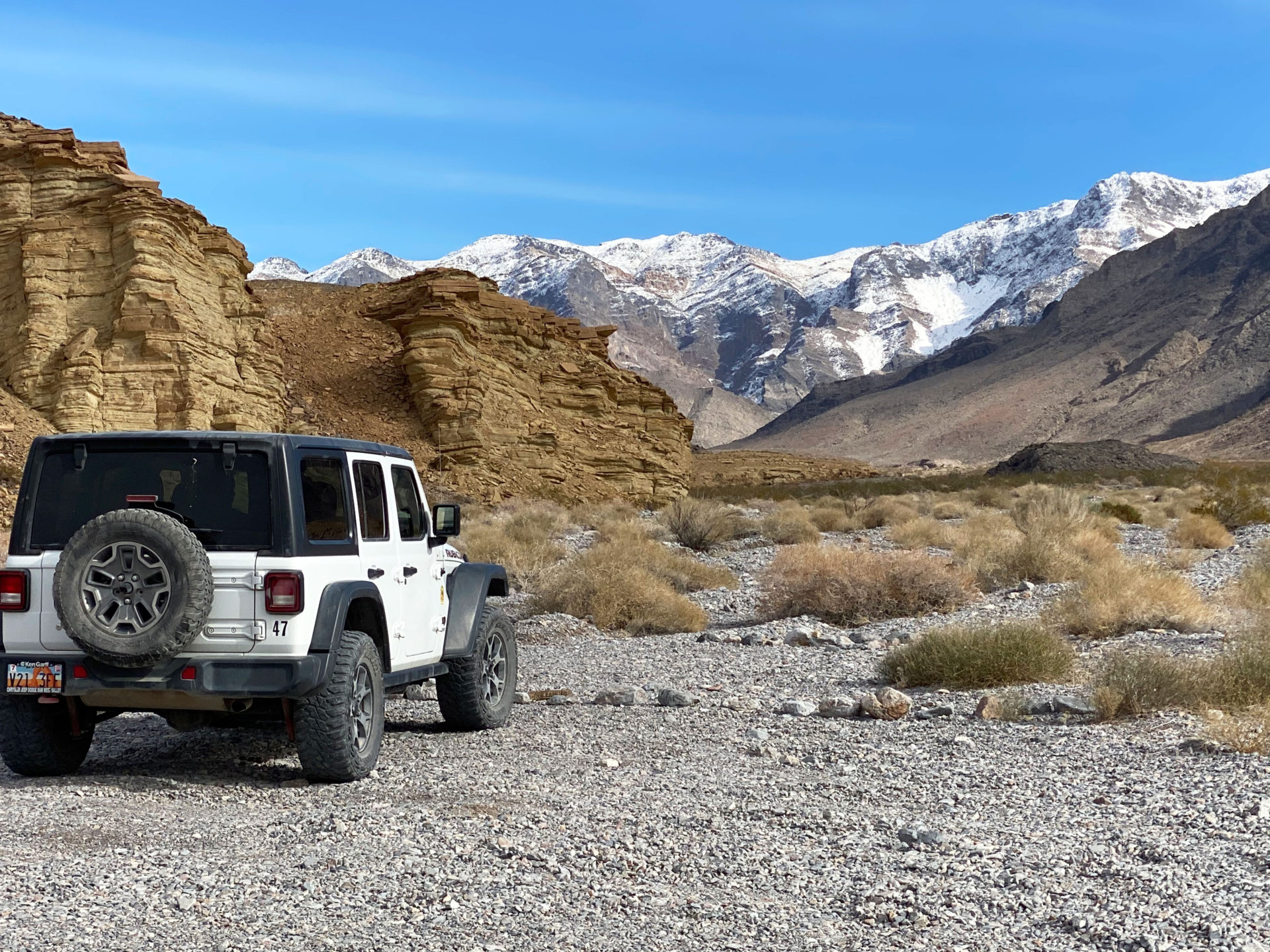 Death Valley is one of the few national parks within driving distance of Vegas. We spend a lot of our Death Valley trips driving from sight to sight, snapping pictures and reading up on the local history. While other recreation areas like Red Rock and Lake Mead are relatively contained, Death Valley is a sprawling, open park with many miles of highway connecting its towns and sites. However, since this park covers so much area, there are enough sights to fascinate the nature lovers and historians of your group in equal measure. Death Valley used to be a major hub for mining operations, and the park has small ghost towns and deserted mining operations spread throughout. Many of these have placards that provide interesting historical information to visitors too, so it's easy to get a lot of context on what you're looking at. Death Valley is also home to several species that aren't found anywhere else in the world, as well as several very unique rock formations and geographical features, like the craters left behind from the maar volcanoes, or the lowest point in all of North America. Death Valley is also one of the few places near Vegas that have real sand dunes, and it has one of the best places to try your hand at dune boarding. Otherwise, we like to see the valley by visiting the many slot canyons. No matter what you're looking for, Death Valley is a cool spot worth visiting. The major downside here is that Death Valley is about a two hour drive from the Strip, so if you plan on going there and back in one day, you'll be in for a loooooong trip. Otherwise, Death Valley is home to several camping opportunities and even has multiple resorts, so it's worth considering spending the night in the park if you aren't willing to put all those miles on your car in one day.
Believe it or not, these aren't all the excursions we found near Vegas.  (Not even close!) There are a lot of places worth visiting outside of the city. If you're new to Vegas or are just looking for new ideas on your next Vegas trip, we have tons of reviews on our brand new Las Vegas app, including fun excursions, great restaurants and some of our favorite activities. We reveal some of the coolest places that we found throughout the Vegas area—both in the city and in the desert around it. Check it out today!