We've spent years finding the best spots to spend to recommend for your precious vacation time (and steering you away from the worst.)  We've certainly made a few enemies in the process, but we've done it to make your vacation unique and memorable as well as to keep you out of trouble. Though Hawai'i can be a paradise, please remember that it can also be dangerous—it's nature. And mother nature is hard, slippery, sharp and unpredictable. Nature is currently in the process of erasing these islands from the earth as well as adding more acreage to it, and you don't want to get in the way. Nothing can take the place of your own observations and good judgment, but we have a few tips. Listen to your instincts. If something seems wrong, listen to your inner voice even over our advice and do something else. There is no shame in deferring to mother nature. She's bigger than us.
First things first
The hazard that by far affects the most people (excluding traffic at pau hana time) is the sun. The Big Island, at 19°–20° latitude, receives sunlight more directly than anywhere on the mainland. (The more overhead the sunlight is, the less atmosphere it filters through.) Make sure that you wear a strong sunscreen, unless your idea of a good vacation is impersonating a boiled lobster.
Weather—Always check the weather conditions, before you go out. Things often change quickly and tropical weather shouldn't be underestimated. Current weather forecasts are available from the NWS weather report at 808-961-5582 or check out their website.
Drink lots of water when you are out and about, especially when you are hiking. Dehydration is sneaky. By the time you feel thirsty, you're already dehydrated.
Know your limits. This is a hard one, especially after a few hours on the beach sipping mai tais. Ocean currents, steep and slippery trails as well as bad weather are conditions that can humble even the most competitive athletes.
Ocean/Beach Safety
Most visitors are unprepared for the strength of Hawai'i's surf. Even experienced ocean goers from other parts of the world are surprised by how different the conditions are here. It makes sense. We're out in the middle of the biggest ocean in the world, thousands of miles from the nearest land mass, and the surf has lots of time and distance to build up. We do have calm days when the water is as smooth as a sheet of glass. And fortunately, the Kona side get these conditions pretty often. Elsewhere around the island the surf is often moderate, demanding respect and caution on the part of the swimmer. On high surf days, it's best to stay on the beach and watch the experienced surfers disappear behind building-sized waves. In general, surf is higher and stronger during the winter, calmer in the summer, but there are exceptions during all seasons. Don't make the mistake of underestimating the ocean's power here. You may not have a chance to make that mistake more than once. Hawai'i is the undisputed drowning capital of the United States. It's not a prestigious title, and we don't want you to join the statistics.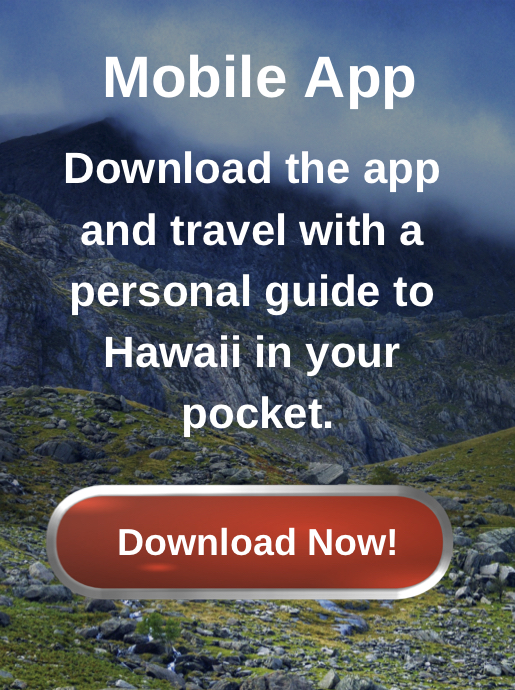 The most serious water hazard is the surf. Generally calmer water is found in the summer and on the leeward side, but high surf can be found anywhere on the island at any time of the year. For up to date conditions, call the Surf News Network at 808-572-7873, visit their website, or go to our weather and surf page.
Rip currents can, and often do, form, cease and form again with no warning. If you find yourself caught in a rip current, do not try to swim against it. Just go with the flow—you're going for a longer swim than you planned, whether you want to or not. Don't panic. The only way to get back to your beach towel is to swim parallel to the shore until you no longer feel the current pulling you, then swim toward shore. For more info, visit the NOAA page on rip currents.
Large "rogue waves" sometimes form and roll onto the beach with no warning. Even during calm seas. Many people have been caught unaware by large waves, usually while standing in the surf, flashing a shaka for the camera. Never turn your back on the ocean.
Hypothermia. Yup, you read that right, and no, we haven't been sampling mai tais today. It can happen anywhere, even here. The colorful sights of Hawai'i's reef life can be distracting to the point that you may not even realize that you're cold. Consider a light wetsuit if you're going to be in the water for more than an hour. It helps you float and can prevent sunburn too.
The following beaches are supposed to have lifeguard stations, though keep in mind that they are only manned from 8 a.m. to 4:30 p.m. Those beaches with year round lifeguard stations are: West—Hapuna, Kahalu'u, White Sands; Puna—Ahalanui (north of Isaac Hale), Isaac Hale; Hilo—Honoli'i, Richardson's. Those with lifeguards on weekends and holidays: West—Spencer Hilo—Onekahakaha, Carlsmith. Lifeguards are on weekdays only at Punalu'u on the South shore.
It can be difficult to distinguish between playful fun and a distressed swimmer, but someone calling for help and frantically waving their hands in the air is sure sign. If you see someone having trouble, first call 911, then get help (lifeguard). Only assist if you have the proper training. Know your limitations. Many would-be heros with good intentions have ended up in need of rescue as well.
Never swim alone. It's more fun to swim with a friend anyway, and much safer.
Though a potentially awesome experience, most visitors want to avoid an encounter with sharks. Avoid swimming near the mouth of a river and don't swim in murky water. Sharks love murky water because they can sneak up on prey.
Don't let small children play in the water unsupervised.
Fins are not only more fun, but they give you more bang for your buck. Less kicking means you'll conserve energy and be able to spend more time in the water. Also, they can be a good safety device. If you get into a tight spot, it's much easier to get away if you have fins on. If you're comfortable in a mask and snorkel, they can provide considerable peace of mind in addition to opening up the underwater world.
If you're going to spend any time at the shoreline or beach, water shoes are a worthy purchase, especially if the coastline is rocky. These water-friendly wonders accompany us whenever we go to any beach.
By Land
No place in Hawai'i has the diversity you'll find on the Big Island. You can wander through a lush rain forest, walk on a volcano crater floor, puff up a frigid, snow-covered mountain, hike along an empty tropical beach, teeter on the edge of steep canyons, or saunter along an old Hawaiian lava trail, all in the same day. Adventure can be found most anywhere in Hawai'i, but personal responsibility is important and being prepared can mean the difference between the trip of a lifetime and a trip to the emergency room.
Always know where you are. If you're lost or stuck, and you make an emergency call, you need to be able to say where you are. Even though emergency calls from cell phones are supposed to transmit locational info, if you know the name of the area, road and/or trail you stand a better chance of being rescued faster. Also, stay on marked trails whenever possible. Our smartphone app is geo-aware map and will insure you always know where you are, even outside of cell phone range.
If you plan to do a lot of hiking, contact the Hawai'i DLNR Division of State Parks at 808-274-3444. Also the trails division of DLNR, called Na Ala Hele has a complete list of maintained trials and closures.
Always let someone know where you are going, and when you plan to return. This could be someone in your party who stays behind or even the hotel concierge.
Have sturdy footwear—not flip-flops—especially on rough terrain. Plenty of water, snacks, rain gear, a small first aid kit will keep your hike enjoyable.
If you do get lost and call for help, stay where you are. It can mean the difference between staying lost for a couple hours, or a couple days.
Jumping off of waterfalls, rocks or cliffs can be dangerous (duh, right). If you simply can't stop yourself, at least scout out your landing first. Check for submerged objects in the water, before you jump. Even in the clear blue ocean that's plenty deep, what's to keep a hard shelled turtle from swimming up and breaking your legs on impact? Didn't think about that one, huh?
Respect private property signs. Sometimes property changes hands and the new owners don't want people trespassing. Other times it's angry residents who don't actually own the land, and want to have the spot to themselves. Either way, it's best to turn around if there is a trespassing sign posted.
Flash Floods are one of the most common ways for hikers to get stuck, though they are rare on the Big Island, especially the Kona side. Having said that, they can occur at anytime, and the wetter, winter months increase the chances of one occurring. But the sun is shining and there isn't a cloud in the sky, you say. Well, the fact is, it may be raining in the mountains 20 miles away and that tiny stream you just crossed over in one stride could turn into a churning mass of whitewater and debris in a matter of minutes. On the Big Island, the north shore (windward) gets the most rain, but any river or drainage is capable of a flash flood. Current alerts can be found at the National Weather Service website.
When visiting Hawaii Volcanoes National Park, listen to the rangers and do not enter any areas marked as off limits. They will only keep you away from areas if they truly perceive danger, unlike some other parks where they sometimes keep you away from imaginary dangers on orders from the lawyers. Because of this, you should heed their cautions seriously. If they say you can't go to a certain area because they expect a lava bench might collapse, don't go there.
When visiting the Park, contact lens wearers will want to bring drops—maybe even your glasses if it gets uncomfortable.
Keeping Valuables Safe

Though Hawai'i can be idyllic in many ways, we are not without our problems. Crimes do happen here, too, mainly petty theft. There are some things you can do that can prevent you from having to spend your time on the phone canceling your credit cards.
Car break-ins can be a problem anywhere. Don't leave anything of value in your car. (Well, maybe the seats can stay.) It takes only seconds to break a window, pop open a trunk, and grab everything in sight. Thieves are good at this and some specialize on waiting for people to go on a hike or jump on a boat, knowing they now have plenty of time after you leave. Plan on what you'll need for the day and make sure you can carry it with you wherever you go (bringing a backpack is a great idea).  If you do need to leave stuff behind, the trunk is your best bet. But put your items in there before you get to the trail or the dock. Seeing someone put something in the trunk just invites the crow bar to come out. The best rule to follow is: if you don't need it, don't take it.
Limit valuables you take with you for the day. Take just a single card and small amount of cash with you and leave the rest in the safe. If something happens and your wallet or purse gets lost or stolen then one quick call and it's canceled. Then you'll still have some backup at the hotel you can use until the new Amex arrives. Make sure you have a secure place to store items. Room safes at hotels are common and many condos also have them. We list these in our resort reviews on this website.
Be aware of your surroundings. Purse-snatchers and are not completely unknown in Hawai'i, for the most part are on O'ahu, and frequent the busy crowded places. Use the same common sense you would at home and you'll be fine.
Theft is not the only way to lose your valuables on vacation. So you're on your honeymoon and that shinning ring just begs to be worn. Not a problem unless you're going to the beach or on a hike. Water and mud can act as a lubricant and also cause fingers to shrink. Plus, newlyweds might have rings that haven't been sized properly. We cannot tell you how many times we've seen people come out from a day of snorkeling or swimming and find that amazing symbol of their love is now at the bottom of the sea. It happens so often there are people that specialize finding lost jewelry. (Some charge, some don't.) Leave the ring in the safe at the hotel if possible.