Summertime is perfect for shave ice. Or, if you're on Hawai´i time,
anytime
is perfect for shave ice. If you're unfamiliar, shave ice is finely shaved ice, topped with fruit flavored syrups, usually served in a cup and eaten with a spoon. This is just the basic, "meat and potatoes" shave ice model. A scoop of ice cream in the bottom of the cup is a recommended addition as is a sweetened-condensed topping or "snow-cap". But the variations don't end there. It is difficult to get a bad shave ice but the really good ones are leaps and bounds above the rest. The ubiquitous treat of the islands is usually prepared properly here in Hawai´i, but here are some tips for making sure you're getting an authentic experience. First of all, it is
shave
ice not shaved ice and never made from crushed ice (a snow cone- not even close to being as good!). Most shave ice vendors will have a contraption that secures a large block of ice in place while a set of very sharp blades shaves off one end of the block. The sharper the blade, the finer the ice shave and the better its ability to absorb those delicious syrups. If you put in the hard work of becoming a shave ice aficionado you will be able to tell when you have been served shave ice cut with a dull blade. Syrup selection is important as well. You usually get 3 flavor choices which is really all you would want since even with large shave ices, real estate is limited. Some house flavor combos may have more than 3 flavors or at least toppings to augment the syrup flavors. One of the most popular flavor combinations is the Rainbow. As the name suggests, you will get a colorful shave ice probably in red, yellow and blue. However, the flavors are almost never the same at different establishments. A rainbow could be cherry, blue vanilla and lemon or strawberry, blue coconut and pineapple or any number of flavor combinations. Some of our favorite flavors are those from locally available fruits such as guava, lilikoi (passionfruit) and, of course, coconut. There are lots of flavors that you may be unfamiliar with, so just ask to sample a flavor that piques your curiosity and see where it takes you. The add-ons can really be what turns a nice treat into a full-blown, shave ice addiction. Ice cream at the bottom should be in your shave ice. Period. Unless you have a lactose intolerance, but even then there are some coconut based ice creams available here that eliminate the dairy allergy excuse.   The snow-cap doesn't have a non-dairy alternative (that we have seen…) but adds a lot to the flavors. We haven't been able to find a flavor combination that a snow-cap doesn't work on, but we will keep looking 'cause you never know. Li hing mui is the powder form of dried, salted plums (a popular Asian treat) and also brings a lot to flavor table. Sweet and salty just works. Some flavor combos include this powder topping and some shave ice vendors even have a shaker of the stuff at the counter so you can add as much as you like for little or no charge. Li hing mui does contain a decent amount of monosodium glutamate (msg), so some people choose to avoid it. Shave ice is part of an authentic, modern Hawai´i experience. Visitors, residents and locals alike will be found lined up at shave ice counters during these hot, summer days. Do yourself a favor and dive into the experience while visiting the Rainbow state. Good luck with your new found addiction when you get back to the mainland, though.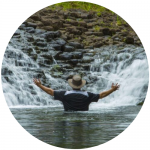 Andrew Doughty is the famous author of the widely popular Hawaii Revealed series including Kauai Revealed, Oahu Revealed, Maui Revealed and the Big Island Revealed. He moved to Kauai many years ago after he fell in love with the beauty of the islands and decided to never go back. He is known for his candid opinion on each of Hawaii's attractions, be it a restaurant, a helicopter ride, a beach or a resort. For the last two decades, he has managed to keep his identity anonymous so that his reviews can remain unbiased and only be influenced by his own opinions and thoughts. You can learn more about his beautiful journey at this link –
About the author