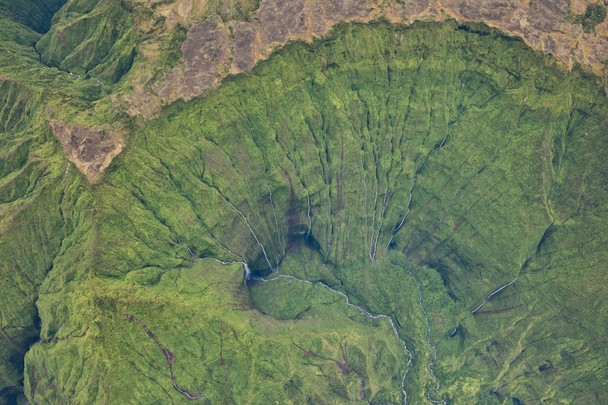 So, I am looking at my
Facebook page
… my personal one, not the business, and I see this photo pop up of Kaua'i that looks
incredibly
familiar. Immediately, I knew who took it, how and where. Heck, I even helped NAME it. So when you see these images floating around the web, Twitter, Facebook, Google, Tumblr, Pinterest, etc., you will know who took them and how. These incredible photos of Mount Wai'ale'ale Crater were taken by our very own,
LEONA BOYD
. The same talented, award-winning photographer who helps fill our books with those beautiful images of Hawai'i.
These photos first appeared in the
National Geographic Traveler's Photo Contest
in 2011. (Can you believe she
didn't
win?) They have since been blogged about and shared
literally
tens of thousands of times. Most often, no one knows who took them or how. So let me share that with you… The most consistently rainy place on the planet is the flat plateau at the top of Kauai's Mount Wai'ale'ale. It is completely ensconced in clouds more than 300 days a year, gets more than 432 inches of rain annually and its 3,000-foot cliff walls are nearly vertical. Only twice per year is the sun directly overhead, leaving no shadows. To capture Wai'ale'ale Crater in its entirety with no shadows, no clouds and after an exceptionally heavy rain is literally a once in a lifetime event. We are very glad Leona had that once-in-a-lifetime opportunity to photograph the "heart of Kaua'i" and share it with the world. Oh, and of course, Andrew was there too, someone had to steer the plane!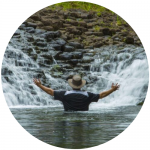 Andrew Doughty is the famous author of the widely popular Hawaii Revealed series including Kauai Revealed, Oahu Revealed, Maui Revealed and the Big Island Revealed. He moved to Kauai many years ago after he fell in love with the beauty of the islands and decided to never go back. He is known for his candid opinion on each of Hawaii's attractions, be it a restaurant, a helicopter ride, a beach or a resort. For the last two decades, he has managed to keep his identity anonymous so that his reviews can remain unbiased and only be influenced by his own opinions and thoughts. You can learn more about his beautiful journey at this link –
About the author