If you're like us, you're a sucker for a great view. We'll spend hours driving, hiking and trekking to reach the highest points around us, just for that satisfying sigh of accomplishment amidst a beautiful backdrop. Being on mountainous islands surrounded by the ocean gives plenty of options to gawk at nature's splendor. Here's a couple of our favorite views on each of the main islands. Most you can reach by driving, others you'll have to hike to get the payoff. Either way, in our book, these views never get old.
---
Kaua'i
Kalalau Lookout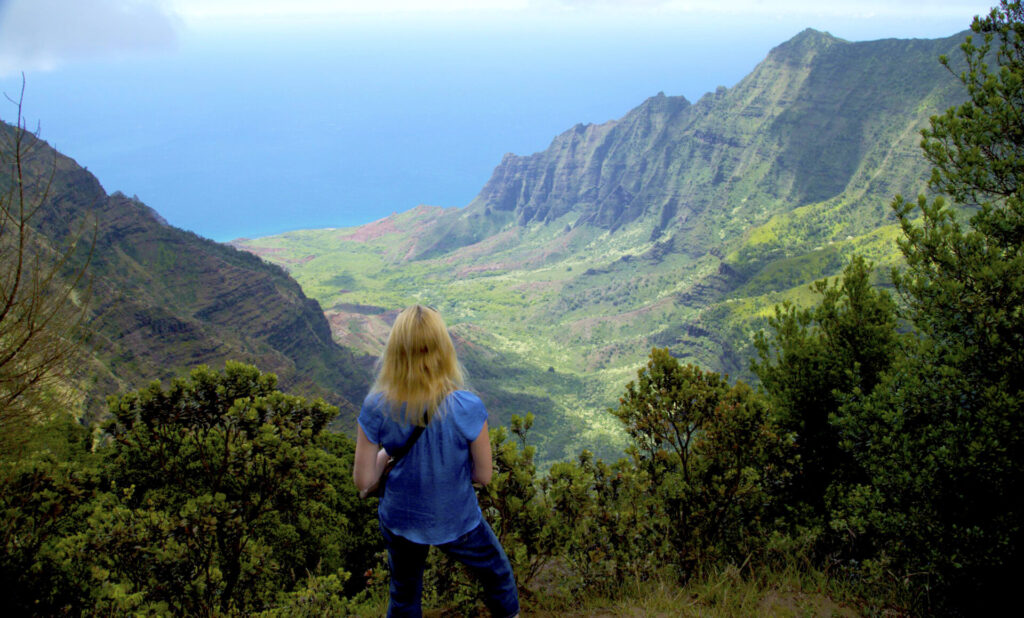 The largest valley on the Na Pali coast. Kalalau was inhabited until 1919, and its beach is only reachable by an 11-mile hike or by kayak. If you're not up for embarking on that adventure, you can just revel in the view from above in Koke'e State Park. Clouds are always moving in and out of the valley, so if it's cloudy, wait a while before you give up. It's well worth it. The earlier you go, the fewer clouds tend to be there. According to historians, there used to be a steep trail into the valley from here leading down across a ridge called ka-pea, a Hawaiian word for scrotum. It was so-named because the trail was so steep that it made your… well, you figure it out. Also for full disclosure, Kalalau Lookout is the most well known lookout and where most people stop. We suggest that you drive right past it and go to the far superior, but less used, Pu'u o Kila Lookout (it's the view seen in the picture). Here, you're not going to see another canyon lookout. You will be treated to one of the greatest views in the Pacific.
---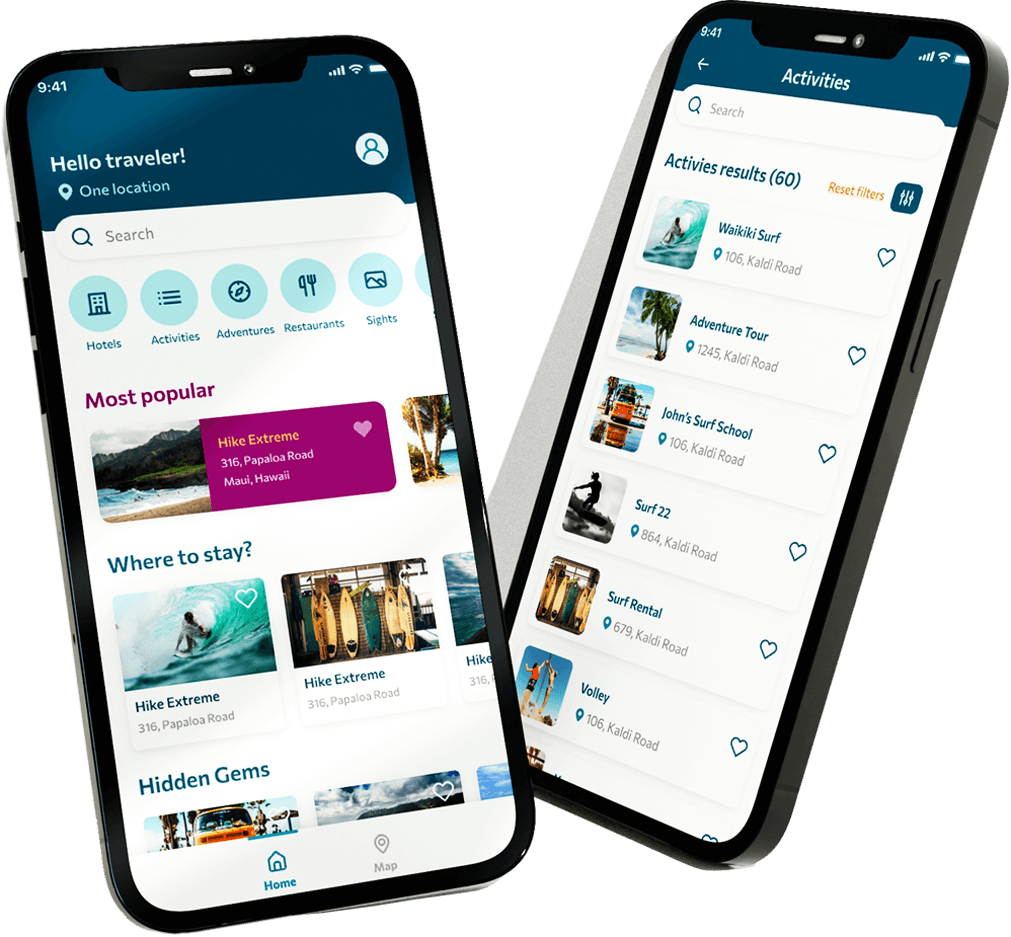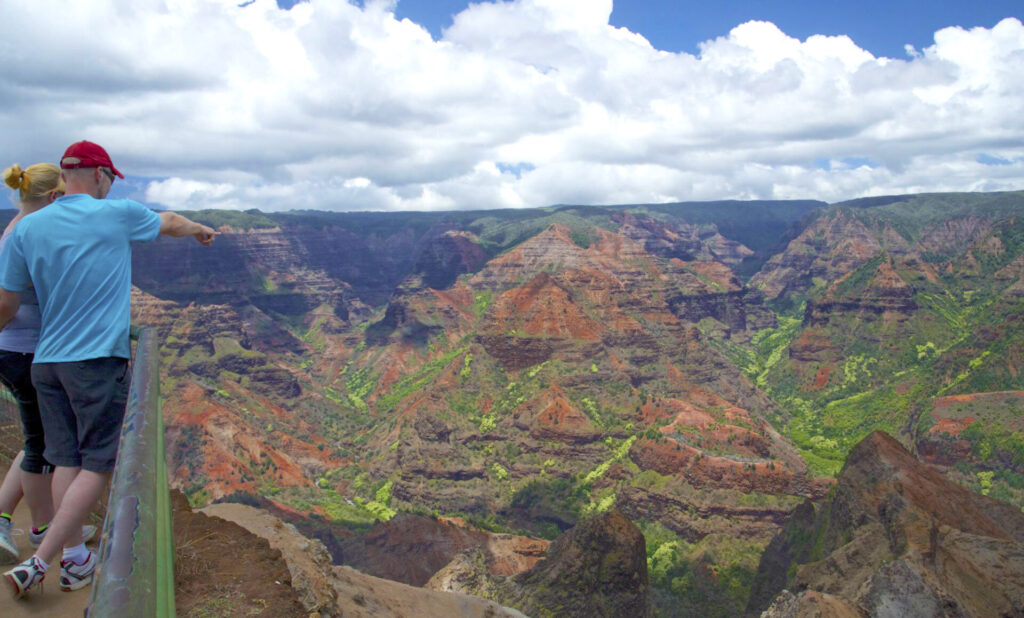 This is one of several vantage points in Waimea Canyon State Park and definitely worth a stop. The canyon lookout is an awesome vista. At one time three rivers, fed from the island's center by the Alaka'i Swamp on Mt. Wai'ale'ale, all ran down the gently sloping shield volcano, emptying into the ocean at separate points like the spokes of a wheel. That's what created the now-dry valleys you see on your way out to Polihale. When a fault caused the collapse of part of the volcano's flank, the three rivers were forced to combine as they ran down into the fault. This new, opportunistic river carved a place for itself in the splintered and fractured lava flows. The results are extraordinary.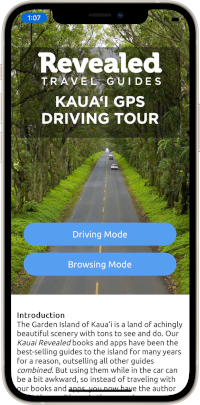 ---
O'ahu
Nu'uanu Pali Lookout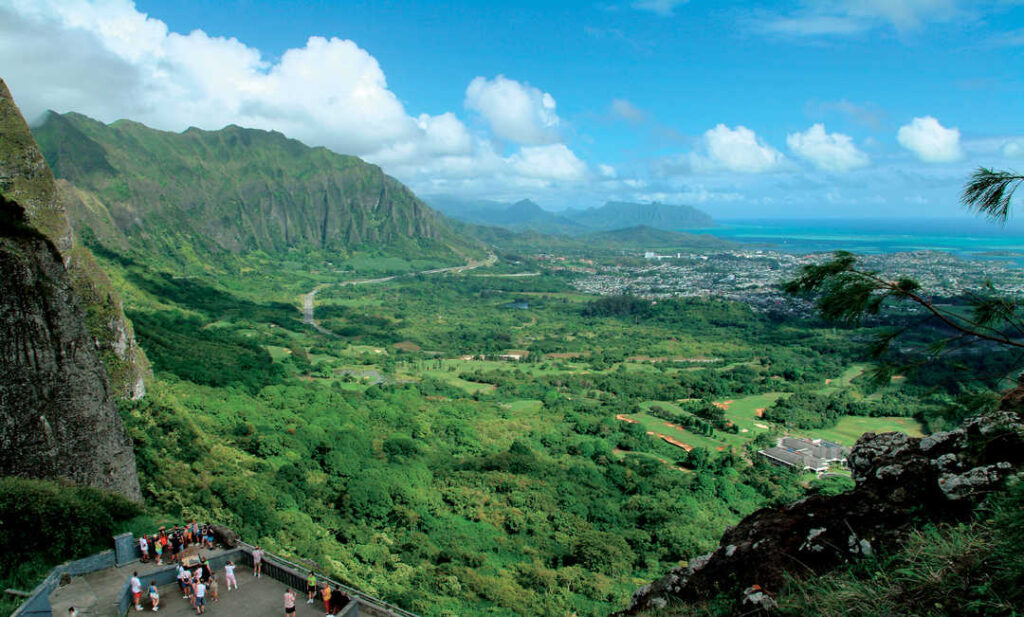 When driving from Honolulu to the windward side of the island, rather than taking the H-3, we think it's worthwhile going on the Pali Highway and the Old Nu'uanu Pali Road. It's a short ride through a bit of old Hawai'i, and there are a few hikes off this road. Kane'ohe Bay, Mokapu Peninsula, the cliffs of Ko'olau and even Mokoli'i island off in the distance create a glorious, expansive panorama at the Nu'uanu Pali Lookout. Bring the warmest clothes in your suitcase for the Pali Lookout. Yeah, sure, this is the tropics, and the elevation is only 1,200 feet. But you're at a slit in a mountain that funnels the now-cooler trade winds piling up against the larger mountain, and you'll freeze your 'okole off here if you're not prepared. (Of course, maybe we're just wimps who have lived in Hawai'i too long.)]
Pu'u o Mahuka Heiau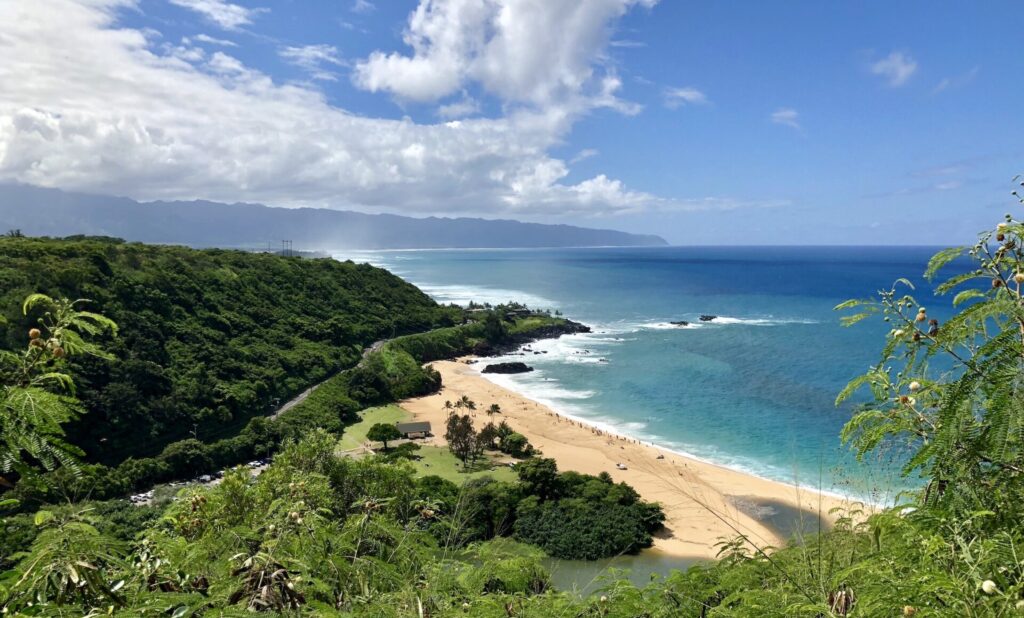 Just past Shark's Cove at the Foodland is Pupukea Road. About a half mile up this road, turn right and drive another 0.75 miles (over 11 speed bumps, which are well-scraped by drivers in a hurry) to come to the Pu'u o Mahuka Heiau. These remnants of a Hawaiian temple, perched 250 feet above Waimea Bay on a ridge, possess a peaceful and serene view from the top of Mt. Ka'ala all the way out to Ka'ena Point. It's worth the detour for the view alone. One of the plaques says they could communicate with Wailua on Kaua'i by fire, but that's probably a Hawaiian wives' tale since Wailua is 86 miles away. (It's doubtful even a monstrously large fire could be seen that far away, even in crystal clear conditions.) All that remains of this heiau is a lava stone foundation.
---
Maui
Waihe'e Ridge Trail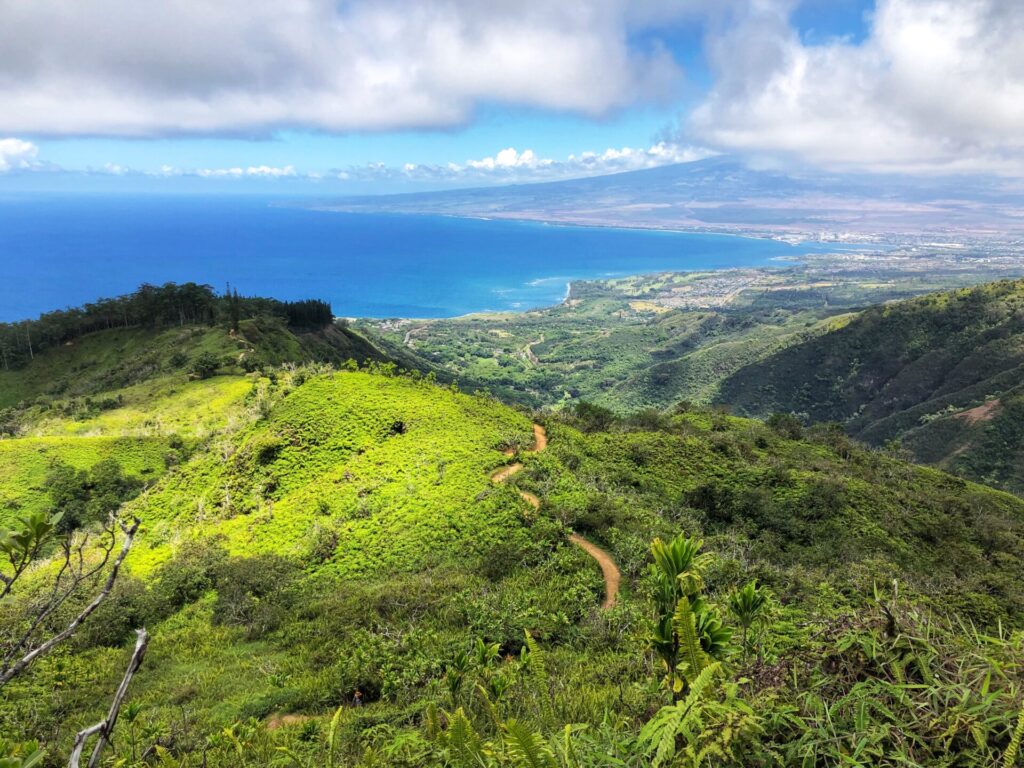 A very pretty trail with smashing valley views and a vigorous forest to gawk at. On Waihe'e Ridge Trail you'll gain about 1,500 feet over the 2.5 miles to the end (then return). You'll want to do this hike early since clouds moving in later in the morning diminish the view. The trail gets your heart pumping right away—in (a strenuous) 0.5 miles you've gained 400 feet. Ahead is a peak and the trail switchbacking up. Clouds often come up the gulch and down from the ridge, colliding right in front of you. (And sometimes into you.) Soon you get your first incredible view of the green Waihe'e Valley. It's beautiful! Now the trail is along the ridge, and you're blessed with numerous commanding views (clouds permitting). Several switchbacks and flat areas later, you'll eventually reach the end of the line—a hill called Lani-lili at 2,563 feet. There's a small deck with a picnic table. If the clouds haven't moved in yet, the views are grand. You can see Haleakala on one side, and all the way to Molokai on the other. If you've got your head in the clouds, enjoy the aural and visual silence.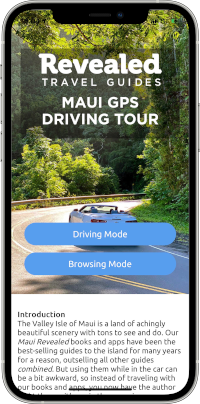 Leleiwi Overlook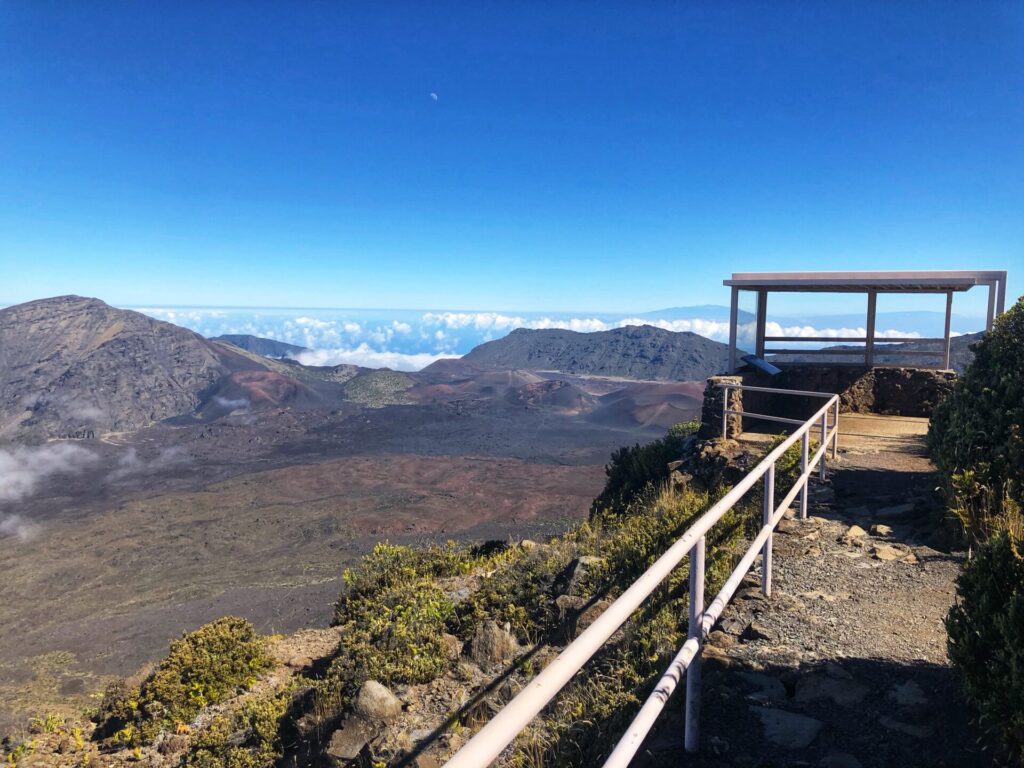 On your way to the summit of Haleakala, just after mile marker 17 you'll see a parking lot for the Leleiwi Overlook. Most people blow right by in their frenzy to get to the summit, assuming that Leleiwi merely gives them another nice view down the mountain to the coast. Too bad, because Leleiwi holds a surprise. Walk five minutes to the end, and the crater itself suddenly explodes into view. What a startling sight! It looks very different than the more traditional view at the top and is well worth the diversion. A small shelter protects you from any wind that may be present. This is a good alternative to the summit for less crowded sunrises. If you're here in late afternoon to see the sunset, consider staying until past dark for one of the clearest views of the Milky Way you may ever see.
---
Big Island
Pololu Valley Lookout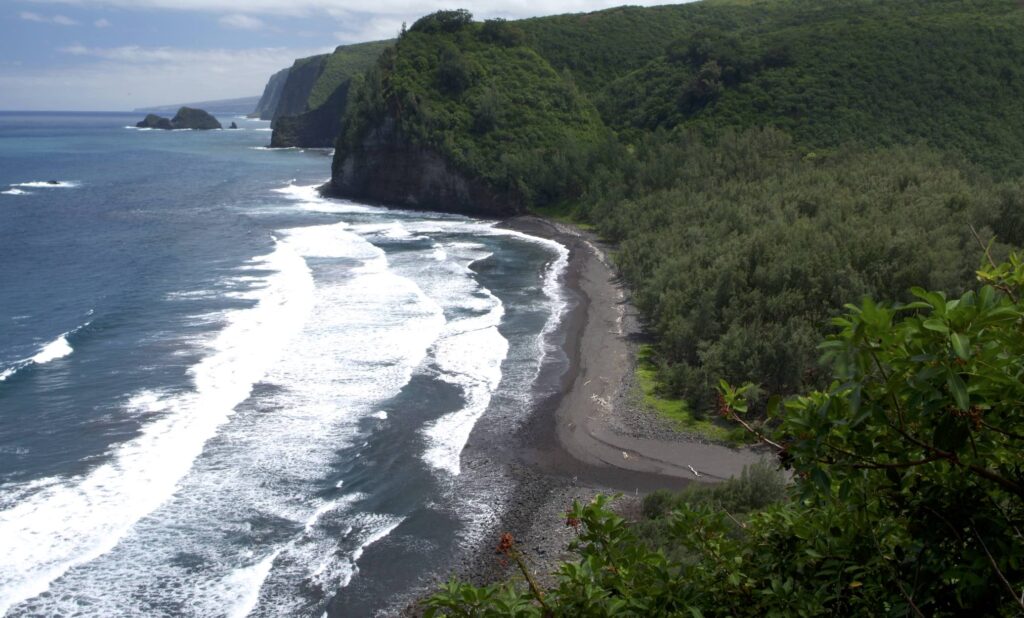 This outstanding vista displays the raw, untamed side of the Big Island. (Unfortunately, the state sometimes lets the vegetation block some of the view. The view's much nicer halfway down the trail mentioned below.) Nearly vertical cliffs are battered unmercifully by the winter north shore surf. Accessed via a 15–20 minute trail down through lush vegetation, 400 feet below, is Pololu Beach. (If you make it back up in 15 minutes, we're proud of you. It means you didn't stop once.) If it's been raining much, the trail may be slippery. At the bottom, in several spots, you'll find black sand dunes over 100 feet high, now mostly covered with vegetation. This type of black sand beach is formed as water constantly chips away at the lava river bed. Though the beach is not very swimmable (the surf and current are usually too violent), it's very picturesque and a nice place to observe Mother Nature's force. During the week you may have it nearly to yourself down there. Halfway down the trail is a small natural platform that looks out over the beach—a good photo op.
The Top of Mauna Kea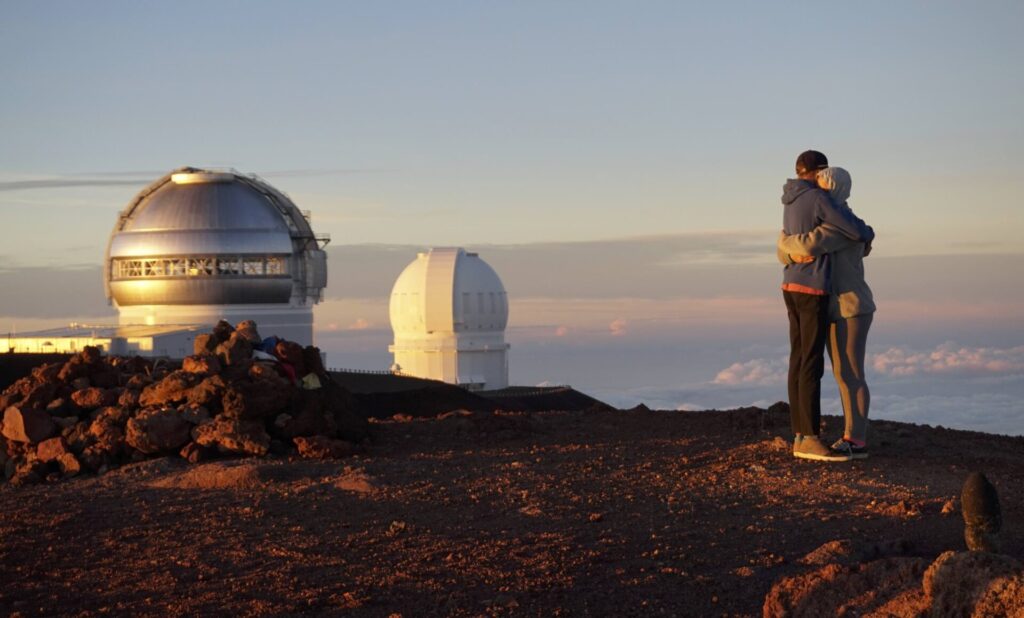 The view from atop Mauna Kea can only be described as majestic moonscape. The Apollo astronauts did considerable training up here because it was deemed uniquely moon-like. Looking down on the clouds below is mesmerizing. It's a cliché but true—you feel like you're on top of the world! Sunsets from up here when clouds cooperate are an unrivaled splendor of unequaled expansiveness. The summit appears utterly lifeless except for a few unlucky bugs blown up from below and a few flightless native insects that feed on them. No trees, no plants. Just a lifeless void. The mountain last erupted 4,500 years ago and is considered dormant. (If it erupts when you are up there, please disregard this last statement.) Sunset visitors can expect to be rousted 30 minutes after the sun goes down by officials. It's not you they hate, it's your headlights that annoy astronomers.