The food truck phenomenon is alive and well here in the Rainbow State.  Not that it ever really had to catch on here.  Back in the sugar plantation days of the late 19
th
century, food trucks fed the workers with foods as varied as the resident's backgrounds.  These days, that tradition carries on with an even deeper blending of cuisines.  You can find British fare like fish and chips, Asian stir fry and rice dishes, Hawaiian poke and even chicken and waffles.  These mobile eateries are found all over the islands, and offer a (usually) quick meal while out and about.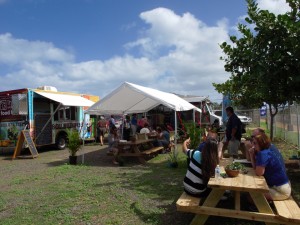 You can usually tell the better ones by seeing how busy they are at lunch time.  See lots of construction workers lining up for the food and you are likely to find something hearty and affordable (we just saw three police cars at one on the big island and will be sure to stop at that one).  Remember, just because a food truck is in a convenient and visible location doesn't always mean it is going to have the best food. In fact, a lot are hard enough to find that you need to be told where they are; you're not likely to just stumble upon them. Though you might not consider going out of your way for food truck fare, some are good enough to
be
the destination and the adventures along the way are just part of the experience.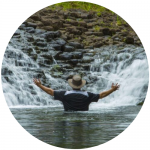 Andrew Doughty is the famous author of the widely popular Hawaii Revealed series including Kauai Revealed, Oahu Revealed, Maui Revealed and the Big Island Revealed. He moved to Kauai many years ago after he fell in love with the beauty of the islands and decided to never go back. He is known for his candid opinion on each of Hawaii's attractions, be it a restaurant, a helicopter ride, a beach or a resort. For the last two decades, he has managed to keep his identity anonymous so that his reviews can remain unbiased and only be influenced by his own opinions and thoughts. You can learn more about his beautiful journey at this link –
About the author