From the moment you enter the lobby of this luxury condo property, you feel how truly lovely Kaua'i really is. The setting is breathtaking with expansive views of the ocean and mountains. Lovely artificial waterfall ponds, lagoons and the golf course on site adds to the open green feeling here. The only possible spoiler is the occasional airplane flying overhead because you're so close to the airport. The resort is not overly large, making it easy to get from parking to your unit to all the facilities on site.
This is a part timeshare (truly one of the nicer ones in all of Hawai'i), part wholly owned by individuals, and part vacation rental property. There is a hotel planned in the future nearby, as well. It's a combination of townhomes (with their own dunking pool) and condos. The townhomes don't feel as spacious as the condos, perhaps because of the multi-level setup—upon entry you are faced with stairs leading up or down. But they do have added privacy (including a one-car garage) is a bonus.
Décor in all rental units is done in pale shades of blue and soft creams. The furnishings are very modern with all the high-end amenities you could wish for— truly a second home on Kaua'i. Between the two condo buildings, the Kiholo is most-desirable for the views, but there are no two-bedroom condos in that building (only three- and four-bedroom units). Though the views around the property are pretty lovely no matter which direction you face. All units have sliding doors that open wide to bring the outside in from your lanai. The lanais are as generous as the units with eating areas and plenty of seating area in which to relax. Every bedroom has its own very large ensuite bath, and the masters feature deep soaking tubs and separate showers.
Staff here is warm, friendly and very professional. They want you to be happy. There is an open-air restaurant on site where you can enjoy your free full breakfast while watching the sun come up over the ocean. In-room dining can be arranged in advance. There is a small health spa exclusively for resort guests staffed by professionals who are ready to pamper you with many products made from botanicals grown on their farm. They will even do in-room massages. Speaking of the farm, it's a 10-acre working farm that provides much of the food to the on-site restaurant. It's located in the Hokuala community where guests can walk or bike the trails (very pretty) or get a ride over to take a tour, plant something, pick something, and learn about what's being grown there from the resident caretaker. You are encouraged to get your hands dirty and bring food items back to your unit for cooking. But they will gladly share the food with city folk who prefer to keep clean without enjoying the fruits of labor. They also offer personalized tours of other areas, including a popular private waterfall tour. There is a fun kids' activity room with games, TVs, etc., but no supervised children's program. They feature pizza nights and weekly cocktail parties for guests. Many activities are included with your stay, though some are extra, such as yoga, golf clinics and tennis lessons for kids.
Many amenities and activities are included, such as cultural events, arts and crafts, Hawaiian cultural classes, bicycles (it's a great area to ride around, and they even have stroller attachments), surf and SUP boards, free shuttle to/from airport and Kalapaki Beach. The resort itself sits on a rocky point, so there is no beach fronting it. You have access to their Ocean Club services (and shuttle) down at Kalapaki Beach where chaise lounges, towels and umbrellas and some gear await you for free. Other items, like kayaks, are available for rent. You may also get a picnic from Timbers restaurant to take with you to the beach.
Their tranquil infinity-edge pool gives the illusion of the ocean sitting right at the edge. Daybeds (cabanas) by the pool are free. There is also a family pool behind the Maliuha building complete with waterfall.
The good news: there's no resort fee. But there is an optional gratuity fee of $25 per day that is divided equally among housekeeping, bell staff and others who work for you during your stay, so you don't have to keep cash for tipping on hand.
This is the kind of place you may not want to leave, but it all comes at a price. Is it worth it? If you have to ask, it's probably not your kind of place.
2/3s (1,566 sq. ft.) are $850–$2,500
3/4s (2,026–3,444 sq. ft.) are $1,200–$3,400 (plus an 1,800-sq.-ft. lanai on large oceanfront unit)
4/5s (3,105 sq. ft.) are $1,800–$3,850. 3/4 townhomes (2,464 sq. ft.) are $1,900–$3,700
4/5 townhomes (2,892 sq. ft.) are $2,150–4,100. 3- to 10-night minimum.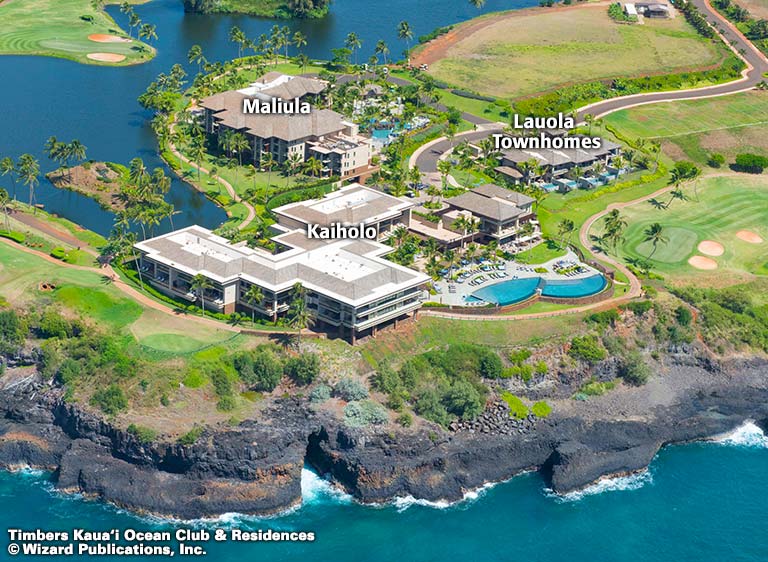 Address

(844) 465-8252 or (808) 320-7400


3770 Hoolaulea Way, Lihue


Visit website
Our Location