On a particularly busy corner in Waikiki, this hotel has gone for an upscale hip vibe that kind of feels like your aunt on spring break. As in: Maybe it isn't quite pulling it off, but for some reason you don't mind.
The Twin Fin Hotel is a little splashy (in more than one way) with bright midcentury modern décor, comfy pool cabanas and a long list of activities available for guests. And honestly, the location is hard to beat in terms of convenience. Although it's on the far end of Waikiki, it's a perfect location for the best areas of the beach, and most rooms are high up enough that the street noise won't be a nuisance.
Along with its cool-aunt vibe, it comes fully prepared for anything you may need on vacation, including connects with beach gear, cultural daytime activities, a trendy Waikiki-overlooking restaurant you can practically fall into from the lobby, and a friendly (albeit smallish) pool area where you can bask and see the ocean (just pretend you're in the salt water).
Rooms are 264–324 sq. ft. Suites are 430–1,108 sq. ft.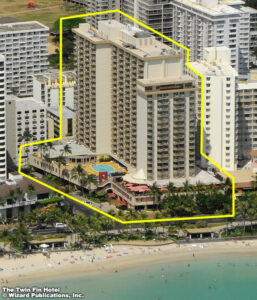 Address
(808) 922-2511
2570 Kalakaua Ave, Waikiki
Visit website
Our Location