Although there are bigger resorts, Sheraton Waikiki 31-story tower is the biggest single hotel building in all Hawai'i. It's so big you can actually get lost in the hallways, which keep going and going and going. You can do a lot of walking at this sprawling hotel, which can feel pretty busy.
The oceanfront rooms directly facing the ocean are simply glorious, looking down onto the water and the reef where turtles feed at dusk. You might want to avoid what they classify as "oceanview" rooms if they face the Royal Hawaiian on lower floors. "Oceanview" seems too generous for some of those rooms. Don't pay for mid-view rooms here. Either splurge for the best, or save by getting the cheapest views and pocket the savings. (City view or mountain view? Who really cares?) The rooms are on the small side but are clean and modern. There are few resorts in Waikiki that feel this cozy with the ocean.
The Helumoa Playground pool that they share with the Royal Hawaiian guests is a fun activity pool for young and old alike with a water slide, fountains and nightly entertainment. An infinity-edge, adults-only pool fronts the Sheraton Waikiki hotel building (and is only for their guests). It looks as if it is part of the ocean, but we don't think they could fit one more chair out there if they wanted to. And speaking of chairs, only a limited number are free at this pool, and most, from the water loungers to the cabanas, must be reserved in advance of your trip. Prices range from $30 for water lounge chairs to $225 for poolside cabanas with a couple of other options in between.
Their Leahi Club Lounge on the top floor with commanding views of most of the Waikiki skyline in both directions is available to guests for an additional $125 per room per day for up to two adults and two children. (With some room categories it's included with your stay.) It offers free continental breakfasts and afternoon pupus, as well as free beer and wine. It has internet access, a large screen TV and plenty of seating. A great place to come and relax and grab some fruit or juice. It's open from 6–10 a.m. and again from 4–8 p.m. It's a fabulous spot to watch the fireworks from the Hilton Hawaiian Village. Access via room key from 10 a.m.–4 p.m. with limited services.
You have charging privileges at any of the three other Waikiki Starwood hotels. Sheraton Waikiki has a children's program on-site and lots of activities for young and old around the property. Overall, you'll love Sheraton Waikiki if you are jonesin' to be near the ocean. You won't love it if you're looking for tranquility.
Rooms (225–300 sq. ft.) are $635–$1,525, suites (875–2,224 sq. ft.) are $2,100–$4,700. Look for packages to knock some off the rates listed here.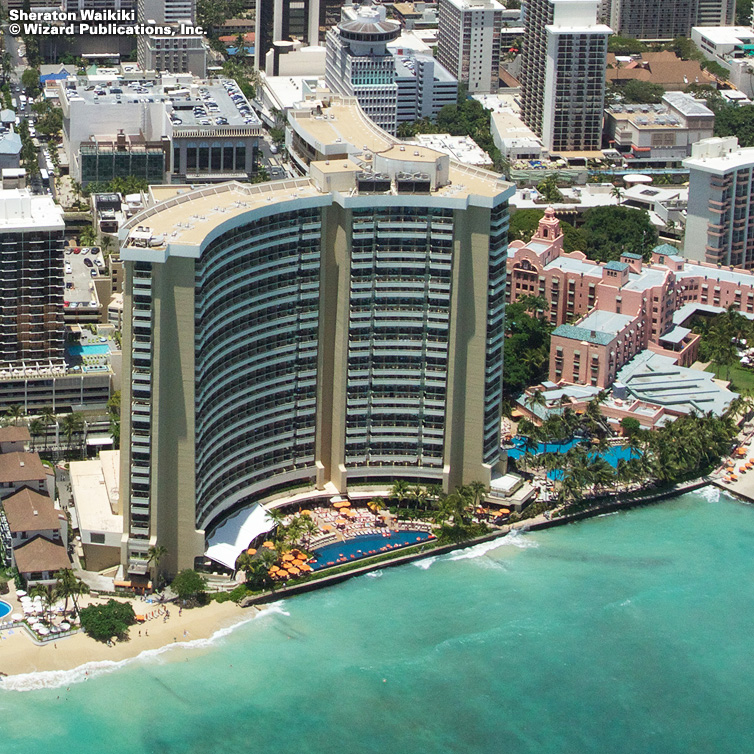 Address

(866) 500-8313 or (808) 922-4422


2255 Kalakaua Ave, Waikiki


Visit website
Our Location