This hotel sits on the site of the summer home of Princess Ka'iulani, crown princess of Hawai'i, who died in 1899. Pictures of her and historic information is scattered around the hotel.
The resort consists of three very different buildings, and the tallest building doesn't directly face the ocean. Rooms in the Princess wing do not have lanais. There doesn't seem to be a single theme running through the resort—it's as if all three buildings were unrelated, but they are trying. It seems that every time we visit, the resort is in a constant state of transition with some rooms renovated and others not. This resort was scheduled for more upgrades at press time. The renovated rooms have incorporated their namesake's favorite bird, the peacock, into the room design. They are clean, simple and pleasant. Other rooms are not updated but can be had for much less money.
Currently this place tends to feel really busy to us. The pace can be downright frantic. They clearly target families here—great if you're bringing the kids, not so great if you're trying to get away from 'em. Restaurants are located by the pool, so you can eat while another member of the family plays at the pool. Cabanas by the pool are $100 per day, and there is entertainment nightly, as well as a very long happy hour (11 a.m.–6 p.m.). You also have signing privileges at all other Starwood resorts in Waikiki.
Very few people pay these listed rack rates. Rooms (200–300 sq. ft.) are $390–$650, luxury rooms (350–565 sq. ft.) are $700–$935, Princess suite (1,130 sq. ft.) is $1,800.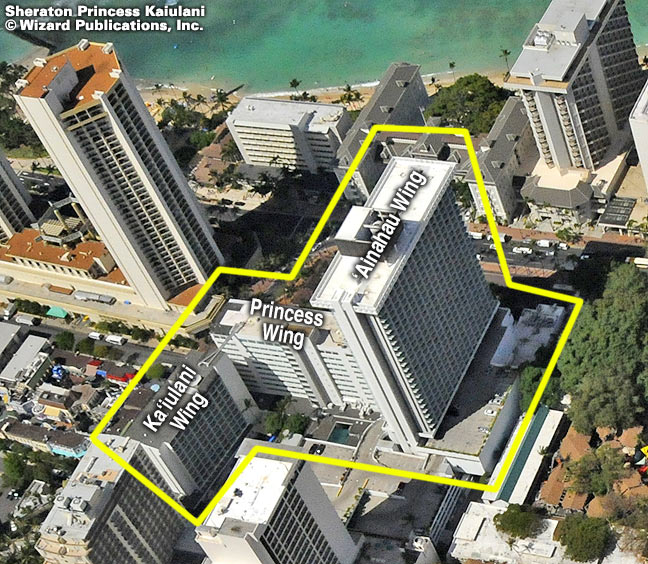 Address

(888) 627-8110 or (808) 922-5811


120 Kaiulani Ave, Waikiki


Visit website
Our Location