This was the first resort built in Ka'anapali on a property that does not feel particularly Hawaiian but more modern and a tad spartan. It lacks the same splash offered by other mega-resorts. (Well, except for the cliff diver who dives into the ocean every night at sunset from Black Rock.) Instead, the 23 acres of grounds are green but comparatively simple and less exotic, dominated by large expanses of lawn.
The beach is the star here, and don't you forget it. Located at the north end of Ka'anapali Beach, the water here is heavenly, and the swimming is good during calm seas. Their swimming pool has a cool mist coming from the rocks that feels pretty good when you walk by. It's laid out so that adults tend to hang out on one end (with drinks and food), and the children's side is on the other end with food service nearby that caters more to their tastes.
Part of the hotel is built on Black Rock (Hawaiian name Pu'u Keka'a). Every night they have a torch lighting ceremony culminating with the torch bearer leaping off the short cliff at Pu'u Keka'a. This is a re-enactment of King Kahekili's leap in the 1700s, which demonstrated his god-like powers to his subjects. (The Hawaiians believed that this is the area where spirits depart this world after death, and any living people jumping here would die.) The ceremony is dramatic and offers excellent photo ops. The Cliff Dive Grill by the beach attracts a lot of people around sunset to view the ceremony and serves their signature Black Rock Lager made on the island by Maui Brewing Company. Snorkeling and scuba around Black Rock are superb, and the resort offers intro scuba classes for an extra fee.
You have signing privileges at all Westin resort restaurants in the area. Their BRK-On-The-Go can make you meals to take on your day trip or back to your room. A dinner for two people can be arranged by the beach at a few locations for $350–$600. Cabanas with four chairs by the pool are $100 per day, casabella chairs (for two) are $55, a beach chair and an umbrella are $45. The worst part is that they pull the furniture off the beach at 5 p.m. just when you'd like to watch the sunset, but you can stay by the pool till 8 p.m. They have a Marine Life Hale where you can learn about sea creatures in Hawai'i. There are complimentary classes in lei making, hula dancing, 'ukulele lessons, taro pounding, bamboo stamping and more.
The reason for our Real Gem isn't the rooms or services, but rather the beach location—it's probably one of the best in West Maui, and the resort does have a relaxing, uncrowded feel, even when full.
Regular rooms are fairly small, and decor is modern but unremarkable. All rooms feature their "Sweet Sleeper" beds. Rooms (320–420 sq. ft.) are $659–$979, suites (665–1,600 sq. ft.) $1,119–$4,999. There are also lots of packages and specials on their website.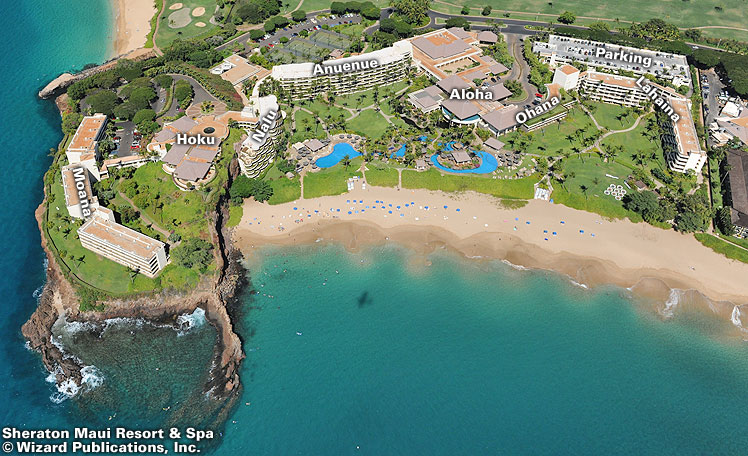 Address

(866) 716-8109 or (808) 661-0031


2605 Kaanapali Pkwy, Kaanapali


Visit website
Our Location