This condo complex opened in 2014, and on our visit they were finishing up the last of the buildings. It's located pretty far from the ocean, so any view you have will be dominated by either the golf course from buildings 6–12 or the mostly rough brush garden from all the rest. Ocean views are very distant at best, so don't pay extra based on that.
The buildings have about 10 units per pod with a tiny, single-car, narrow garage, but outside assigned parking is available. The buildings have a modern plantation-style but nothing remarkable. Some units are two-story; others are single-story. Some are upstairs; others have no stairs. However, there are no ADA units on site. Inside you will find nicely decorated and appointed condos. The living areas are not overly large but are adequate. The bathrooms are good sized with walk-in showers in the master and tub/shower combos in others. In some units the master bedroom faces the poorest view, while the additional bedrooms enjoyed a pleasant golf course view. We found that a bit odd. Large front-load washer and dryers and well-appointed kitchens make this an acceptable home away from home.
The pool is large with a good-sized spa, simple keiki pool and the fitness center is located above the pool. There is no shade around the pool except for some tables and chairs under the lanai, but there are plenty of lounge chairs. Access is from 8 a.m.–9 p.m. But oddly there is not much parking near the pool, so if you are staying near the entrance, you have a bit of a walk from your unit.
Overall, given the location, this is not the most compelling place to stay in Po'ipu. You will have to drive to the beach (and everyplace else) from here.
2/2s  or 2/3s (1,208–1,296 sq. ft.) are $210–$375
3/3s (1,443–1,602 sq. ft.) are $250–$450
4/4s (1,850 sq. ft.) are $209–$809
(from agent listed below). 3- or 7-night minimum. The below agent also has units here for similar prices.
To view more agents' units see:
Aloha Condos & Homes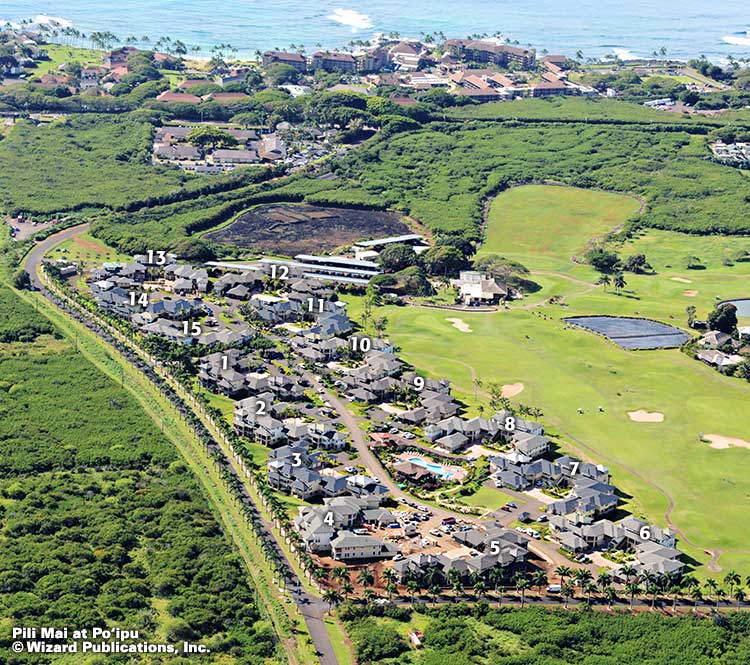 Address

(800) 325-5701 or (808) 742-2000


2611 Kiahuna Plantation Dr, Poipu


Visit website

Our Location