This 24-acre condominium resort consists of five residential buildings on the grounds of the old Kapalua Bay Hotel. It's a mix of private condos and vacation rentals with high-end resort amenities and very professional staff. The grounds are tropical and pleasing. The buildings have a contemporary Hawaiian feel and sit well on the acreage, giving most rooms some view of the ocean from these low-to-mid-rise buildings.
Though not on a beach (it's a rocky shoreline with great snorkeling), sandy Kapalua Beach is a short walk near the south end of the property by their members-only Beach Club. The pool is very picturesque with many islands and areas to plunk down on, and staff comes with treats every hour for guests throughout the day, including complimentary fresh fruit, smoothies, chocolate mac nuts and even sunglass cleanings. Their romantic canopy daybeds by the pool are $400. Amenities for those vary depending on day.
The Cliff House (which was part of the old hotel) remains on property directly overlooking the water and can be used for weddings, small meetings or even private dinners for up to six for $2,100 (plus tax and gratuity). They can also arrange a private dinner on their lawn for two people starting at $4,100! ($3,500 of that goes to the site usage fee!) They even have the space to land a helicopter on the lawn if you're really looking to make and entrance. They offer an area shuttle included with the resort fee to tote you around the entire Kapalua Bay Resort area for dining, tennis and golf off-property.
Their children's program, Paintbox, includes indoor and outdoor activities to keep the young'uns (5- to 12-year-olds) entertained all-day for $130, and there are weekend night programs available for $95 so Mom and Dad can have the evening off. Teen(13- to 17-year-olds) activities are also available for an extra fee, but some are complimentary.
Their Spa Montage is 25,000 sq. ft. of indoor bliss and fitness classes and 15,000 sq. ft. of outdoor pools, gardens, whirlpools, steam rooms, saunas and private treatment hales. Guests of the resort have access to many of these facilities for free. The fitness center has state-of-the-art equipment and is one of the nicest in all of West Maui. Fitness classes are also available for an extra fee.
The condos are very spacious. They each have generous-sized bathrooms with separate deep soaking tubs and separate showers in the master bedrooms with walk-in closets. The kitchens have top-of-the-line appliances and all the necessities to prepare a gourmet meal (not that you're on vacation to cook). The decor is modern with lots of white furnishings and pale colors on the walls, but it felt a tad stark to us. The Grand Residences boast more upscale decor with high-end amenities. Every condo has a large lanai. Most rooms have some view of the ocean, even if it is only from your lanai.
All this pampering does not come cheap. Rooms 1/2s (1,250 sq. ft.) are $795–$3,685, 2/3s (1,750 sq. ft.) are $1,005–$4,950, 3/4s (2,065 sq. ft.) are $1,305–$6,415. 3/4s Grand Residences (2,900 sq. ft.) are $1,990–$8,150, 4/5s Grand Residences (4,050 sq. ft.) are $2,545–$12,350. The range is enormous here in each category because of season and view. It's one of the largest ranges we've seen and feel it may be overpriced (in the high season) compared to similar properties farther south in Ka'anapali, so we hope you got a great deal!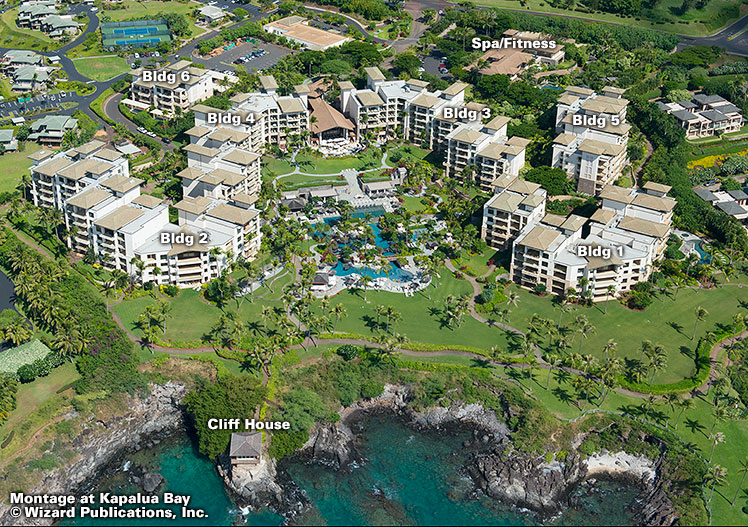 Address

(888) 708-3835 or(808) 662-6600


1 Bay Dr, Kapalua


Visit website
Our Location