On 11 acres of land, theses five condo buildings have poor views but are comfortably furnished. The Dolphin and Emerald buildings are the most popular, but they rightfully refer to them as "ocean side" instead of "ocean view." Some other resorts would call them "ocean view," though the ocean isn't visible from the ground floor. So kudos to these guys for being honest. However, some of their "ocean view" rooms we felt were actually "partial ocean view." So go figga!
The rooms have three quality categories, standard, deluxe and premium. We felt the standard rooms really needed updating, so go with deluxe or premium. (The images on their website are mostly of premium rooms.) Hotel-type rooms have kitchenettes, but other room types have full kitchens. The ground level 2/2s are spacious and nicely laid out, albeit at a wallet-choking price. There are no ground level 1/1s. Low-rise buildings second story 1/1s have loft-type bedrooms with reduced privacy. Lanais on most, except for Aloha Tower third floor and above, have standing-only balconies. Elevators are in the Aloha Tower building only.
Grounds are fairly quiet, well-groomed and tropical. Their beach, next to Kahekili Beach Park, is excellent. Casabella chairs (for two people) by the beach are $30/day or $135 for a week. There's free coffee and tea in the lobby in the mornings and mai tai parties once a week. Rack rates are ridiculously overpriced, but most people get these rooms as part of a package at a much-reduced rate. Simple hotel-type rooms (520 sq. ft.) are $435–$465 and have only a mini-fridge, coffee maker and maybe a microwave, studios (660 sq. ft.) are $495–$645 (for up to four people), 1/1s (920–1,260 sq. ft.) are $545–$829, 2/2 suites (1,750 sq. ft.) are $809 and have absolutely no view. The suites are very nice—but nowhere near $809 worth of nice. The large price spread depends on season, quality and view.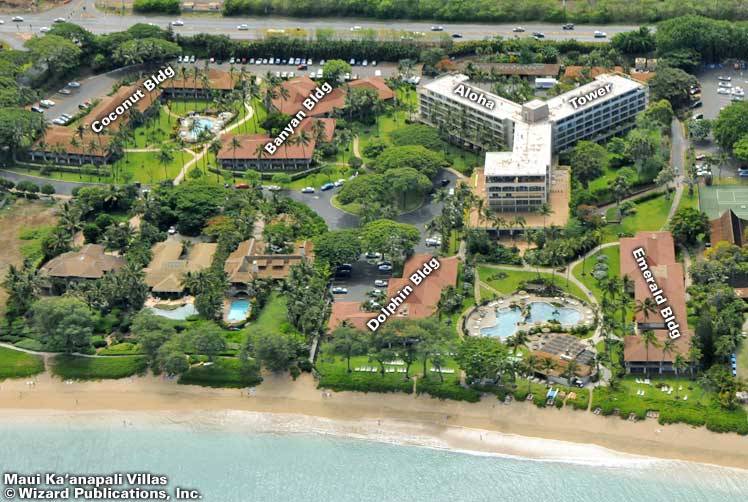 Address

(888) 671-5307 or (808) 667-7791


45 Kai Ala Dr, Kaanapali


Visit website
Our Location