Wow, where do we start? This is one of the biggest resorts on Maui, sitting among 40 acres of spacious and exotic grounds. The two outstanding pools are large with waterfalls, and one has a fast 150-foot waterslide (users must be at least 4 feet tall), a swinging bridge and a swim-up bar inside a cave. Little ones can enjoy a shorter waterslide, a sand-lined lagoon and synchronized fountains. Between the two is a poolside bar filled with the roar of the artificial waterfalls. The lobby is next to the huge atrium, which, in the mornings, is filled with the sounds of wild birds there to steal some food.
They have tours of the wildlife strewn about the grounds (such as the warm-weather penguins, swans, flamingos and parrots), and there's a nice oceanside state-of-the-art fitness center. Their Kamaha'o: Marilyn Monroe Spa has all the bone-melting fixin's. They charge $25 ($15 for kids) for guided rooftop astronomy demonstrations with their 14-inch scope. They also have a couples-only version of that tour for $40 per person, including champagne and chocolate-covered strawberries. There are four restaurants on site, including Son'z Steakhouse at the Swan Court. Downstairs near the pool is a cheaper food court-style area called the Umalu. Feel free to wear your bathing suit there. Watch for the thieving birds who'll rob you blind if you turn your back. They even have an  Ululani's Shave Ice shop (one of the best on Maui) near the pool.
The Hyatt also has a lu'au (the oceanfront rooms in the Lahaina Tower are exposed to the sounds every night until 8–8:30 p.m.)
We only have a few dings with this resort. Part of their beach has suffered erosion in recent years, exposing more reef in the nearshore waters, so you can't frolic in the shallow waters without water shoes, or you may tear up your feet. They have ocean activity booths where you can rent water toys such as boogie boards and snorkel gear at normal resort prices (meaning expensive). Casabella chairs are $105–$130 per day by the pool or by the ocean.
Hyatt's keiki program (called Camp Hyatt) is $85 per day, and they also have a night camp for $85, which includes dinner. Grownups get pampering treats, too, such as massages by the ocean and dinners under the stars for $495 per couple (includes tip and tax). You can even rent your own thatched hut by the ocean for $265–$300 per day, and they'll bring you just about anything, for a price, of course. Large cabanas (for up to seven people) run $315–$370. Those rentals include fruit and water.
In all, the Hyatt does a very good job, and the staff is very warm and professional. The place radiates the dreamy warmth that you want from a fantasy resort. It's especially pretty at night. The rooms are done in a modern Hawaiian theme—a lava (brown/orange) color scheme. Rooms (451 sq. ft.) are $259–$879. Regency Club rooms (451 sq. ft.) are marginally nicer and have more amenities—namely a free continental breakfast, refreshments and snacks throughout the day, and light hors d'oeuvres and desserts each evening in a private lounge. However, they're not worth the upgrade at $409–$999. Suites (554–2,500 sq. ft.) are $609–$6,689. Packages available.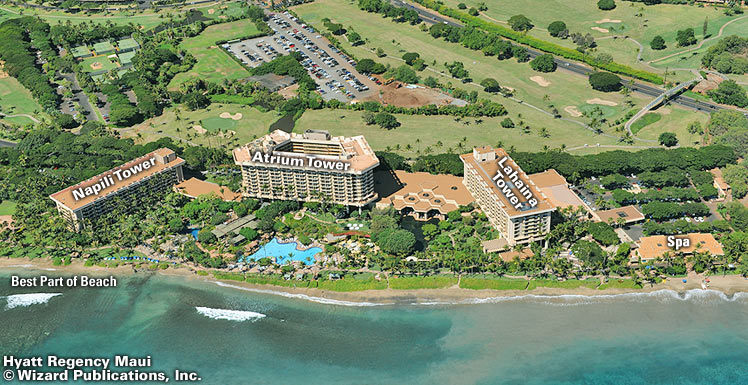 Address

(800) 233-1234 or (808) 661-1234


200 Nohea Kai Dr, Kaanapali


Visit website
Our Location