This 38-acre condo property opened in 2009 and operates like a resort. Even though each unit is individually owned, all have the same type of furnishings from the on-site agent. Many units are not rented out—they're second homes for their owners—but a lot are. The condos themselves are furnished luxuriously in a contemporary Hawaiian style. Bosch or Viking appliances throughout—everything a gourmet cook could want. They feel very spacious, like a second home, and all have queen sofa beds, so even a studio can sleep four comfortably. The lanais here are a real asset. Their glass doors fold back all the way so the lanais become part of the main living space, but they also have optional screens (good for buggy nights). And the lanais are gigantic—some as big as 3,200 sq. ft. (that's larger than the unit itself). The baths rival the lanais and are spacious with separate deep soaking tubs and showers (except mountain view rooms, which have tub/shower combinations). The two- and three-bedroom units have two master baths and king beds, so two couples can easily share a unit, but one king can also be split into two twins for families. Honua Kai Resort & Spa beds and bedding match the quality of the units. Housekeeping is provided every second day.
The fitness room is not overly large but has what you need. There is a small market that has light fare and foodstuffs at resort prices. The day spa is small but adequate. Honua Kai Resort & Spa's restaurant, Duke's Beach House, is a winner with nightly entertainment.
Their beach is also a real winner here. They're on the southern end of Keka'a Beach, and the water is good for snorkeling about 100 feet out when calm. (Water shoes are recommended for the nearshore waters.) This is a really pretty stretch of sand, and the native plantings they have added make it feel like a great Hawaiian beach should feel. Their four pools have something for everyone—a meandering ohana (family) pool, a formal pool, a quiet pool and a lap pool. Cabanas with four chairs near Duke's run $150 per day; casabellas by the pool with two chairs or a round day bed are $75. There are also smaller cabanas by the lazy river pool for $95. (Those prices are for a full day from 8 a.m. to 10 p.m.) But there are also plenty of free chairs and umbrellas scattered about for shade and nooks and crannies to park yourself.
In all, we really like Honua Kai Resort & Spa. The staff is excellent, but not stuffy. It's similar to the Westin Ka'anapali Ocean Resort Villas but with a more relaxed and less crowded feel. You definitely get more bang for your buck here. There is a wastewater treatment plant across the highway, and, depending on the wind, you may be reminded it's there, but we have not noticed unpleasant smells during any of our visits. Note that our listed square footages do not include lanais, but rooms start at 130 sq. ft. for a studio and go up to 3,200 sq. ft. for a 3/3 oceanfront unit. Studios (580–620 sq. ft.) are $297–$656, 1/1s (700–820 sq. ft.) are $293–$880, 2/2s (1,080–1,320 sq. ft.) are $455–$1,137, 3/3s (1,600–2,650 sq. ft.) are $680–$3,750 (includes luxury suites). Discounts available. You may find other agents renting units here, but don't expect the front desk or possibly some beach services to be available to you. Many of the amenities we mention, if available through your rental agent, may only be available for an extra charge.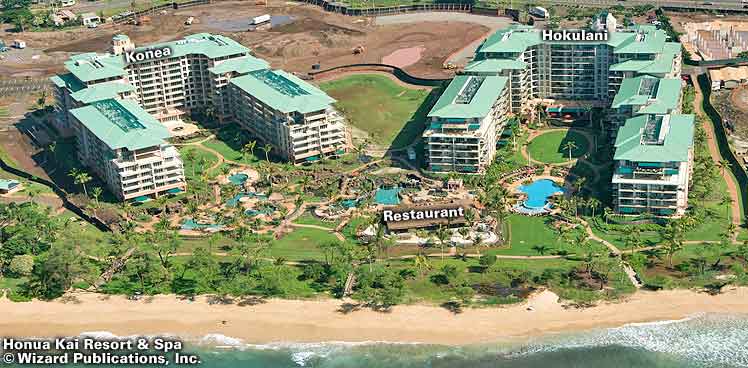 Address

(855) 718-5789 or (808) 662-2800


130 Kai Malina Pkwy, Kaanapali


Visit website
Our Location